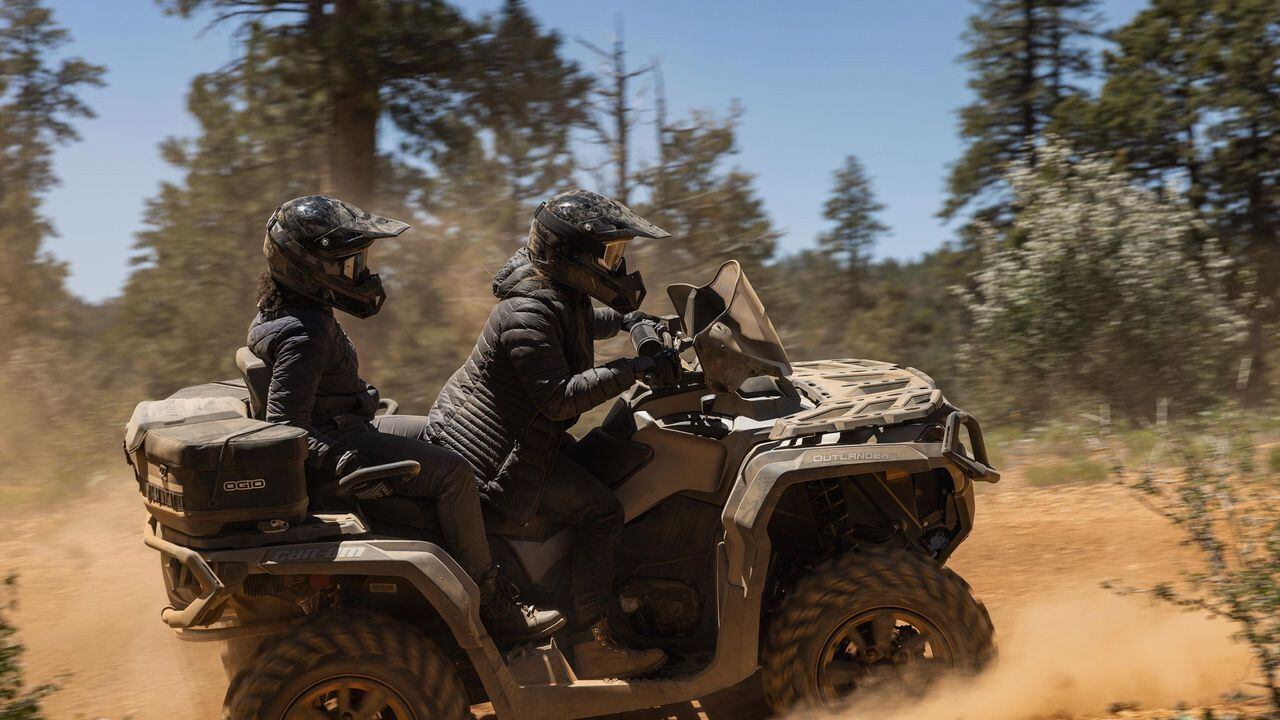 Here's a list of Can-Am products that you may have missed. (Can-Am/)
We flipped through the pages of Can-Am's digital catalog searching for hidden gems. Turns out there's a lot more than luggage, windscreens, and hunting gear for your Canadian quad/6×6. Here's a list of Can-Am accessories to add to your wish list that you may have missed on your last shopping spree.
One note before we begin. Can-Am uses what's called a "Platform Code" to specify what models its accessories can fit. You will see them on Can-Am's website listed as G2, G2S, G2L, etc. We will often refer to these codes and the relevant models throughout this article, but to give you a visual here is a chart from Can-Am's catalog that connects the platform codes to the associated models.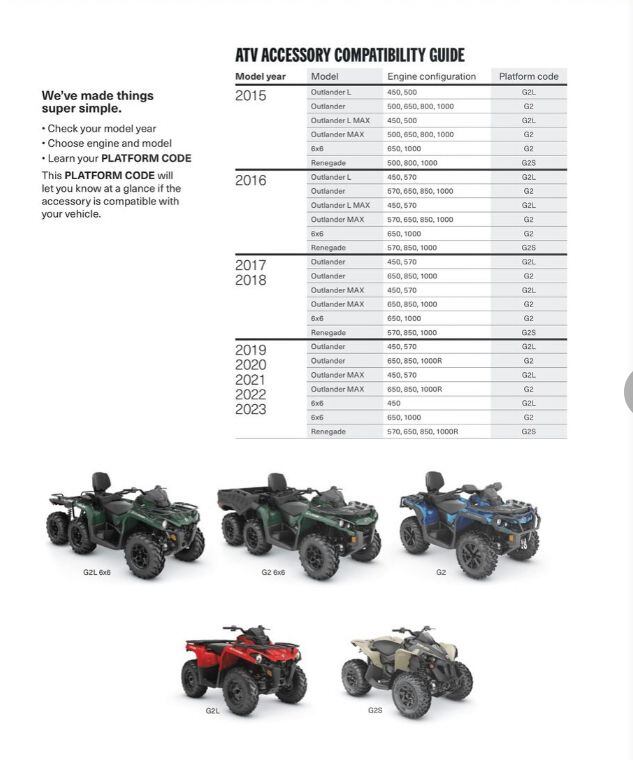 A handy chart for decoding Can-Am's accessory codes. (Can-Am/)
Driver Backrest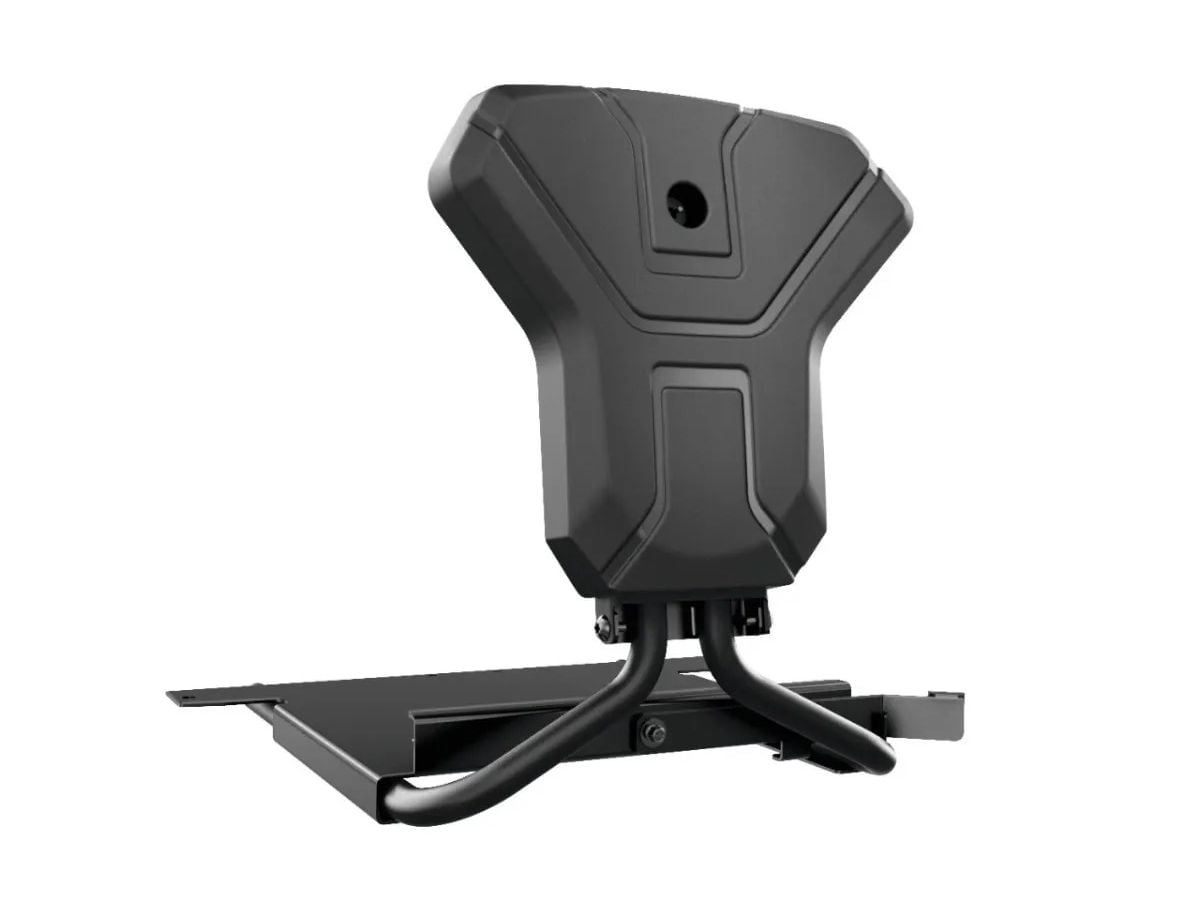 If you're looking for an accessory that makes your ride more comfortable, this is it. (Can-Am/)
While the Outlander Max range offers the passenger a nice backrest, the Outlander 850 does without anything to lean on during those long treks. Don't worry, Can-Am's got you. This driver backrest mounts on G2 models like the Outlander 650, 850, and 1000R, but is not compatible with 6×6 or Max. It can be adjusted to suit the driver's preferences, making longer rides more comfortable.
Price: $259.99 | Click here for more information or to order online.
Bluetooth Handlebar Sound Bar by MTX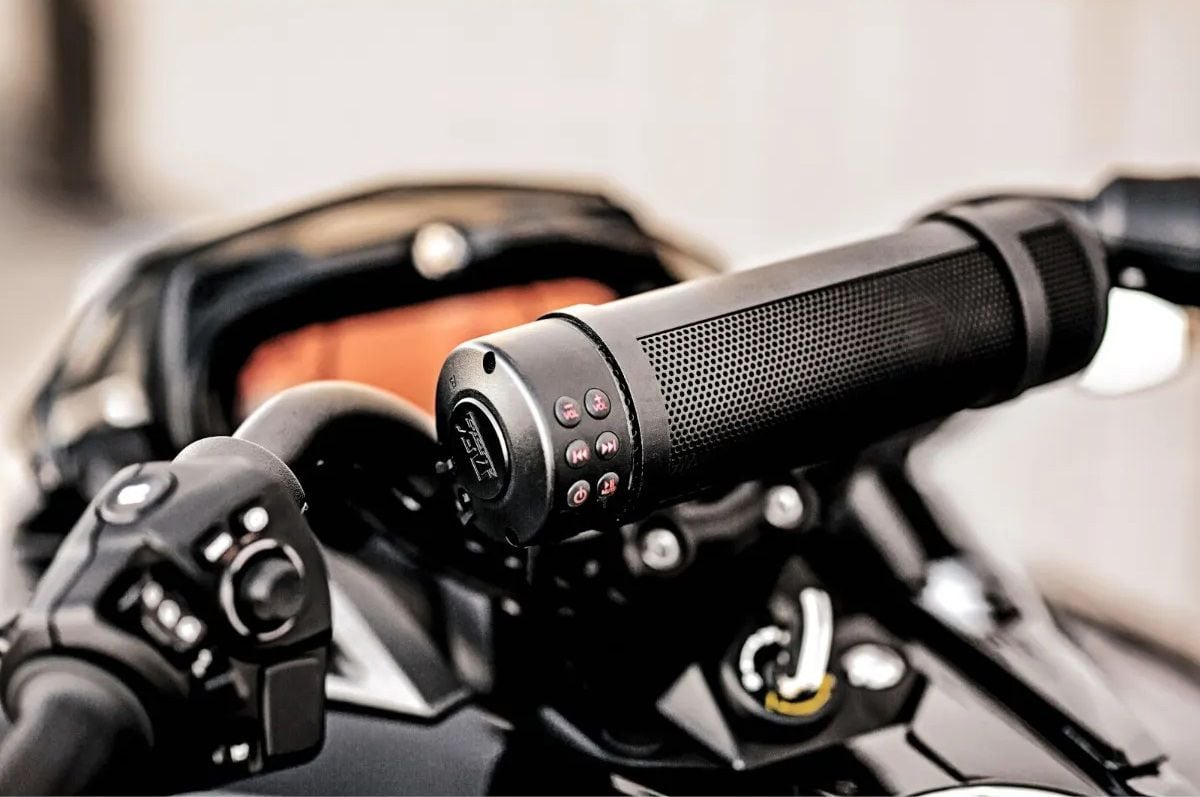 Can-Am's sound bar is compatible with all Can-Am ATVs (G2, G2L, and G2S). The only restriction is that it's not compatible with the XT handlebar protector kit. (Can-Am/)
Want to rock out on a rocky trail or river crossing? You can have your music going while you ride with this handlebar-mounted sound bar. All you need is your Bluetooth-enabled phone or device to play the jams. The IP66 rating means that it's weather-resistant so it can face the elements, and Can-Am sells it with the input, ground and ignition wires, an auxiliary port, and 3.5-inch connector cable.
Price: $489.99 | Click here for more information or to order online.
Self-Clearing Footwells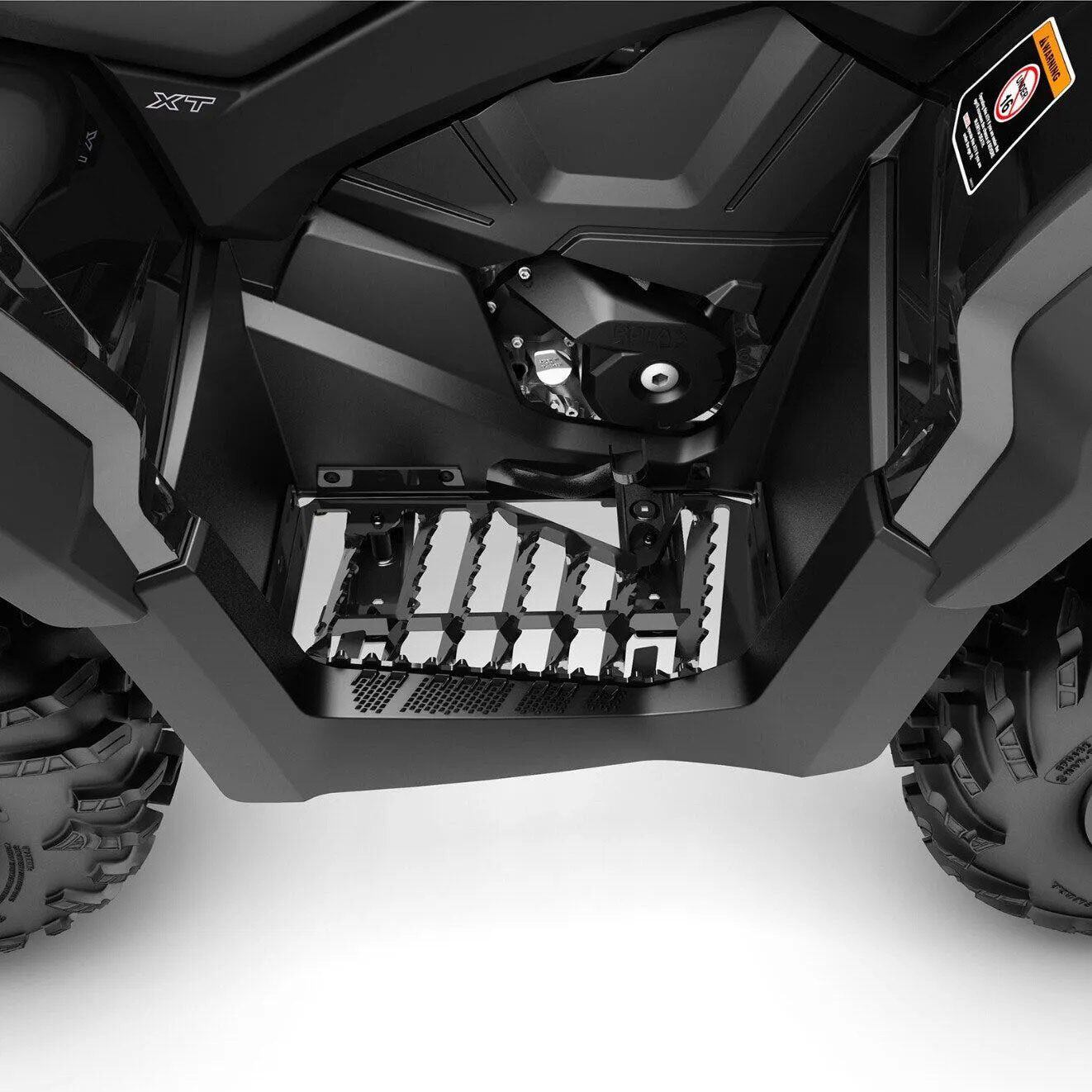 Your boots can have better traction on the floorboards if the mud doesn't accumulate. (Can-Am/)
If you often ride through mud or snow, your footwells can become their own small-scale pit of the sludge or slush. These aluminum self-clearing footwells replace your OE floorboards so that mud/snow slides right through. Models with platform codes G2 (2015 and up) and G2L can accept this accessory, so this includes most mid-to-upper displacement Outlanders, Maxes, and 6×6 rigs.
Price: $309.99 | Click here for more information or to order online.
Rear Tire Chains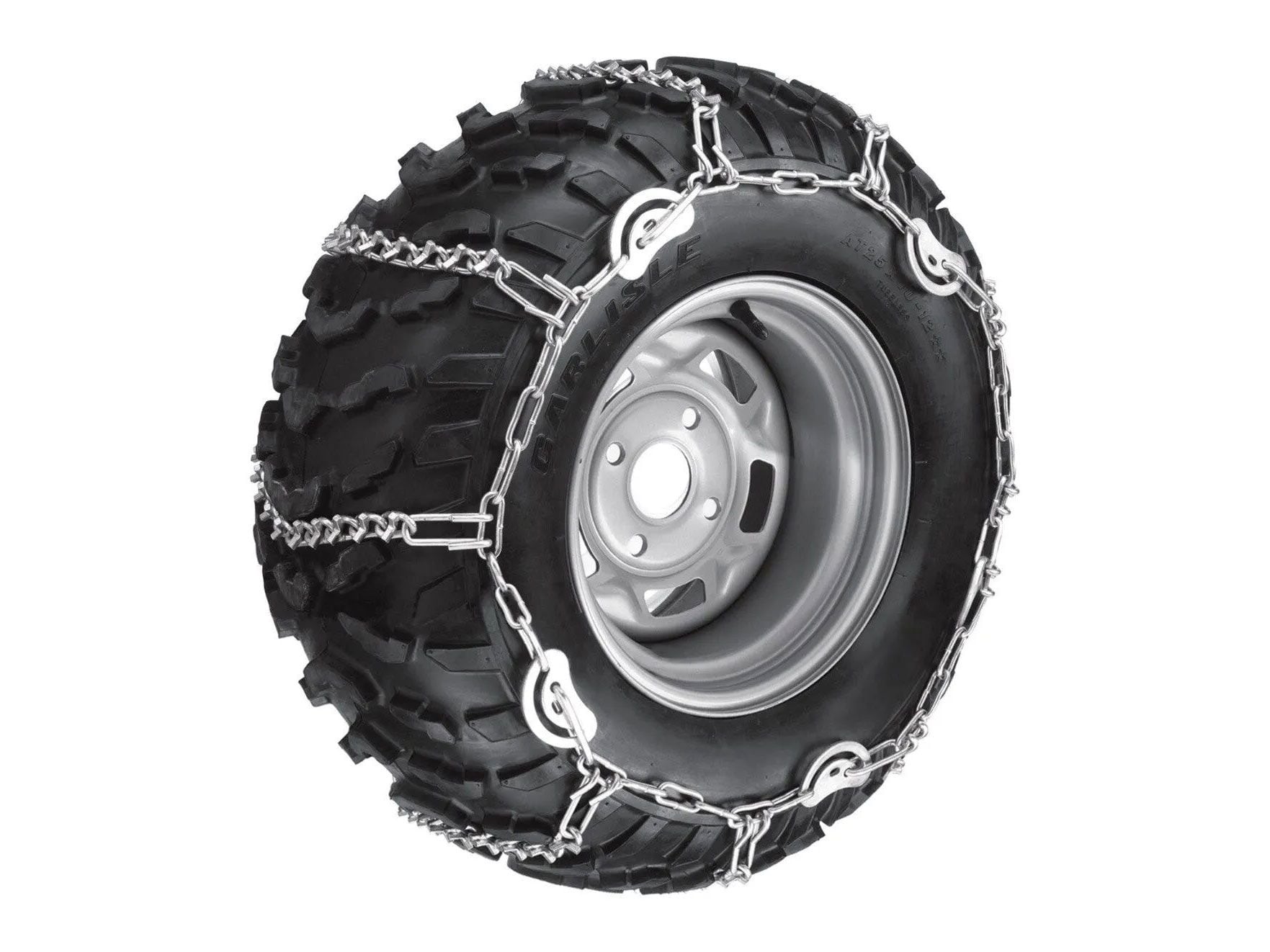 Be prepared for winter riding. Can-Am has a couple of different sizes of rear tire chains to help. (Can-Am/)
Chains are a must-have  when snow and ice blanket the ground. Can-Am has rear tire chains for 25×10-12 inch (seen on the Outlander 450/570, for example) or 27×9-14 inch rubber. A different size (found here) can be used on 26×10-12 inch tires like those of the Outlander 850. These are sold in pairs so your two rear wheels will be properly ready for the snowy season.
Price: $93.99 | Click here for more information or to order online.
Heavy-Duty Seat Cover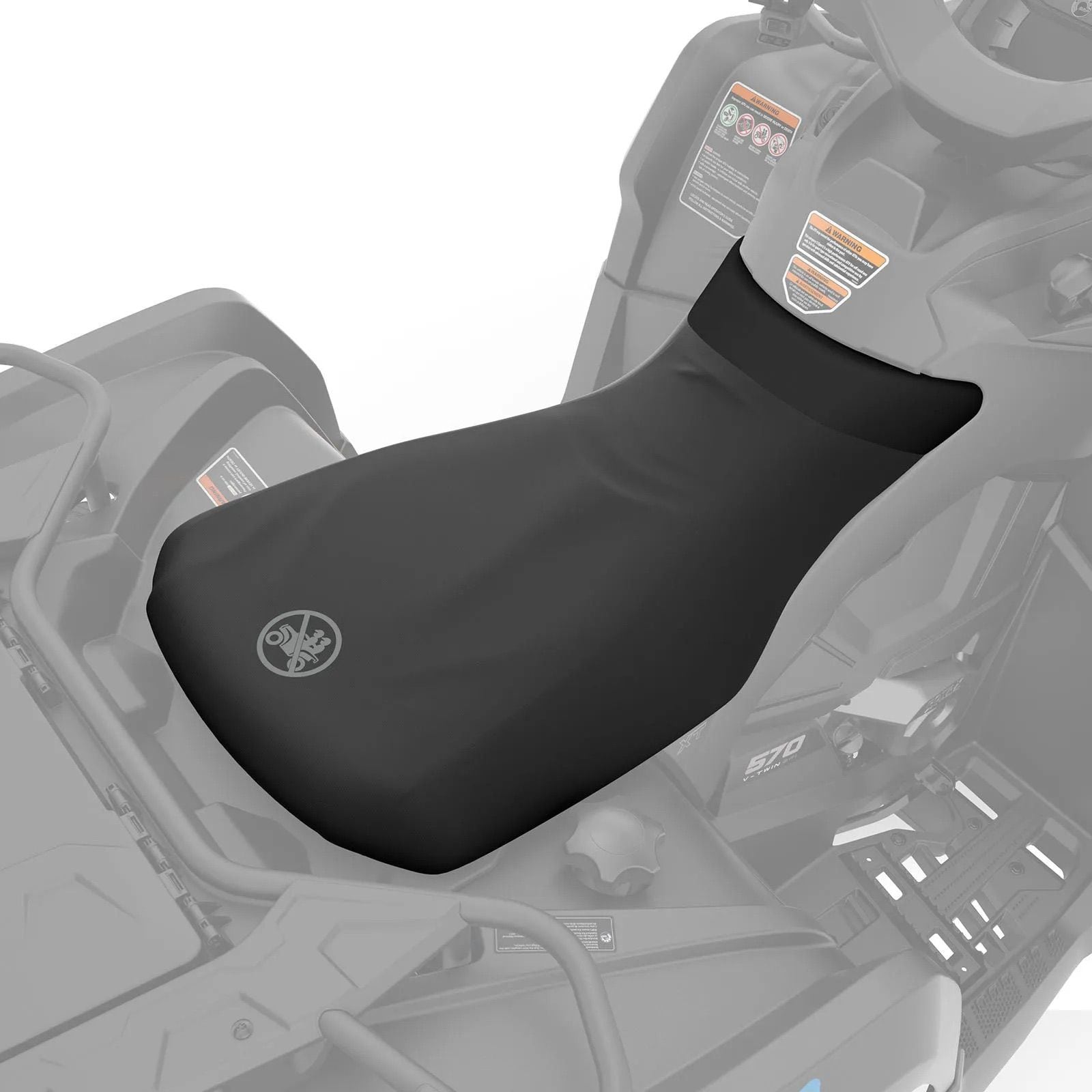 If the seat is starting to look worn down, get a cover to protect it. (Can-Am/)
Your seat sees a lot of wear from not just your getting on and off your quad. Tools laid on the seat can scratch or tear the cover, and long days under the sun can fade and age the material. If yours is looking beaten up, you can slide on this heavy-duty seat cover. Can-Am claims that this is abrasion and tear resistant. Its elastic and stretchable construction makes it easy to wrap around the original seat too. It fits on G2 and G2L models (so basically everything except the Renegade).
Price: $55.99 | Click here for more information or to order online.
Hard Top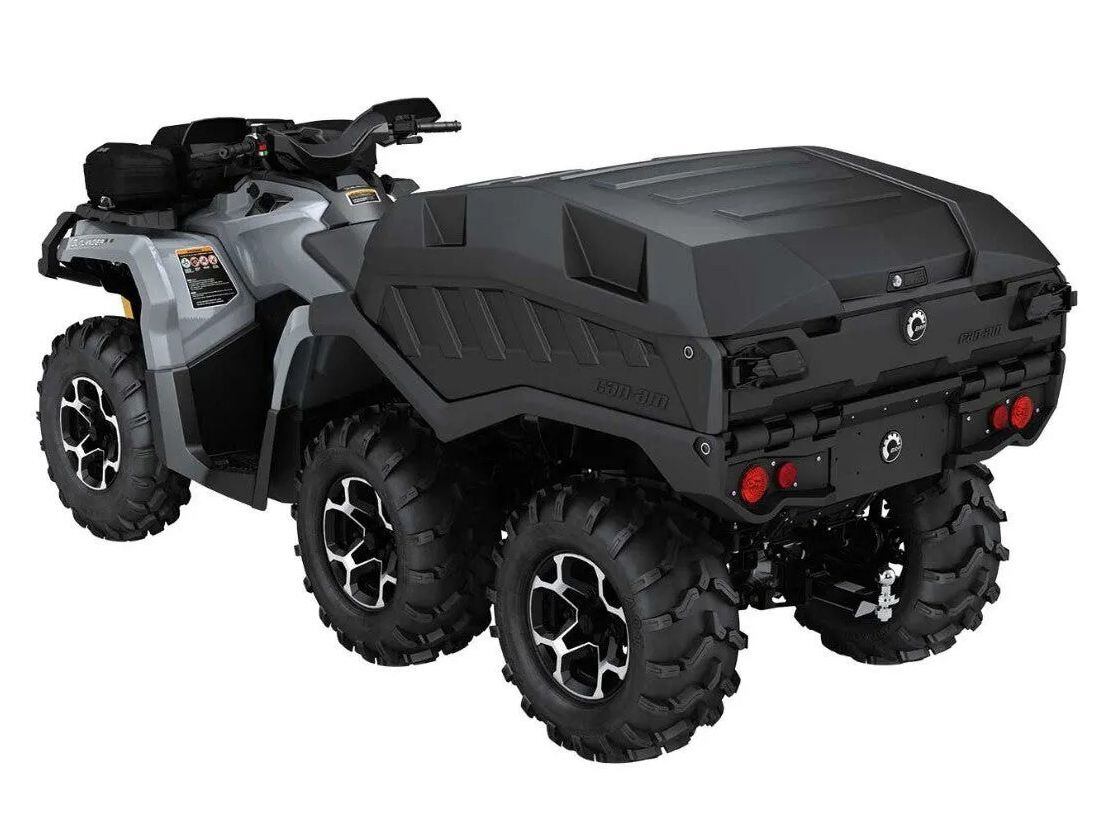 Give your 6×6 bed a shell of protection. (Can-Am/)
This hard top is a niche product that's useful for all those riding the 650/1,000cc Can-Am six-wheelers out there. It protects loads up to 116 gallons from elemental exposure with the hard cover and also helps prevent theft thanks to the lock. You won't have to heft the lid up all by yourself, because gas cylinders are equipped to help.
Price: $1,079.99 | Click here for more information or to order online.
Want to stay up to date on the latest ATV Rider news and reviews? Sign up for our weekly newsletter!