VinFast's founder appears to be taking a break from pouring his wealth into his car company, European Parliament has approved the 2035 death date for internal-combustion engine-powered cars, and Tesla workers in New York are ready to fight for the dang thing. All that and more in The Morning Shift for Tuesday, February 14, 2023.
1st Gear: Not a Great Sign
Last week, VinFast shed 80 jobs in North America, including that of its Chief Financial Officer Rodney Haynes. Deliveries of the company's first electric SUVs for the U.S. market have been delayed several times now, and VinFast appears to have lost more money in 2022 than it did in 2021 — at least $1.5 billion through September of the last year, compared to $1.3 billion for all of 2021.
Things aren't going well, and perhaps that explains why Vingroup's billionaire founder, Pham Nhat Vuong, isn't investing any more of his own cash in VinFast for the time being. From Bloomberg:
Vuong, whose net worth is around $4.1 billion, is the chairman of Vingroup, a conglomerate whose operations include real estate, leisure parks and a university. VinFast was founded by Vuong in 2017, and as of September, the EV maker's owners and lenders had invested about $7.5 billion to fund operating expenses and capital expenditures.

"Currently, Mr. Vuong has no plans yet" to personally invest further in VinFast, CEO Le Thi Thu Thuy said in response to questions from Bloomberg News.
G/O Media may get a commission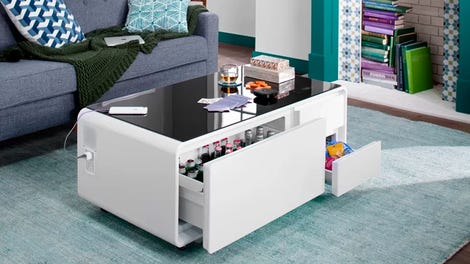 33% off
Sobro Smart Coffee Table
The coffee table of the future.
It's a coffee table with a fridge, high-quality Bluetooth speaker, LED lights, and plenty of outlets to spare.
VinFast has still yet to break ground at the site of its planned factory in North Carolina, as the company is still in the "finalizing permits" stage. Construction should've begun in September. Meanwhile, the latest delay for U.S. deliveries of the VF8 has been blamed on a last-minute change in driving range, requiring Environmental Protection Agency certification.
These are strange stumbling blocks, especially for a startup seemingly gunning for the new-car-company speedrunning record. VinFast appears hellbent on doing everything well, fast, but the wins aren't coming as quickly and you have to wonder if Vuong is beginning to turn his attention elsewhere as a consequence.
2nd Gear: Europe Is Doing This
We've known it was coming since October, but on Tuesday European Union lawmakers finally approved a measure to ban new gasoline-powered cars starting in 2035. Courtesy The Wall Street Journal:
The law is set to require new cars and vans to have significantly lower carbon emissions by 2030 and zero emissions by 2035. Industry groups say the requirement is expected to result in an end to the sale of new vehicles that use traditional combustion engines, and accelerate the shift to electric vehicles. […]

Under the terms of last year's agreement, emissions from new cars sold in 2030 would need to be 55% lower than 2021 levels, and new vans would have to be 50% lower than 2021 levels. The zero-emissions target for 2035 applies to both new cars and new vans.

The deal reached by lawmakers left the door open for the possibility that vehicles that run exclusively on carbon-neutral fuels could be sold after 2035. It also included a review clause that requires the European Commission, the EU's executive body, to assess progress toward the zero-emission targets in 2026.
What's still unclear is whether passenger cars that run on synthetic "e-fuels" would be legal for sale after that point. As it stands, the provision may only apply to commercial vehicles. There's plenty of time for automakers to figure that out though, which is good. It's pretty much the complete opposite of ramming an EV tax credit bill with arcane language around battery sourcing through the Senate, for example.
3rd Gear: The Number Is In
Ford will cut 3,800 jobs — one in nine — in Europe, the automaker announced Tuesday, putting an end to a guessing game that began weeks ago. Via Reuters:
Around 3,800 jobs will be cut in total, including 2,300 at the carmaker's Cologne and Aachen sites in Germany, 1,300 in the UK and 200 in the rest of Europe, the company said, adding it intended to achieve the reductions through voluntary programmes.

The news comes as a blow to unions who said in late January the worst-case scenario was 2,500 job cuts in Europe in product development and a further 700 in administration.

Still, the carmaker agreed to no compulsory redundancies at its Cologne or Aachen sites before the end of 2032, providing some relief to workers, works council chair Benjamin Gruschka said on a press call.
If you recall Ford CEO Jim Farley's recent displeasure with the company's engineering staff after it missed its 2022 profit target, Ford's European employees weren't spared in the shaming:
Chief Financial Officer John Lawler warned in early February that the American carmaker faced $5 billion in higher costs this year and said the company would be "very aggressive" in reducing expenses in its manufacturing and supply chain operations.

Lawler also said at the time that productivity of engineers in Europe was 25-30% lower than it should be.

The U.S. group will retain around 3,400 engineers in the region who will build on core technology provided by their U.S. counterparts and adapt it to European customers, European passenger electric vehicle (EV) chief and head of Ford Germany Martin Sander said on a press call. […]

"There is significantly less work to be done on drivetrains moving out of combustion engines. We are moving into a world with less global platforms where less engineering work is necessary. This is why we have to make the adjustments," Sander said.
Welcome to the EV age, where cars apparently design themselves.
4th Gear: A Tesla Union in New York
Tesla had a good run thwarting the unionization efforts of its staff for a while, but the EV maker's workers in New York figure to change that. The unit made its intentions to unionize with Workers United Upstate New York known in a letter to management on Tuesday, per Reuters:
"We believe unionizing will give us a voice in our workplace that we feel has been ignored to this point," the workers said in a press release on Tuesday. "We are only asking for a seat in the car that we helped build."

The letter, first reported by Bloomberg News earlier in the day, cited employees asking Tesla to respect their right to organize a union and called on the world's most valuable automaker to sign the Fair Election Principles.

Employees said the right to organize a union is a fundamental civil right and the principles would prevent Tesla from threatening or retaliating against workers for organizing a union.
Tesla CEO Elon Musk, of course, illegally threatened all of his employees considering unionizing when he suggested in a 2018 tweet that organized staff would lose their stock options. Solidarity with the New York Tesla crew. This is probably going to suck, and you already know that — but it's always worth it in the end.
5th Gear: What Do We Have This Spectrum For, Exactly?
In 1999, the Federal Communications Commission carved out a block of wireless spectrum in the 5.9GHz range specifically so future cars could talk to each other and potentially spare some needless roadway tragedies. It then proceeded not to approve the band's use over the last 24 years, which is sort of on-brand for the FCC. Now two senators want the agency to get a move on and start issuing those waivers to automakers, according to Automotive News.
Senators Gary Peters, D-Mich., and Cynthia Lummis, R-Wyo., called on the FCC to approve waiver requests to enable deployment of Cellular Vehicle-to-Everything (C-V2X) technology in the 5.9 GHz spectrum band.

"C-V2X technology is poised to save lives, (and) will pave the way for the future of automobile and transportation infrastructure," they wrote.

The FCC said in November 2020 it intended to offer waivers. It has received 18 waiver requests covering 31 entities but none have yet been granted, the senators added. […]

Entities seeking waivers include Volkswagen Group, Ford Motor Co., Jaguar Land Rover, Panasonic Corp. and several other state entities.
Of course, it's not like a switch will flip and cars will suddenly start getting out of each others' way when they're headed for an inevitable collision. The estimated 600,000 annual crashes that the government claims could be prevented by this tech will take likely many years and much more cross-industry involvement to bear out. But you have to start somewhere.
Reverse: A Photo Is Taken
On this day in 1990, 33 years ago, Voyager 1 snapped a photo of back home, per History.com:
Of the Family Portrait series [of images of the planets], Pale Blue Dot was certainly the most memorable. The furthest image ever taken of Earth, it lent its name to popular astronomer Carl Sagan's 1994 book. Sagan, who advised the Voyager mission and had suggested the photo, wrote the following: "Look again at that dot. That's here. That's home. That's us. On it everyone you love, everyone you know, everyone you ever heard of, every human being who ever was, lived out their lives. The aggregate of our joy and suffering, thousands of confident religions, ideologies, and economic doctrines, every hunter and forager, every hero and coward, every creator and destroyer of civilization, every king and peasant, every young couple in love, every mother and father, hopeful child, inventor and explorer, every teacher of morals, every corrupt politician, every "superstar," every "supreme leader," every saint and sinner in the history of our species lived there—on a mote of dust suspended in a sunbeam."
Neutral: The Worst Wheel
I see plenty of these fourth-gen Subaru Foresters around my neighborhood, and the design of the wheels on this one is, in my opinion, the worst of all time. It looks tragic, for starters, and the alternating thick and thin spokes kind of hurts my brain. What was the rationale here? Also, I should say that the impossibly pristine example of this press image doesn't do the ugliness justice.