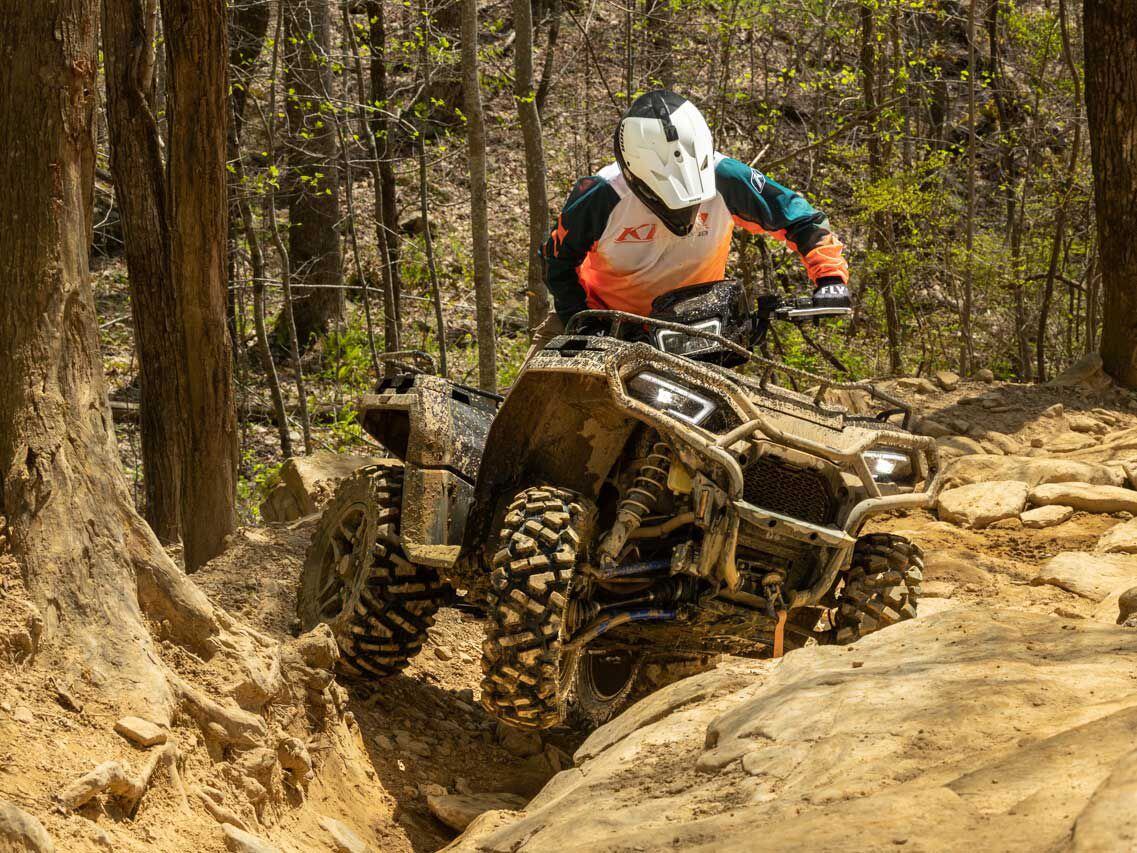 AWD systems, like those found on the Polaris Sportsman, allow the machine to decide which wheel requires more traction. (Zach Bowman/)
It's a common misconception that all-wheel drive (AWD) and four-wheel drive (4WD) are the same thing. While they might serve as different means to the same end, the way the two setups go about their business is totally unique. There's a variety of these systems used in ATVs and the nuances between them not only affects how the machine tackles the terrain but how you need to ride that respective machine. Let's dive in and see what makes each system tick.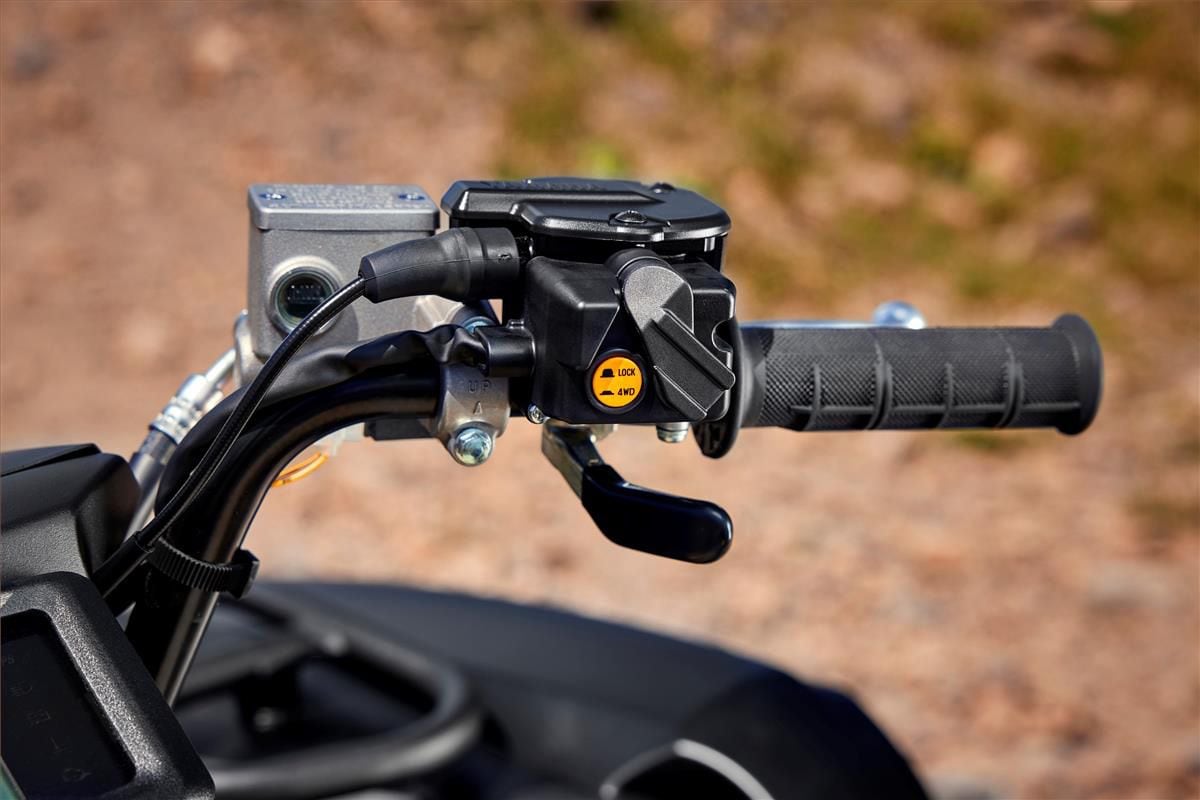 Four-wheel-drive systems help maximize traction in any four-wheeled vehicle. (Yamaha/)
Let's start with traditional four-wheel drive. This is what people think of when the phrase "four-by-four" or "4WD" comes to mind. Four-wheel drive allows all four tires to get power sent to them simultaneously, in part due to a transfer case that splits the engine's torque to the front and rear axles via output shafts. Most four-wheel-drive systems can be run in 2WD (rear wheels only) or 4WD. This is known as selectable four-wheel drive, where a manual lever or electronic switch allows the rider to select between the two.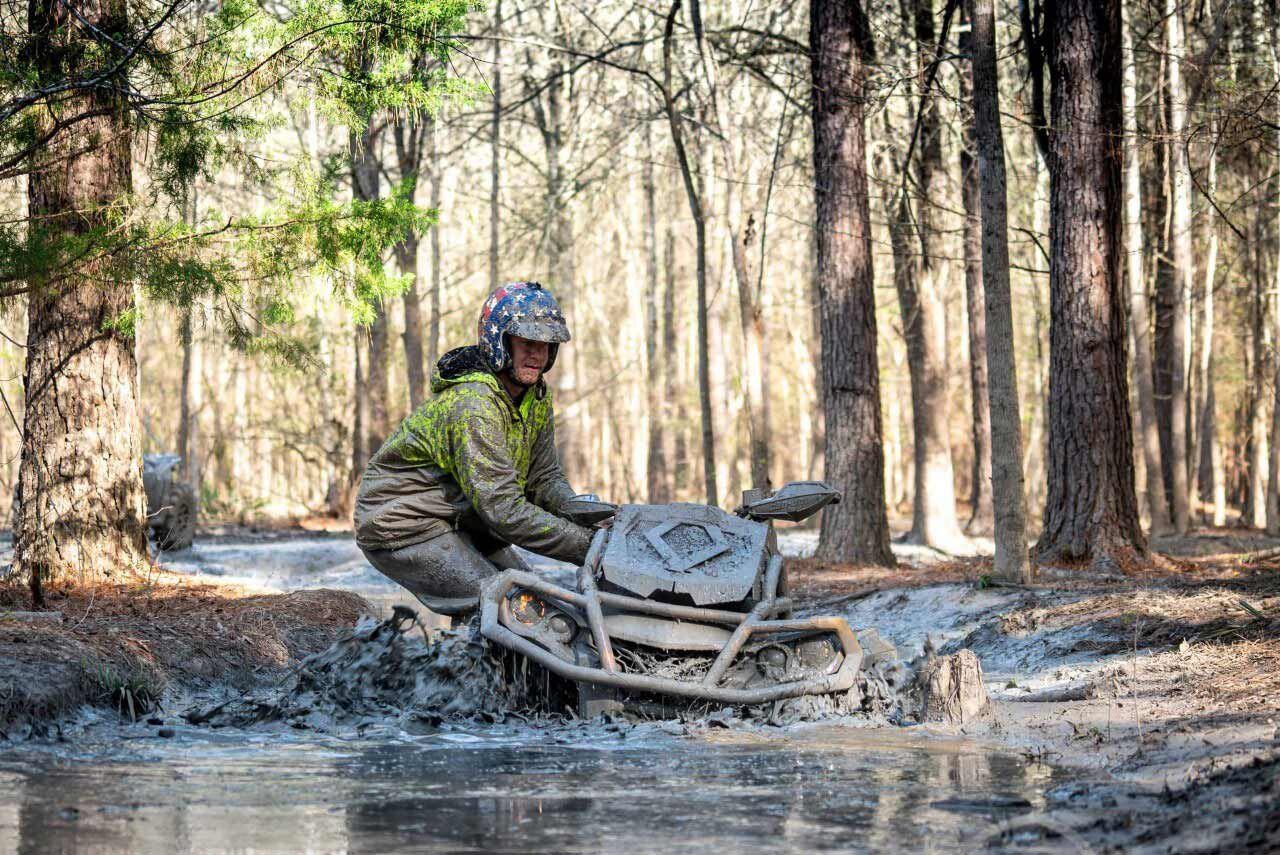 You're going to want four-wheel drive for situations like this. Or a boat. (Can-Am/)
It's easy to get lost in the weeds when discussing the variations of these systems, so let's stick to the surface. From a general automotive standpoint, an important aspect of 4x4s is the differentials. Three major landmarks stand out: open differentials, limited-slip differentials, and locking differentials. Open diffs operate with a variable amount of power being sent to each tire. Whether cornering or going straight, the wheels effectively turn wholly independent of the opposite tire's grip. This also means that all of the power can be sent to one tire. Another example is in the instance of a rear-wheel-drive vehicle going around a corner in a low-grip situation. Once it breaks traction, all of the power will be sent to the outer tire and the inner one will get nothing.
However, it also means that under no circumstance will the power be equally, constantly split between the two sides. Worse, if one tire gets bogged down, the other tire will get all of the torque and spin until the sun rises. Bottom line: A variable amount of torque is transferred from side to side, always changing unless a circumstance like getting stuck comes into play. Then you're bogged or hung up, with one wheel spinning freely and the other not spinning at all. When it comes to ATVs, very few use an open differential unless they are equipped with turf mode (designed to be ridden on grass without tearing it up).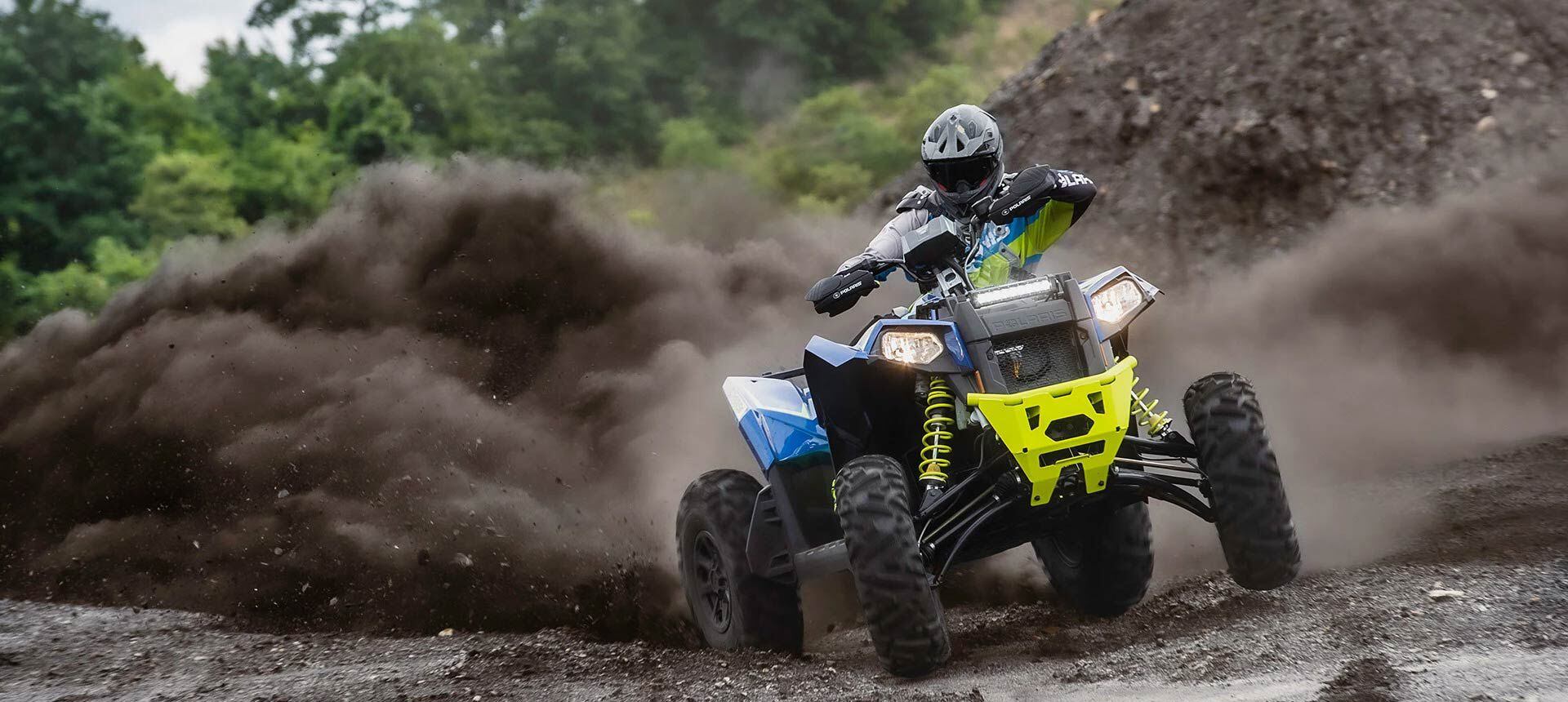 There are all kinds of 4WD and AWD systems. (Polaris/)
A limited-slip differential (LSD) splits the difference between an open diff and a locking diff. With an LSD, wheelspin across an axle is limited (pardon the pun) to a degree. An LSD works to continually send power from tire to tire just the way an open diff does, but an LSD also allows the split to be held at a continuous 50-50 across the axles. The tires can spin at the same speed, but don't do so when there is ample grip and subsequent force on the gear assembly.
In a situation of limited traction, the LSD will divide the traction between the tires. If, for example, you're stuck in the mud, both tires will spin at the same rate, but the torque is constantly being shifted from side to side. If, for example, a rear-wheel-drive vehicle is going around a corner in a low-grip situation, most of the power will be sent to the outer tire but the inner one will still spin. Lose that grip, and the differential will work to prevent slip by rotating the tires at a constant rate.
A locking differential—like that which Yamaha employs in the front end of the Grizzly—helps maximize traction. (Yamaha/)
Locking differentials are the pinnacle of attaining traction. A locker—usually manually controlled by the operator—guarantees that a fixed, even amount of traction is sent to both tires across the axles. In a perfect system, that means a static 50-50 split happens and all four wheels turn together simultaneously. Some axles lock automatically when they sense slip but most are locked manually by the operator. Any semblance of slip means the shaft shared between opposing tires—or the shafts that run into the diff and share a drive axle—split their torque evenly across them as soon as slip is mechanically or electronically detected.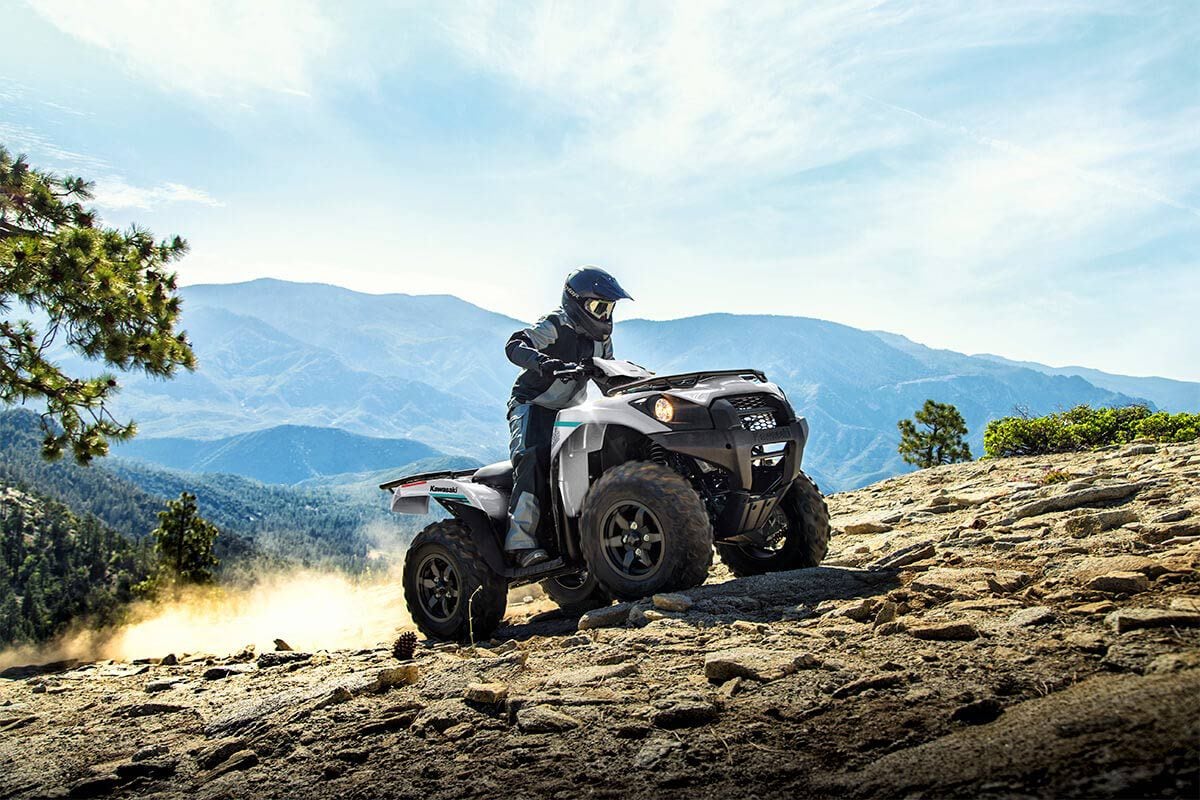 Lockers come in different varieties, like Kawasaki's progressive locking front differential on the Brute Force 750. (Kawasaki/)
There are also locking center differentials which, you guessed it, send an equal amount of power between the front and rear axles of a vehicle. Many SUVs like our Lexus GX 460 project rig have this. Further, let's discuss the importance of locking differentials for when traversing tricky terrain. Put simply, the constant, equal torque sent across the axles means that there's no break in the rotation of a tire. So if you have a situation in which one tire loses traction, it continues to spin at the same rate even if it's not putting that power to the ground. In turn, this means there's a steady rate of forward motion at all four wheels.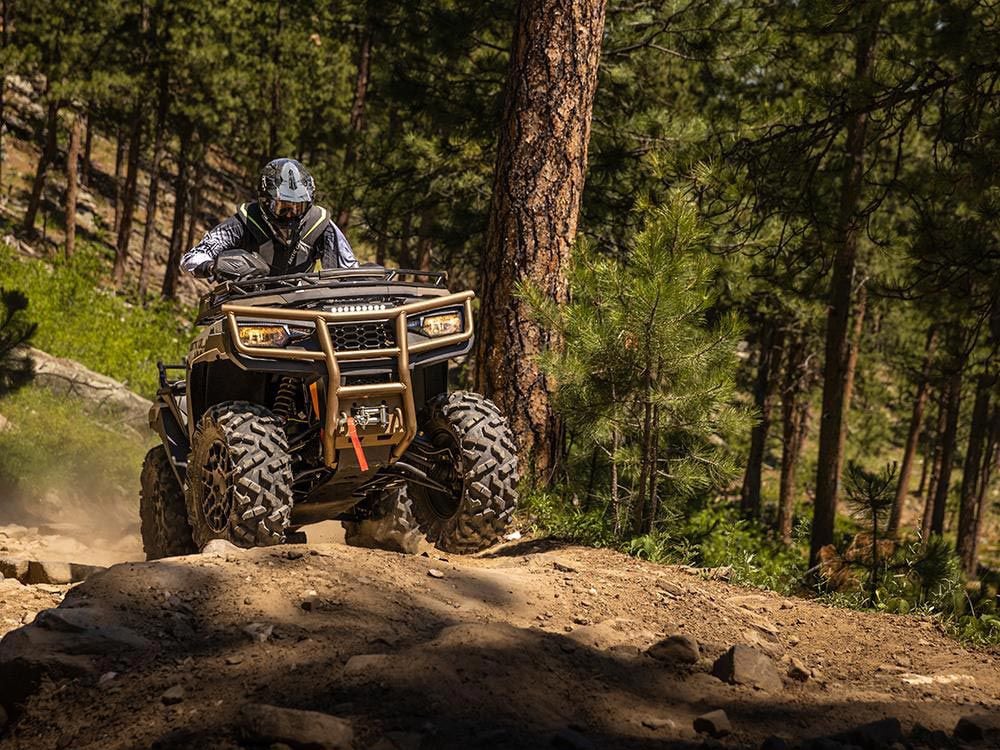 Full-time four-wheel drive hasn't been used on ATVs in ages. Most use selectable 4WD systems. (Arctic Cat/)
Now, don't forget that full-time four-wheel drive is its own entity altogether. It operates in the way it describes—all four wheels are driven at all times—but there is no option to run it in two-wheel drive. Some full-time systems run in a fixed 50-50 split front/rear, while others let the sensors and the computer shift power fore/aft. Regardless, there's still four driven tires and a transfer case with the ability to shift into low range. Some early 4WD ATVs were designed with full-time 4WD, such as the 1986 Honda FourTrax 350 4×4.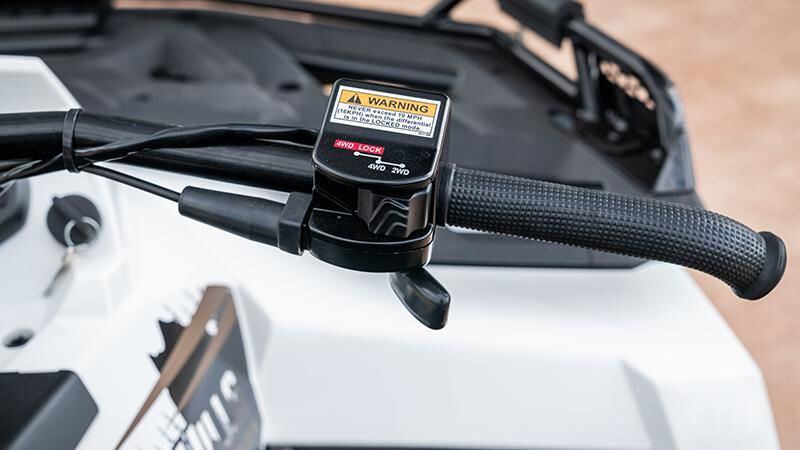 User-controlled locking differentials are located on the handlebars, usually integrated into the 4WD selector. (Arctic Cat/)
The biggest difference between all-wheel drive and four-wheel drive is typically found in how the system is controlled. With 4WD, it's locked into how it distributes power while AWD leaves controlling traction to the devices of the machine and the sensors. An AWD system typically allows torque to be sent between the front and rear axles, constantly evaluating grip as the vehicle traverses the terrain and moving that distribution around constantly. There are some AWD systems in which you can lock the system 50-50 front/rear, but they're not as common as other systems that continually vary the shift. Additionally, four-wheel drive usually has a transfer case to reduce the rotation of the tires while retaining the output of torque so as to be able to crawl slowly while maintaining traction. Similarly, all-wheel-drive vehicles do not always have this. Likewise, 4WD is usually a system operated by the user while AWD is usually on at all times.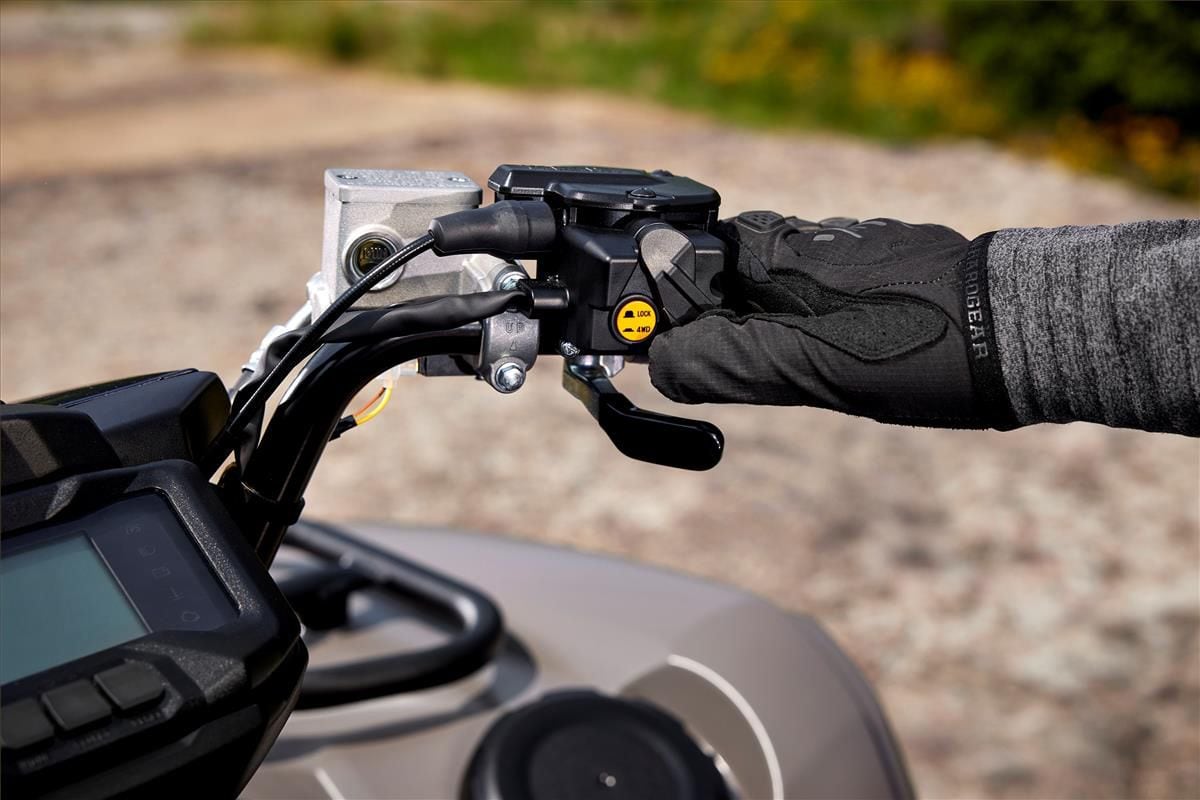 Yamaha's 4WD system is arguably the best in the business. (Yamaha/)
Let's look at a few examples of the ATV manufacturers' systems.
The industry standard for traditional four-wheel drive is Yamaha's On-Command system. It can be operated in 2WD, 4WD with the differentials running in limited-slip mode, or 4WD with the front differential locked. High and low range are both present. Yamaha's On-Command system is a simple, tried-and-true way for the operator to decide which tires have power sent to them, and how the power is distributed. While newer riders might find it harder to use due to the involvement of controlling the front locker, experienced riders find it ideal thanks to the ability to truly lock the four-wheel-drive system.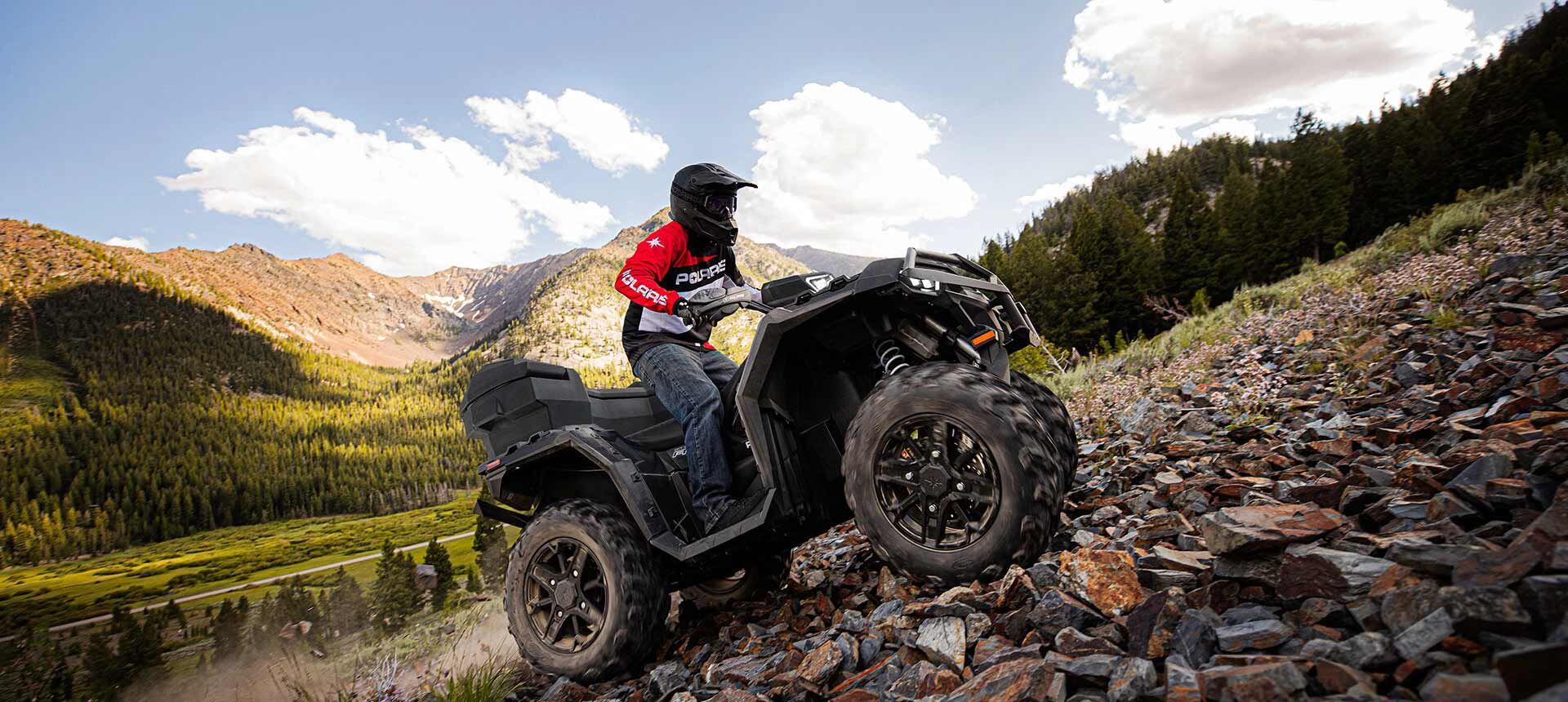 Polaris' system is more of an all-wheel-drive style. (Polaris/)
Polaris' One Touch On-Demand AWD/2WD operates more like an all-wheel-drive system. There are 2WD and AWD modes (which Polaris calls "2×4″ and "4×4″) with the latter sending power to the rear wheels alone until the rear tires slip, at which point it diverts some power to the front end. Polaris says that AWD mode "allows any wheel that has traction to become a powered drive wheel," which "does not mean that all wheels are constantly powered when AWD is on." Translation: The machine is constantly changing how much power it sends axle to axle and side to side, and only locks the front end when it thinks it should. The upside is you can focus on riding, but the downside is that there's usually a slight lag between slip and the tires getting the traction they need.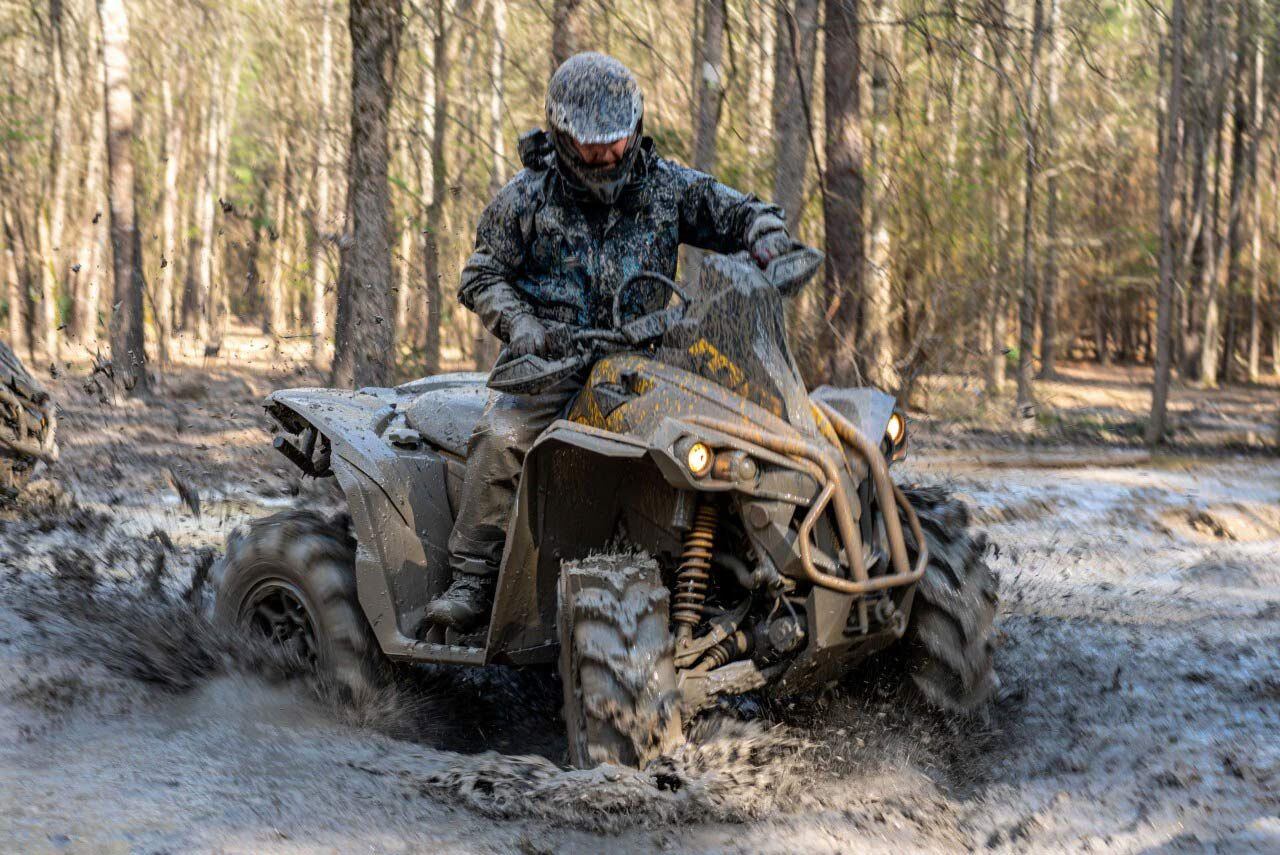 Can-Am offers a variety of four-wheel-drive systems. (Can-Am/)
Can-Am's Visco-Lok is a mix of both of these. Most of the company's four-wheelers use a Visco-Lok system that is fully controlled by the sensors and computers—you select 2WD or 4WD, and the machine does the rest for you. The one exception is the newest iteration called Visco-4Lok, which does allow for the front diff to be locked when the rider chooses, but it's available on a very limited selection of models including the X MR mudders and Outlander XT-P and Max Limited. These aside, Can-Am leaves the power in the hands of its engineers and those of the machine to handle traction. In our experience, it's a good middle ground between Yamaha's and Polaris' systems, with the front diff being better and quicker to lock than Polaris' but lacking the prevalence of control present in Yamaha's setup.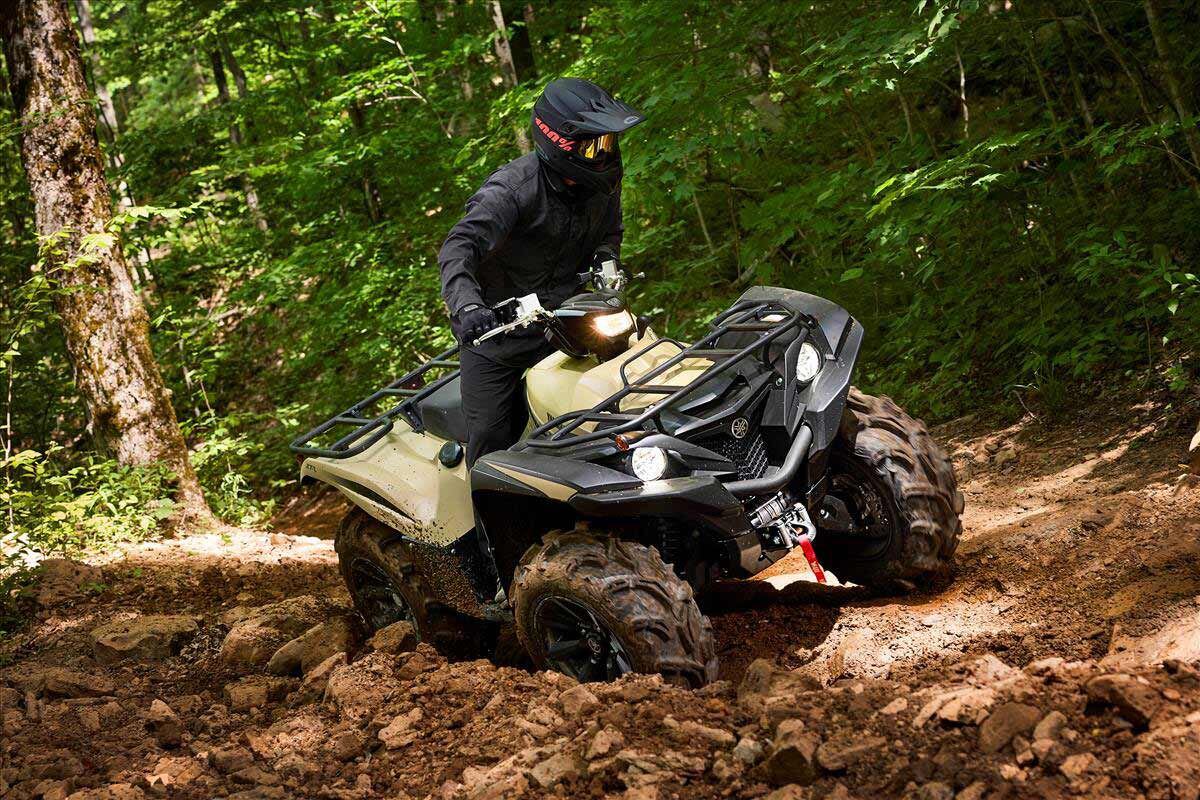 Four-wheel drive helps us get to places we otherwise wouldn't be able to, and handle tasks that two-wheel-drive machines can only dream of. (Yamaha/)
An important caveat: There are exceptions to almost everything we've discussed here. Some all-wheel-drive systems have a transfer case that can run in low range, and some four-wheel-drive systems don't do everything others do. There's an aspect of marketing and naming trickery to the trade that is hard to pin down, but just remember that not everything in the drivetrain world can be taken at face value. Also note that we haven't discussed every manufacturer here, as the outliers—Kawasaki, Honda, Suzuki, Arctic Cat, et al—use some variation of the tech discussed herein.
Four-wheel-drive systems are truly a marvel of modern machines, even if they don't get the credit they deserve. A good 4WD system lets the user take control, while all-wheel drive leans more on the vehicle itself controlling the power shift. Regardless, it's important to understand the means by which your vehicle puts power to the ground, especially as your skills progress and you find yourself looking for tougher challenges. It just might be the difference between making it over an obstacle or through that deep mud pit—or not.
Want to stay up to date on the latest ATV Rider news and reviews? Sign up for our weekly newsletter!