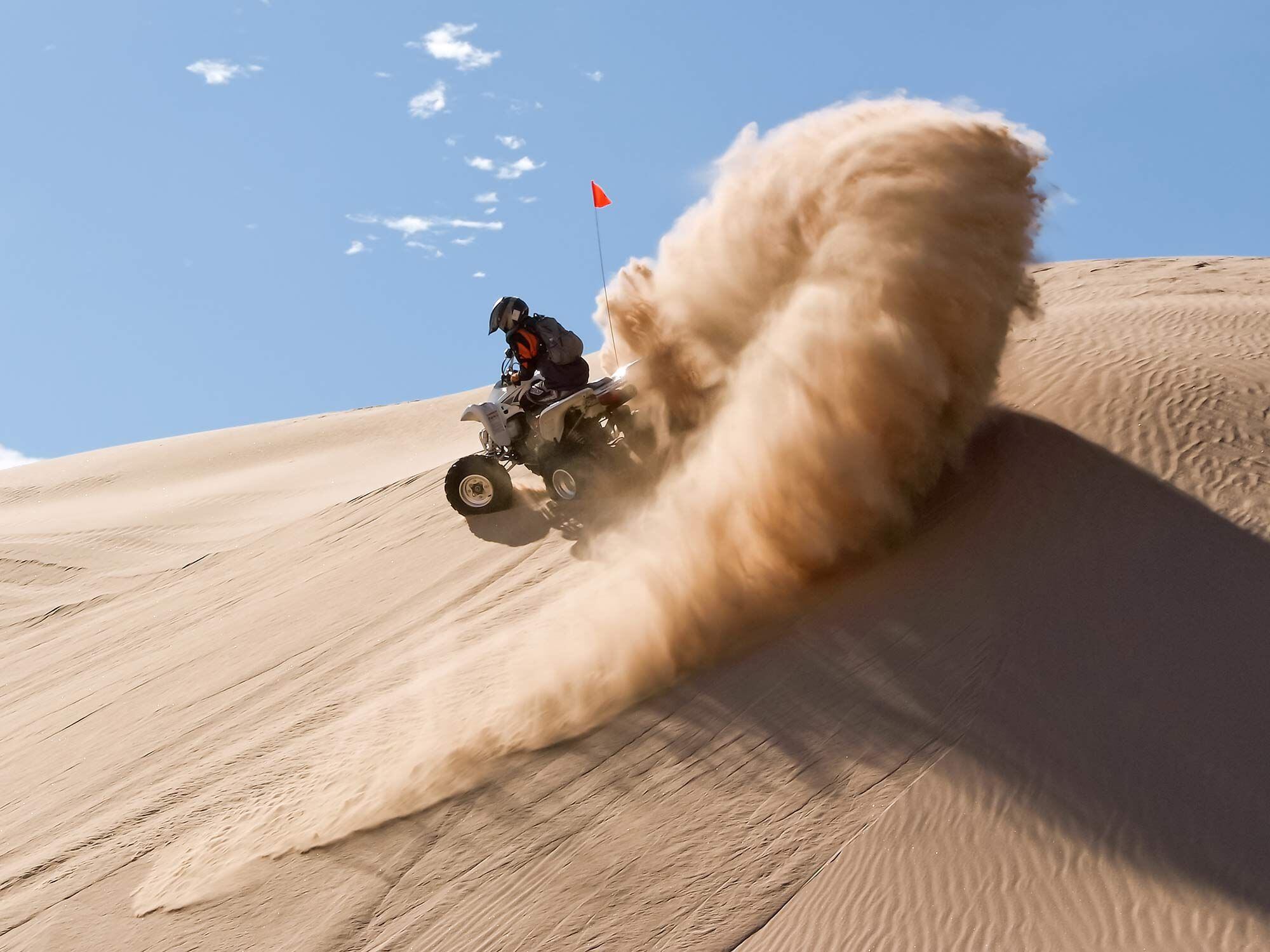 Shred some sand dunes with these great riding spots. (Pismo Beach ATV Rentals/)
Unless otherwise noted: Every spot is open year-round. Always wear a helmet and proper riding gear. Dogs are allowed as long as they are leashed and under control. All vehicles must have a muffler or spark arrestor, all vehicles must be registered either in the OHV area state or the owner's home state, and all vehicles must have a mast and a red or orange flag.
California
Oceano Dunes State Vehicular Recreation Area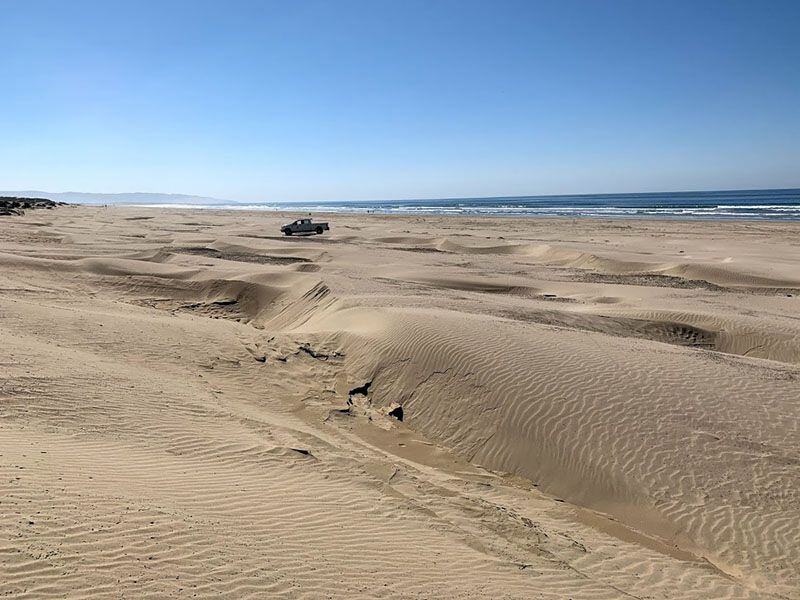 The Oceano Dunes beach makes for a great view while riding. (California State Parks and Recreation/)
Website: ohv.parks.ca.gov/?page_id=1207
Facebook: facebook.com/OceanoDunesDistrictPismoBeach
Phone: (805) 773-7170
Otherwise known as Pismo, the 1,200 acres of sand at Oceano Dunes exemplify the mythic it's-all-here California life that locals and transplants rave about. An hour from the sand you can check out Paso Robles wine country, see a rocket launch at the Vandenberg Space Force Base, hike the cliffs at Montaña de Oro State Park, or marvel at the butterfly-filled eucalyptus trees at the Monarch Butterfly Grove.
There's plenty to do right there on the beach though. As the Daytona Beach of California, Oceano's got the only rideable coastal dunes in the Golden State. Don't expect wild formations here. The dunes are as pacifico as the ocean. The point of Pismo is the surfside fun and atmosphere as opposed to big thrills and spills, but you do get some moderate climbs and jumps.
Camping on the beach is the only way to do this one justice. You can book a spot online up to six months in advance of arrival, there are chemical and vault toilets on the dunes, and a dump station not far from the campsites that costs $10 to use.
We started with this one because it's under threat. The California Coastal Commission (CCC) voted to close Oceano to OHV traffic no later than March 18, 2023. As the deadline nears, the CCC has already closed 300 acres formerly available to ATVers and forbidden night riding. If you want to try this one before it's shut for good, get going, and be sure to call ahead for info on any other restrictions.
Passes:
Day-use pass: $5
Camping: from $25 to $50 depending on the season and hookup/no hookup
Dumont Dunes OHV Area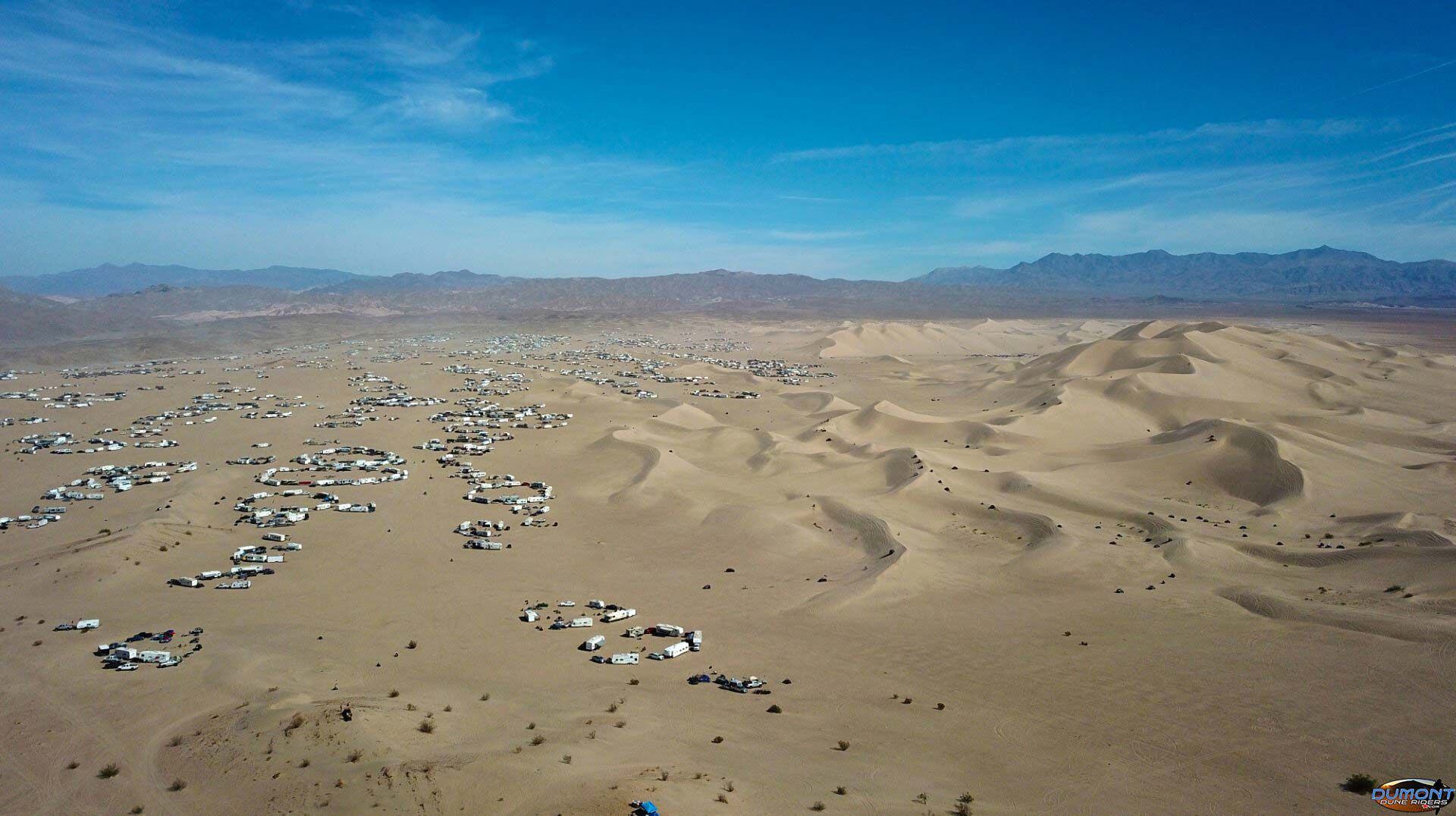 Camp and ride at the Dumont Dunes. (Dumont Dune Riders/)
Website: dumontduneriders.com/invision/index.html/
Phone: (760) 252-6000
About 40 miles north of Baker, California, on the I-15 between Vegas and Barstow, Dumont Dunes has 8,150 acres to play in. If you lost almost everything in Vegas, you can recover here. If you won, buy all the motor and all the paddle tires you can before you hit Dumont because the steep faces are horsepower traps.
There's plenty for everyone in any kind of mood. Small rollers and flowing transitions at "Little Dumont" invite riders to learn the way of the dunes before hitting the main sandbox with its 500-foot-high razorbacks and bowls between. When it's time to test rider and machine, hit North Pole, Banshee Hill, or Superbowl to get your ticket punched. And there are gorgeous side trips on gravel and sandy washes through the volcanic hills of the neighboring Kingston Range Wilderness.
Primitive camping is allowed anywhere out of the way of the roads for a maximum of 14 days. Get a separate campfire permit if cooking is on the menu. Dumont's well out of the way, so plan on packing everything in and out and bring lots of water.
Passes:
Non-holiday week pass: $30
Holiday week pass: $40
Annual permit with holiday blackout dates: $90
Annual permit including holidays: $120
Holidays are MLK Day, President's Day, Halloween, Thanksgiving, and New Year's week from December 27 to January 2
Imperial Sand Dunes Recreation Area (Glamis)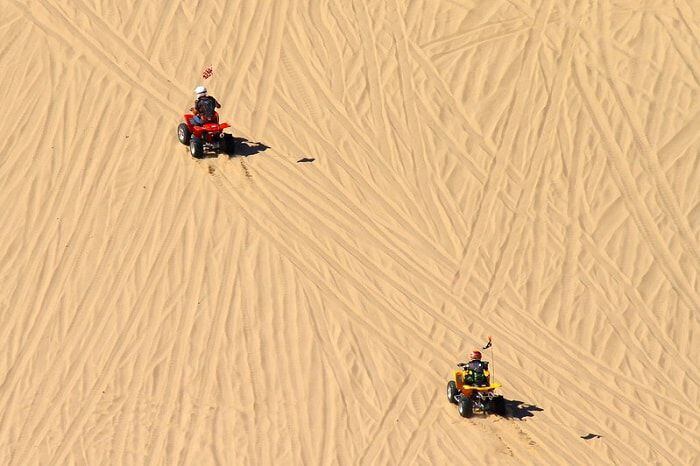 The famous Glamis sand dunes. (Wild ATV/)
Website: blm.gov/visit/imperial-sand-dunes
Facebook: facebook.com/BLMImperialSandDunes/
Phone: (760) 337-4400
The big one. More than 150,000 acres. Dunes 300 feet high. Named after a town on the eastern edge called Glamis. Maybe the most famous dunes in the nation, with cinematic landscapes worthy of Star Wars, Lawrence of Arabia, The Scorpion King. The one locals like to call "The Sand Dune Capital of the World" (Morocco has entered the chat and is typing…).
What can't you do here? It's a gargantuan playground of constantly shifting dunes that climb as high as the Bass Pro Shop Pyramid in Memphis, Tennessee. Witches eyes and razorbacks, high ridges and big G-force-inducing bowls, humps and transitions that would make any roller coaster proud, tiki huts and a swing set. Try to surmount the six major hills while there: Brawley Slide, China Wall, Competition, Lizard, Oldsmobile, and Wall Hill. Then take a ride along the border fence. Another hint: Monitor the weather forecast and go early on a weekend after a windy couple of days—the dunes will be buttery smooth.
There's plenty of camping space even for the 160,000 visitors who show up for Thanksgiving weekend. Popular spots are Gecko Road, Vendor Flats, The Canal, and the washes, but you can park almost anywhere up out of the way of the action if you're there on a quieter weekend.
Passes:
Weekly, purchased in advance: $35
Weekly, purchased on-site: $50
Season pass: $150, good from October 1 to April 15
Nevada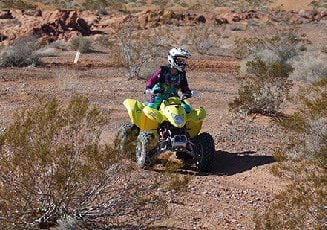 The Logandale Trails in Nevada. (Off-Road Nevada/)
Website: ohv.nv.gov/trails/logandale-trails
Facebook: facebook.com/logandaletrails/
Phone: (702) 515-5000
We're not ready to occupy Mars yet, but this place about an hour northeast of Las Vegas on Interstate 15 will get you close enough. The 200 miles of dunes and trails among 45,000 acres are on the easy side, so masts and flags aren't required. The scenery through rock formations is spectacular, justifying the adjacent Valley of Fire State Park being Nevada's most visited state park.
Camp anywhere at the trailhead or along the marked trail system that's out of the way of the trail and on solid ground. Expect primitive digs; the only bathrooms and shade structures with picnic tables are at the trailhead and on one trail. Make sure to check out the ancient artwork on the rocks, called petroglyphs, while you're out there. Just make sure not to disturb them so visitors a few hundred years from now can enjoy them as well.
Passes: Free
Utah
Little Sahara Recreation Area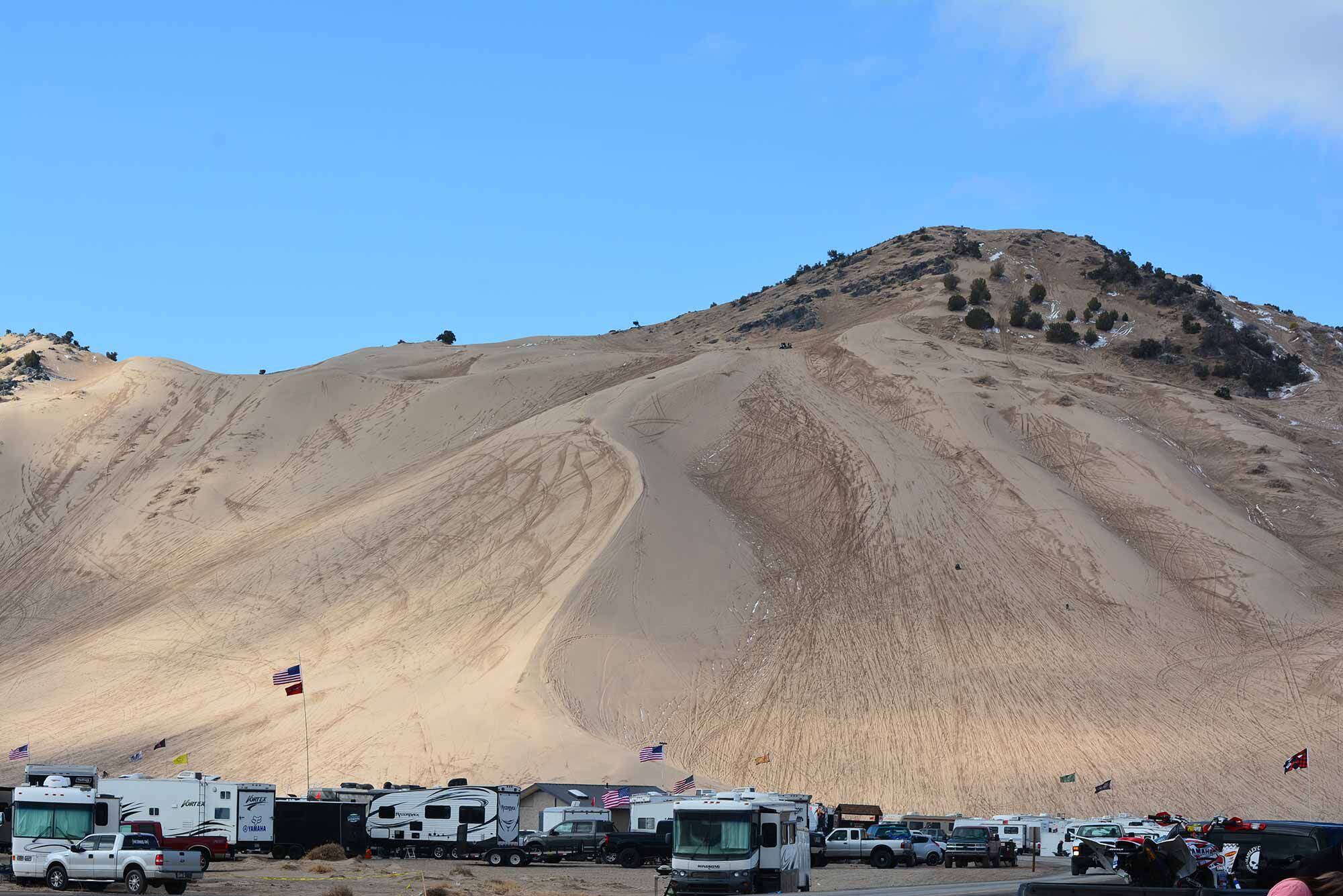 Massive hills at the Little Sahara Recreation Area. (Utah Bureau of Land Management/)
Website: blm.gov/learn/interpretive-centers/little-sahara-recreation-area
Facebook: facebook.com/groups/LittleSaharaUT
Phone: (435) 433-5960
About two hours out of Salt Lake City in central Utah, this 60,000-acre park encompasses 23,000 acres of open riding area over sand, trails, and sagebrush flats. The literal high point is a peak nearly 700 feet high at the aptly named Sand Mountain (not to be confused with another Sand Mountain in Utah a few hours south). The White Sand Dunes provide ridges and bowls good for beginning and intermediate rides, and Black Mountain offers tons of dirt trails. Little Sahara is one of the best areas in the country for riding because of its variety, wide-open spaces, and trailblazing opportunities.
Want something for the kids? The White Sands area has two of the world's largest sandboxes for kids. Want quiet? The adjacent Rockwell Outstanding Nature Area is 6,000 vehicle-free acres of diverse flora and fauna. Want to camp? There are four campgrounds with 255 primitive and full-hookup spots, plus dispersed camping outside of the official sites, and drinking water available year-round.
If you visit over the winter of 2022–23, attendants are working out of a BLM trailer. The new visitor center opens ahead of Easter weekend 2023.
Passes:
Day pass/overnight: $18
Annual permit: $120; $60 for seniors and the disabled
Sand Hollow State Park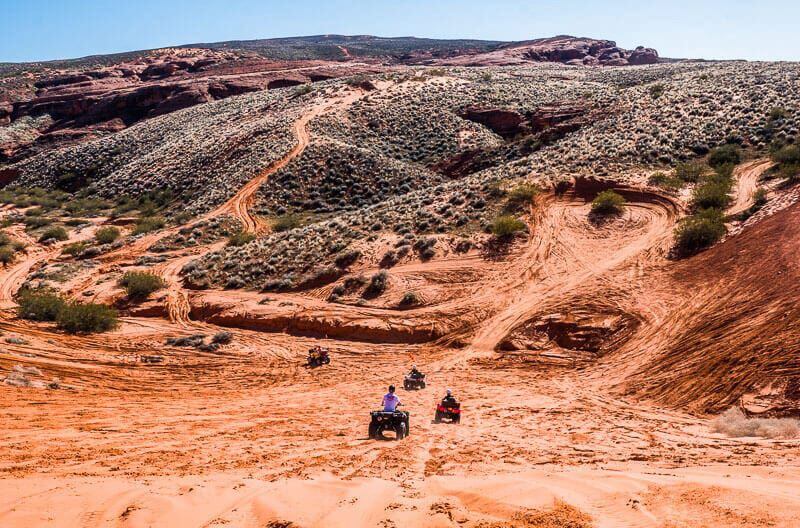 Sand Hollow State Park. (Caroline Makepeace, ytravelblog/)
Website: stateparks.utah.gov/parks/sand-hollow/
Facebook: facebook.com/SandHollowComplex/
Phone: (435) 680-0715
Utah State Parks has done every rider the favor of uploading an interactive map with every place to ride an ATV in the state. Sand Hollow is a good candidate for the phrase "This one has it all." The 21,000-acre park combines more than 6,000 acres of varied terrain with a 1,322-acre reservoir where one can boat and ski and fish or take a lazy day on the beach, then try a ton of other outdoor activities.
The dunes at elevation are known as Sand Mountain (the other Sand Mountain). This is a smaller version of Glamis but with obstacles, the ridges, bowls, and whoops swirling and shifting around giant red sandstone boulders. A long, curving line of sandstone hills separates the dunes from the valley below where riders can find a glut of desertlike trail riding that ranges from smaller sand dunes to high-speed gravel paths and rock crawls. None of the trails are marked for difficulty, but names like The Maze (that climbs 1,453 feet) and Cliffs of Insanity should be clues. Point being, bring a buddy for safety if you can, and be prepared for anything.
Campsite options start at $20 per vehicle for primitive sites; $30 per night for dry camping at the Sandpit Campground; $43 for full hookups at the Westside Campground; up to $100 for group camping with no hookups at Sandpit, that fee covering four vehicles.
Passes:
Day pass: $15 for Utah residents, $20 for out-of-staters
Annual permit: $100 for Utah residents, $150 for out-of-staters
Coral Pink Sand Dunes State Park
With more than 1,500 acres of sand dunes, Coral Pink Dunes are a great choice for Utah riders. (Utah State Parks/)
Website: stateparks.utah.gov/parks/coral-pink/
Facebook: facebook.com/CoralPinkSandDunes/
Phone: (435) 648-2800
Just an hour's drive east of Sand Hollow, you'll find Coral Pink Sand Dunes. Although the soft sand and steep faces can eat up a lot of horsepower, these formations aren't too challenging. The tallest dune is no more than 80 feet. This is a great spot to learn dune riding on rigs right off the showroom floor before you get the itch to wrench and upgrade everything.
Don't underestimate the allure of Coral Pink however. There are more than 1,500 acres of sand to ride, and the nearby trail systems along the edge of the dunes like Sand Highway and South Boundary, plus those on adjacent BLM land, run to hundreds of gorgeous, historic miles.
Two campgrounds with hot showers and flush toilets include 22 dry camping sites that cost $25 per night and 12 sites with water and electric hookups that run $40 per night.
Passes:
Day pass: $10
Annual permit: $100
Idaho
St. Anthony Sand Dunes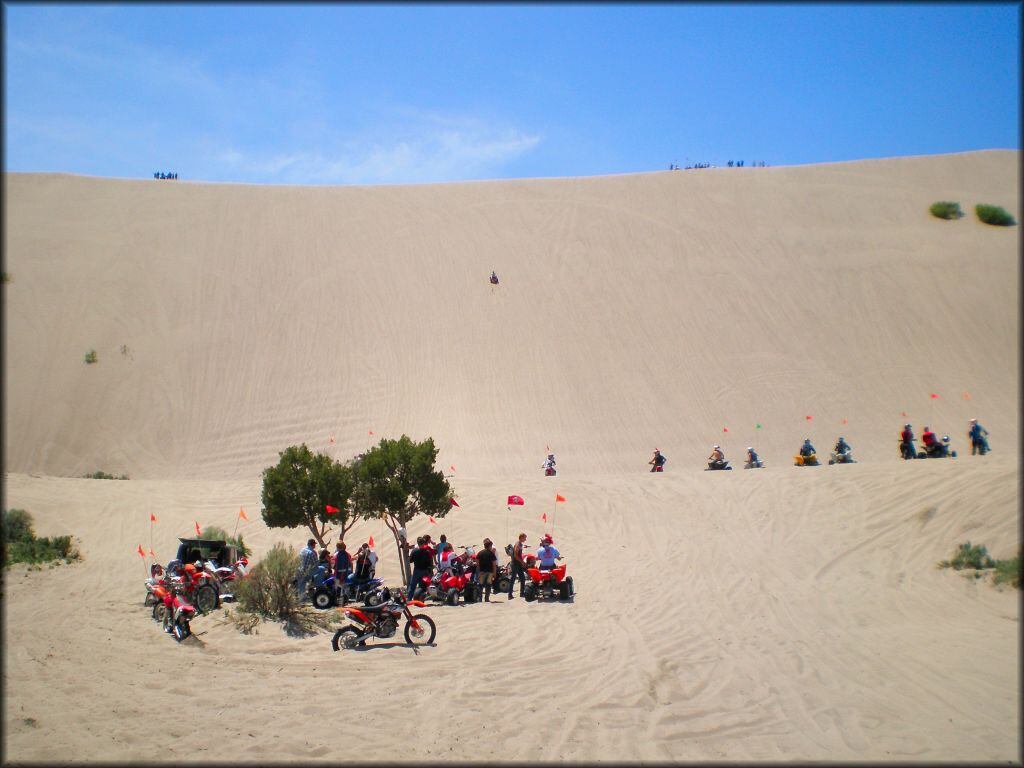 Dunes as high as 400 feet litter the St. Anthony sand dunes. (Rider Planet/)
Website: blm.gov/visit/st-anthony-sand-dunes
Phone: (208) 524-7500
Even more popular than its 10,600-acre size would suggest, riders come to St. Anthony to ride white quartz dunes that form steep ridges as high as 400 feet, massive bowls, and the challenge of lava boulders hidden among the smaller dunes. Rising from a larger plateau carpeted in lush green vegetation, the one volcanic riding area is hardcore enough for riders of all skill sets, and beautiful enough for the wedding shoots that take place every year.
Note that every area except the smaller dune east of Egin Lakes Campground closes on January 1 in order to protect elk, moose, and mule deer. The "big dunes" on the western side are closed from January 1 to sunrise April 1. The areas around the open dunes don't open until May 1. Only the smaller, open dunes east of Egin Lakes are open all year, but they're likely covered in snow in winter. Unlike some other Utah spots, though, the average yearly high is 85 degrees, so you don't need to avoid this one in the summer.
There are 48 campsites, 26 that can be reserved ahead of time for $25 to $60 per night, and dispersed camping. Primitive sites are mixed with full hookups. The Egin Lakes Campground, Sand Hills Resort, and Idaho Dunes RV park offer ride-in, ride-out access to the dunes, but keep the closure dates in mind.
Take the side trip to Yellowstone National Park if you can make time (and why wouldn't you?).
Passes:
Day pass: $5
Annual pass: $60
Oregon
Christmas Valley Sand Dunes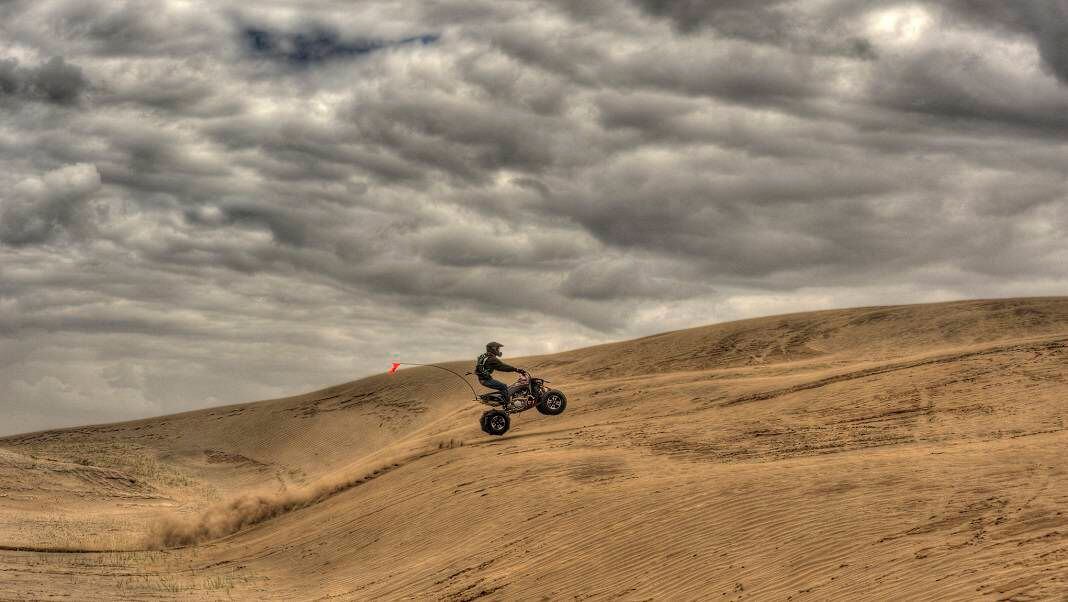 In Oregon, all you need is a state permit to ride OHVs anywhere. (Wild ATV/)
Website: blm.gov/documents/oregon-washington/public-room/map/lakeview-christmas-valley-sand-dunes-map
Phone: (541) 947-2177
A dune getaway that emphasizes the getaway. About 9,000 acres of sand sit inside the BLM's Wilderness Study Area, the dune fields formed from ash and pumice more than 7,000 years ago when Mount Mazama erupted and formed Crater Lake. Peaks only get about 60 feet high, but the sands are constantly shifting into new arrangements of fun bowls and ridges.
The reward for your commitment to visiting the largest inland field of living dunes in the Pacific Northwest is that riding is free. All you need is the state permit required to ride OHVs anywhere in Oregon.
Spring and fall are the best times to visit, winter's also doable if you don't mind chilly days and cold nights. Summer temps climb into the 90s and 100s and it gets rather dusty.
Primitive camping is also free at three BLM campgrounds, dispersed camping elsewhere. A resident whose land abuts the dunes allows camping on his land, asking nothing more than a donation to maintain the grounds, so pack in and pack out and be respectful. Supplies can be had in the town of Christmas about 16 miles away.
Due to the natural sensitivity of the study area, make sure to stay on marked roads. But since you've done all that work to get there, check out the Lost Forest of ponderosa pine, and Fossil Lake with its traces of mammoth, dire wolf, giant beaver, and fossils as old as 400,000 years.
Passes: Free
Oregon Dunes National Recreation Area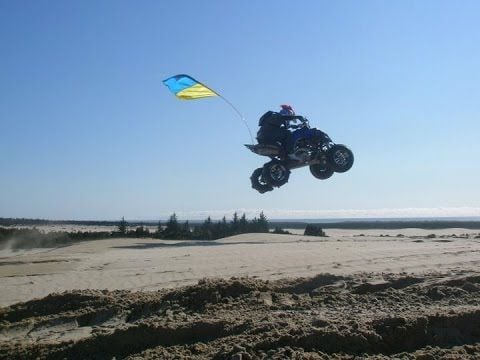 With a variety of terrain ranging from sand trails to wetlands, the Oregon Dunes has something for everyone. (Wild ATV/)
Website: fs.usda.gov/recarea/siuslaw/recreation/recarea/?recid=42465
Phone: (541) 271-6000
Due west of Christmas Valley, the Oregon Dunes NRA is the opposite of secluded and primitive. Laid along 40 miles of Pacific coast and up to 2.5 miles inland counting 31,500 acres, riders will find dunes that climb as high as 500 feet, sand trails, tree islands, wetlands, and riverine views among three main riding areas.
Head to Florence at the north end for medium dunes. Head to Winchester Bay in the middle for the horsepower-eating hills. Head to Coos Bay at the southern end for the largest fields threaded with awesome two-track trails. And rip up the beach at Florence or Coos Bay, but not Winchester Bay.
The endangered snowy plover lives here just like at Oregon Dunes, so beach access might be restricted from March 15 to September 15 during nesting season.
There's heaps of camping, but campgrounds fill quickly, so reserve ahead of time.
Passes: Depends on where you want to fly your flag and which campground you choose. Day passes for Oregon Forest Service recreation areas start at $5 per day or $30 for an annual pass. Camping in areas like West Winds and East Dunes costs $25.
Want to stay up to date on the latest ATV Rider news and reviews? Sign up for our weekly newsletter!