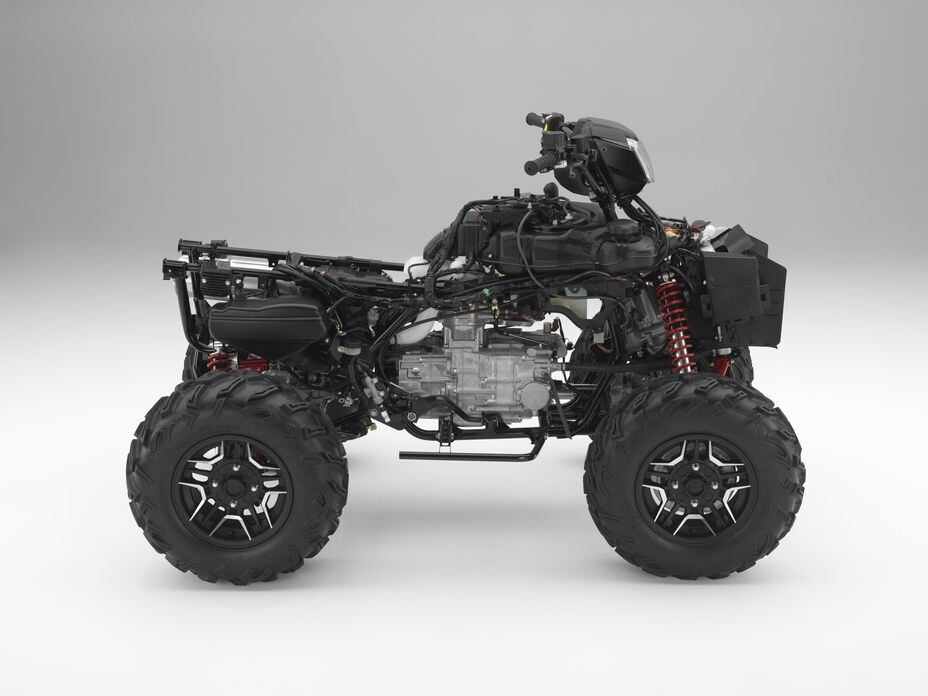 Honda does things its own way. (Honda/)
Honda has always done things differently. Whether that's delivering a big-bore sport quad with independent rear suspension or equipping its utility quads with a dual-clutch transmission, the company has never been afraid to color outside the lines. That's especially true when it comes to engines. Unlike most other ATV manufacturers, Honda mounts its powerplants longitudinally. But why?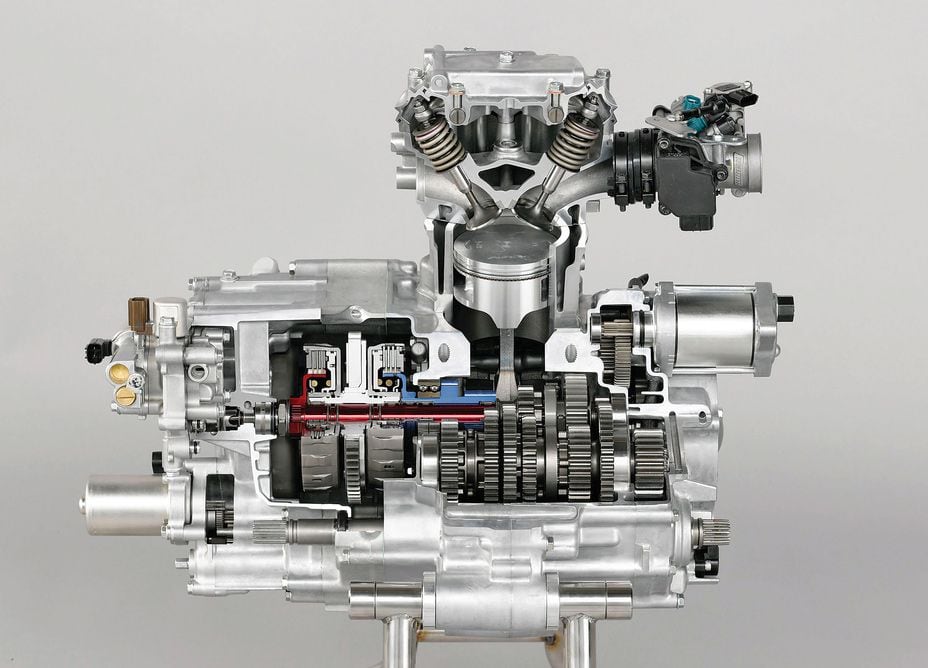 Honda's ATV engines have one piston, but the engine is turned so the output shaft runs toward the rear axle. (Honda/)
What is a longitudinally mounted engine? Basically, a longitudinal engine runs its output shaft front-rear rather than the usual left-right setup employed by most other manufacturers.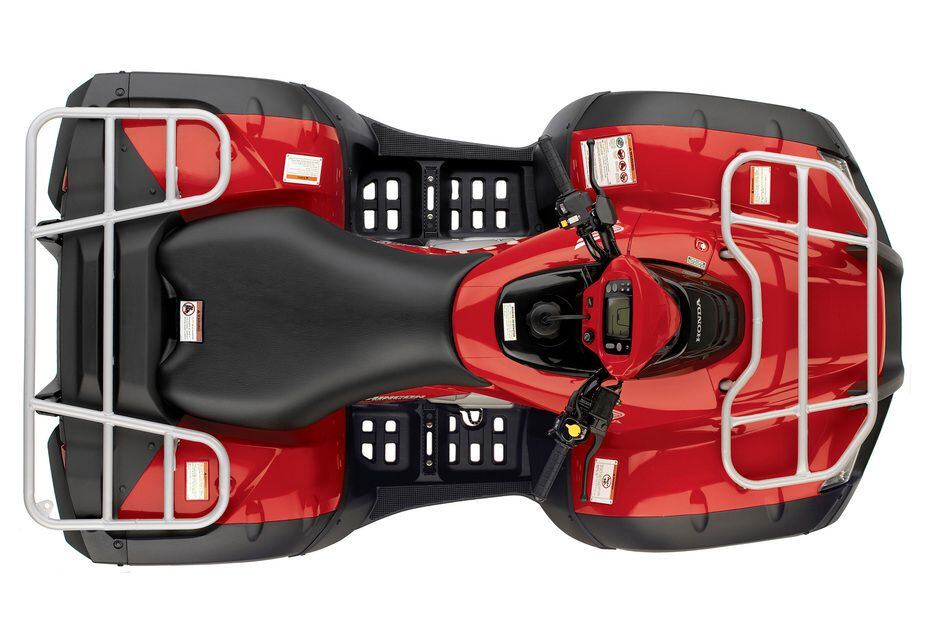 Longitudinal mounting makes for a narrow tunnel. (Honda/)
Honda's design allows for a slimmer machine with more room to move around when in the saddle. The narrow engine tunnel is great for ergonomics, giving you the space to leverage your weight when cornering aggressively.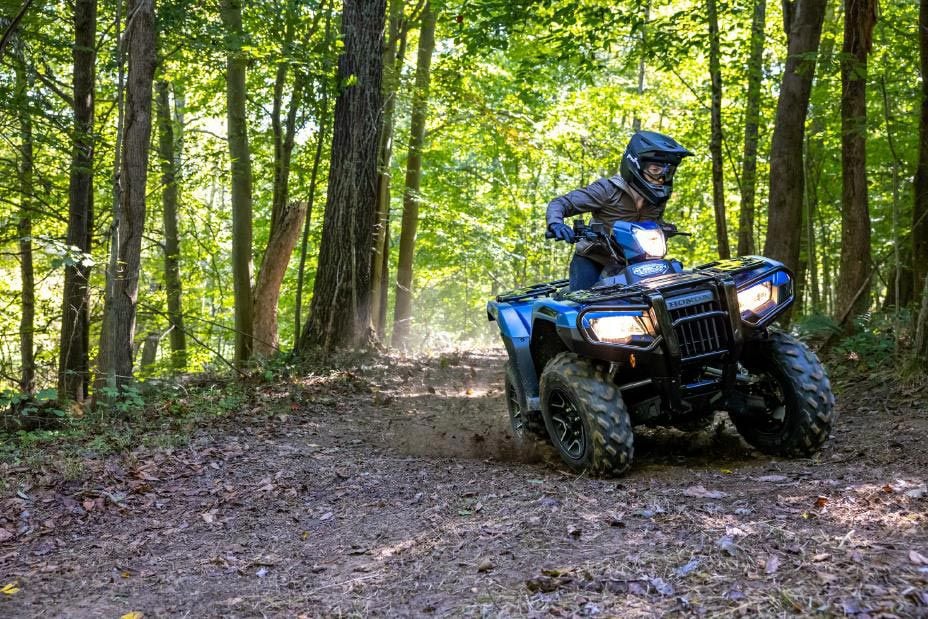 Fewer right angles means less power loss. (Honda/)
A longitudinally mounted engine also helps limit power loss. In most ATVs, there are multiple degrees of separation between the engine and the tires. Usually, with a horizontally mounted engine, an output shaft runs to a CVT belt at right angle. This means that there's a reduction in how much power actually makes it to the ground.
With Honda's engine mounted longitudinally, the output shaft runs along the same plane as the driveshaft. As such, there are no right angles and subsequently a minimal loss of power. Think of it this way: Pushing a shopping car from behind is easier than while standing beside it. Apply this to engines, and it's why the longitudinal layout makes sense for minimizing power loss.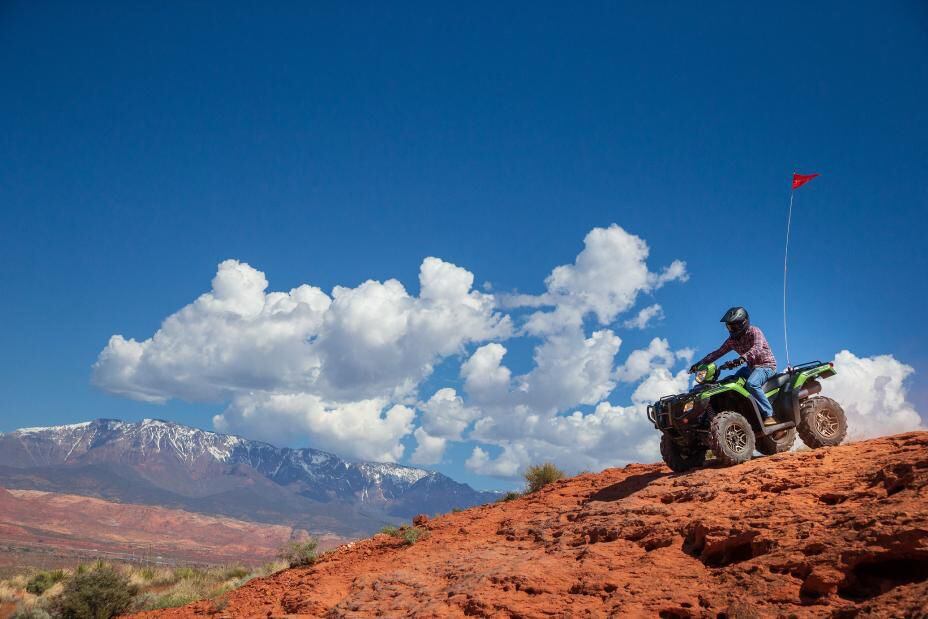 The low center of gravity pays dividends on the trail. (Honda/)
Finally, Honda's abnormal engine orientation allows for a lower center of gravity. Keeping this as low within the quad as possible helps in many ways, mainly handling and hauling. In a four-wheeler, a low center of gravity helps provide corner stability and reduces the chance of tipping while off camber. Whether you're ripping up a sand dune or rock crawling, the lower the center of gravity the better. Honda's engine layout allows the drivetrain to sit lower in the frame. Since the engine is the heaviest part of a quad, that means a much better center of gravity.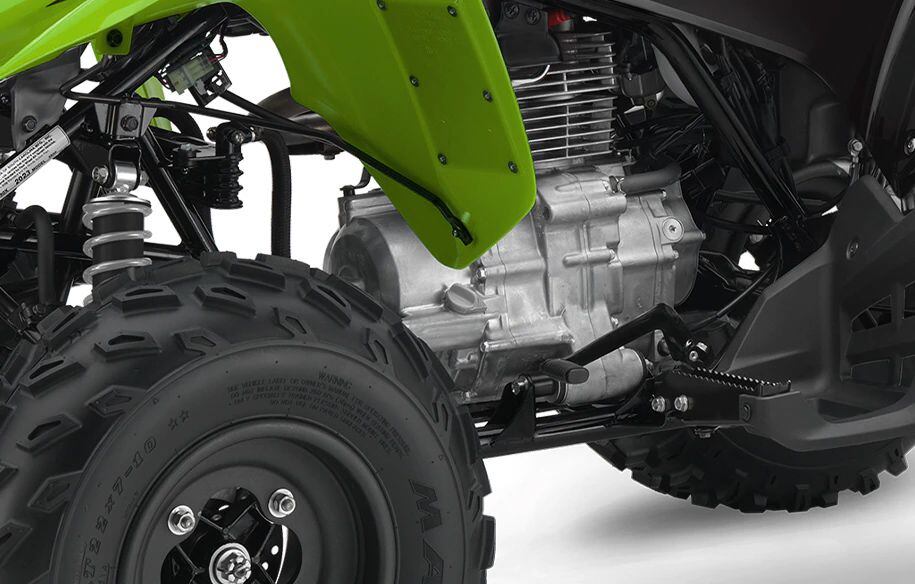 Mounting the engine this way helps with immediate throttle response. (Honda/)
Clever packaging is the name of the game at Honda. From the company's cars to its ATVs, the manufacturer always finds a way to create a brilliant solution to a question nobody asked. Honda's engine orientation is just another example of that kind of clever problem solving, and we hope the company keeps up the ingenuity.