Used car prices have gotten out of control over the last couple of years. Some of that has been due to the lack of new car availability thanks to the chip and supply shortages plaguing the industry. Some of it may be that too many people with too much disposable income don't have enough sense and willingly pay these exorbitant prices. And it's not limited to highly sought-after collectors' cars. Take this 2009 Chevy Cobalt, posted for sale at a Missouri dealer for $28,000.
This isn't just any Cobalt. Regular Cobalts were barely better than the Cavalier it replaced. However, this is a Cobalt SS Turbo, one of the many instances of GM making a car it should've made from the start, just instead, at the end of its life.
The Cobalt SS Turbo is one of the best sport compacts GM has ever made. GM Performance got their hands on it and worked magic. To quote myself from a Forgotten Cars article I wrote about the Cobalt SS:
It received direct injection and a turbo resulting in 260 horsepower and 260 lb-ft of torque. The chassis was returned with quicker steering and larger rear anti-roll bars. They even threw on Brembo brakes and 18-inch wheels with Continental tires. The result was what Patrick George described as the best compact GM ever made. Car and Driver took one down to Virginia's VIR raceway where it set a front-drive record and was faster than a Subaru WRX and Mitsubishi Evo MR. Road & Track got it to put down 0.90 gs on a skidpad.
While that's all impressive, is any of that enough to make someone want to pay nearly $30,000 for a low-mileage example?
G/O Media may get a commission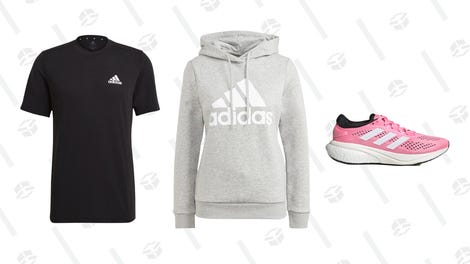 save up to 30%
Adidas Holiday Weekend Sale
Build a new wardrobe
Save up to 30% off just about everything Adidas during this sale, including men's, women's and children's styles. That includes T-shirts, hoodies, shorts, sweats, sneakers, socks, and anything else you can think of.
Dean Team Volkswagen of Kirkwood, Missouri has this low-mileage Cobalt SS Turbo for sale if you find yourself with a concussion and some cash to burn. This 2009 SS Turbo coupe is a one-owner car with just 8,179 miles on it. And the dealer wants $28,950 for it. If you take into account the Cobalt SS Turbo's original MSRP of $24,095, this dealer thinks this thing appreciated nearly $5,000 in value in almost 15 years.
What makes this price worse is that there's data to back up how insanely high this price is. Values from Kelly Blue Book show on the low end one of these should fetch $8,799; on the high $11,386 with a fair price of $10,083. Dean is listing it for over double that fair price.
Sure, this Cobalt SS has a couple of things going for it. It's pretty clean and a one-owner car. And whoever owned it must've thought he or she had some kind of museum piece on their hands, as they only drove this sporty coupe over 600 miles a year over the course of 14 years of ownership. And it's rare. Chevy made just 3,168 turbo coupes, so there is that going for it. But that information would only matter to the right person.
At the end of the day, this is just a Cobalt. A hot Cobalt, sure, but a Cobalt nonetheless. And a lot of people seem to agree with me as this thing has been sitting on this lot for 143 days. Good luck finding a buyer Dean Team VW.