Michael Schumacher's legend status can be attributed to his impressive Formula One track record: 7 World Championship titles, 91 Grand Prix victories, 155 podium finishes and 68 pole positions.
As the 2023 Formula One season kicks off this coming weekend in Bahrain, I figured it was the perfect time to showcase my visit to the Michael Schumacher Private Collection exhibition.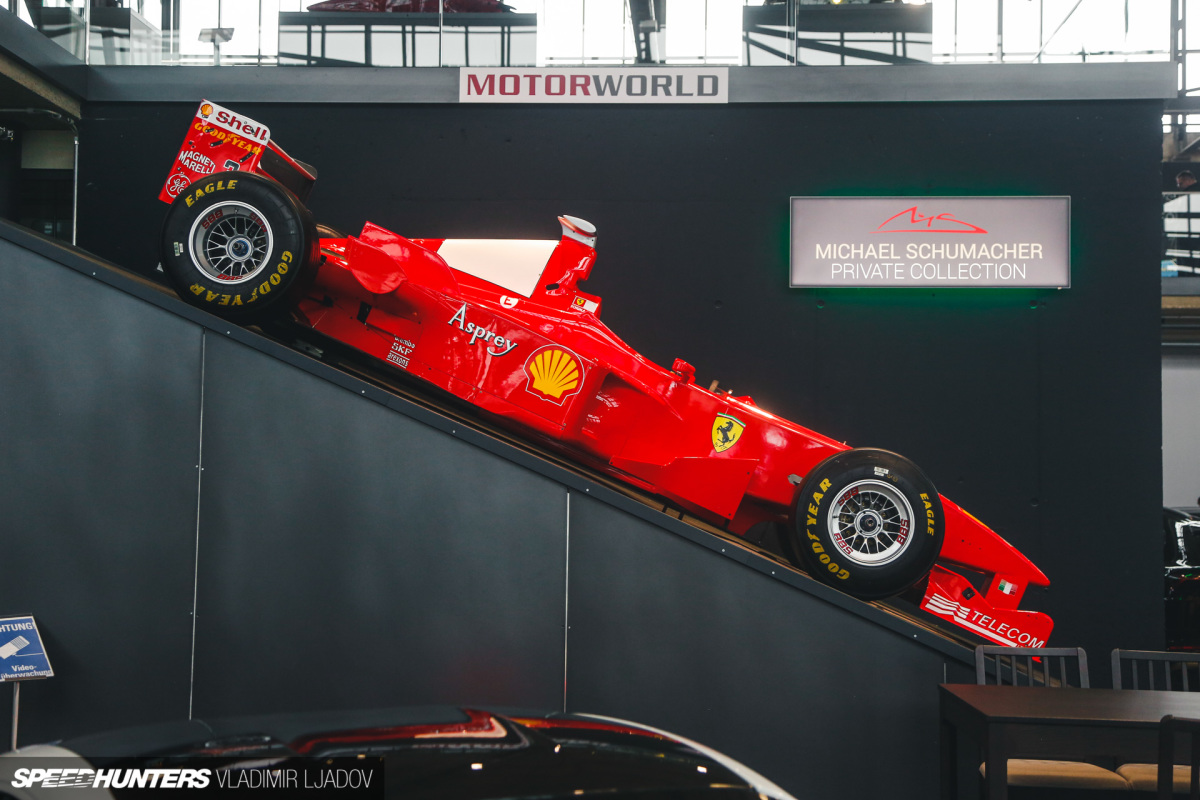 The permanent exhibition at Motorworld in Cologne, Germany includes some of Schumacher's original race cars, plus racing memorabilia, personal items and more.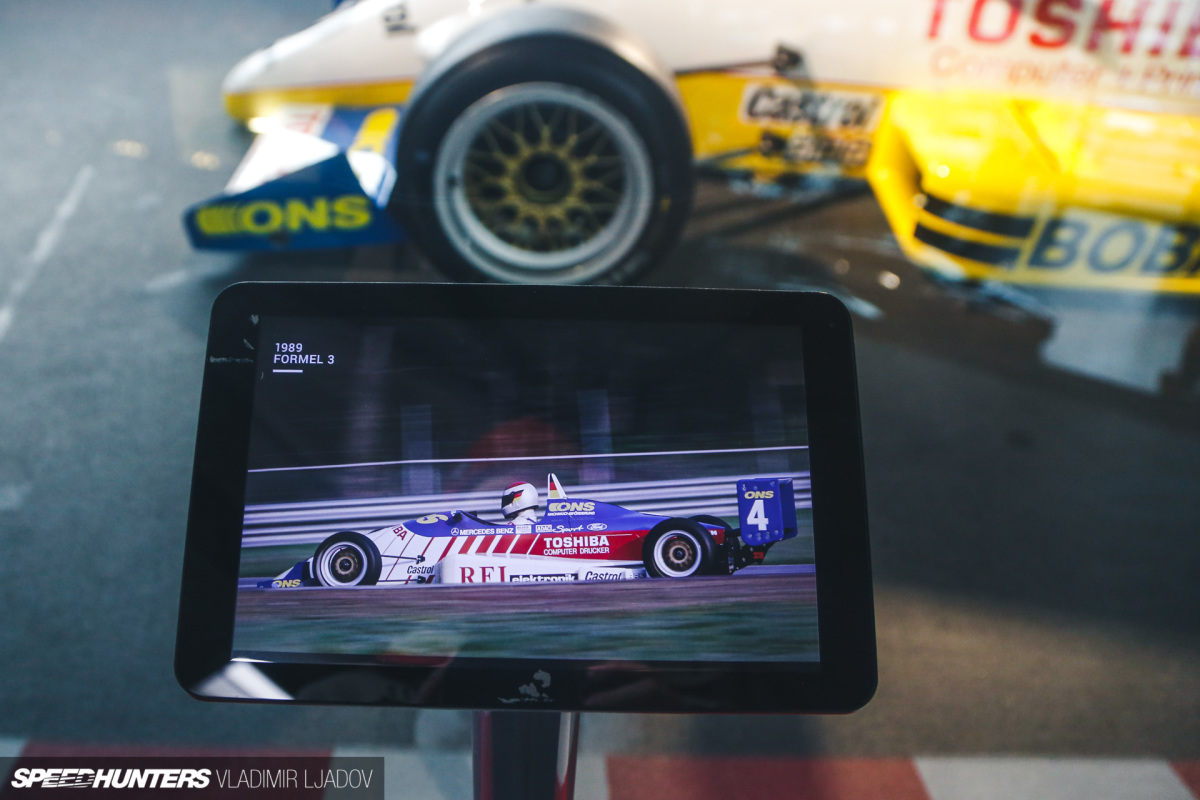 The exhibition starts with cars from Schumacher's pre-F1 era, namely his 1988 European Formula Ford and 1989 Formula 3 Reynard 893. After taking two wins and seven podiums in the latter, Schumacher missed out on the 1989 German F3 title by just one point.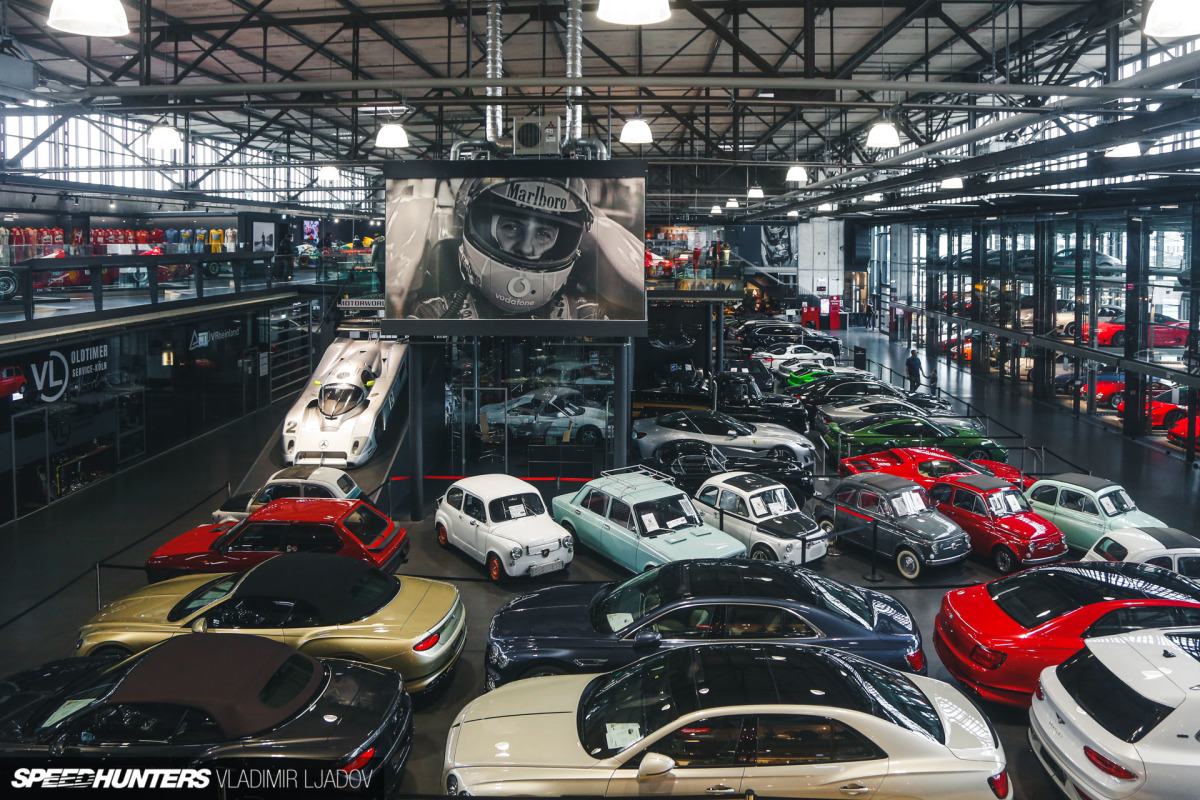 At the other end of the exhibition floor, you'll find the Group C endurance car that Schumacher raced in 1991 – a Sauber Mercedes-Benz C291, powered by a 3.5L V12 good for 600hp. This machine turned out to be a perfect preparation tool for Formula One.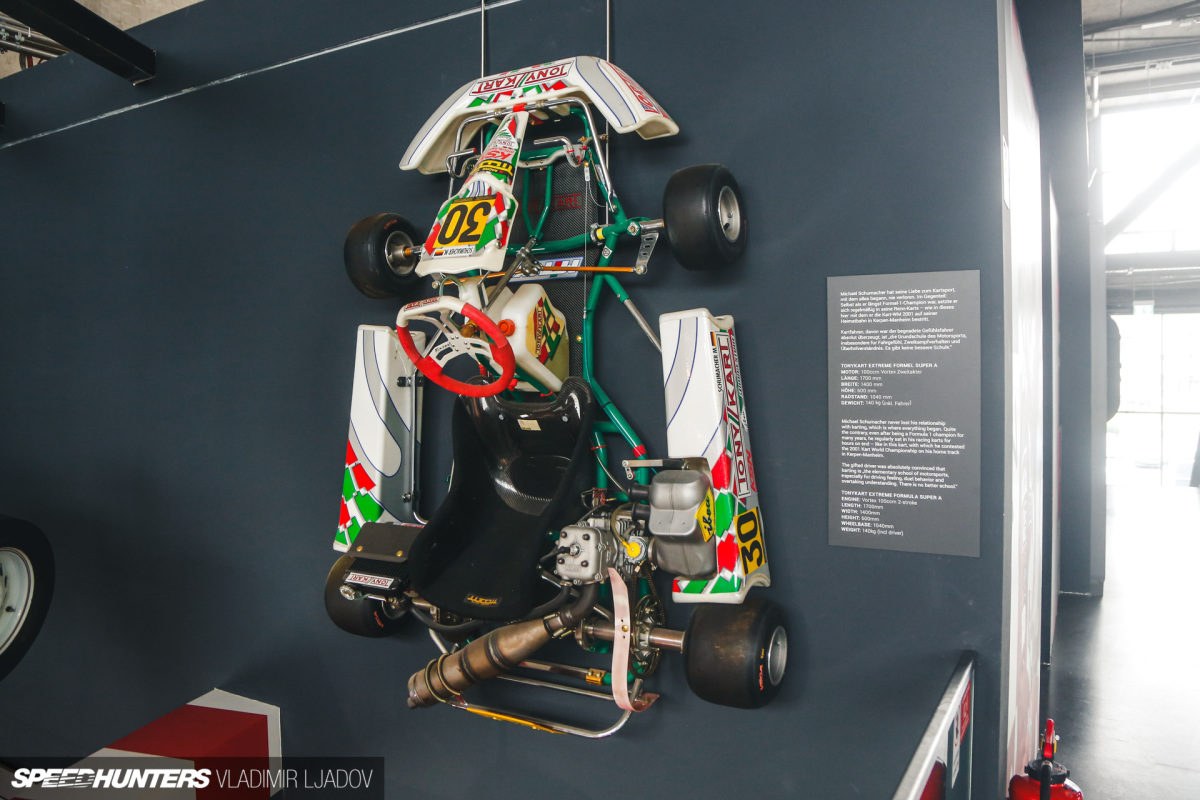 Schumacher's 100cc Tony Kart makes an appearance too. He once said that karting is "the elementary school of motorsports, especially for driving feeling, duel behavior and overtaking understanding. There is no better school."
Even after becoming a Formula One world champion, Schumacher spent hours behind the wheels of his racing karts.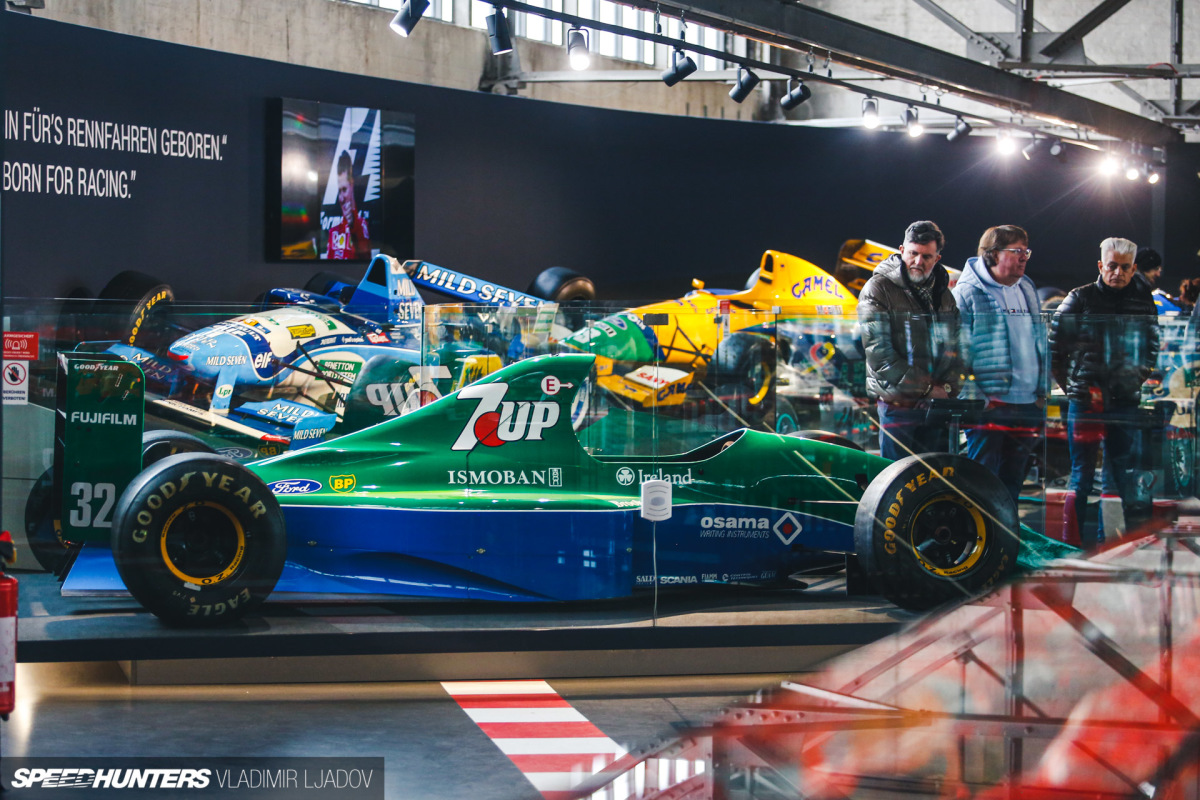 Michael Schumacher's Formula One story begins with the magnificent Jordan 191 – specifically a bright green and blue 7UP-liveried car from 1991.
Schumacher received a one-off opportunity to race the car at the Spa-Francorchamps round, and this quote from an interview proves that back then he already had nerves of steel: "The first tests were frightening on the first laps, but then at Spa it was as if I had never done anything else. Driving Eau Rouge in that car, that downforce was a crazy feeling. Driving full throttle there was the absolute highest of the feelings I had known until then."
He sensationally qualified seventh on the grid, but sadly Schumacher's race ended after only 500 meters due to clutch failure.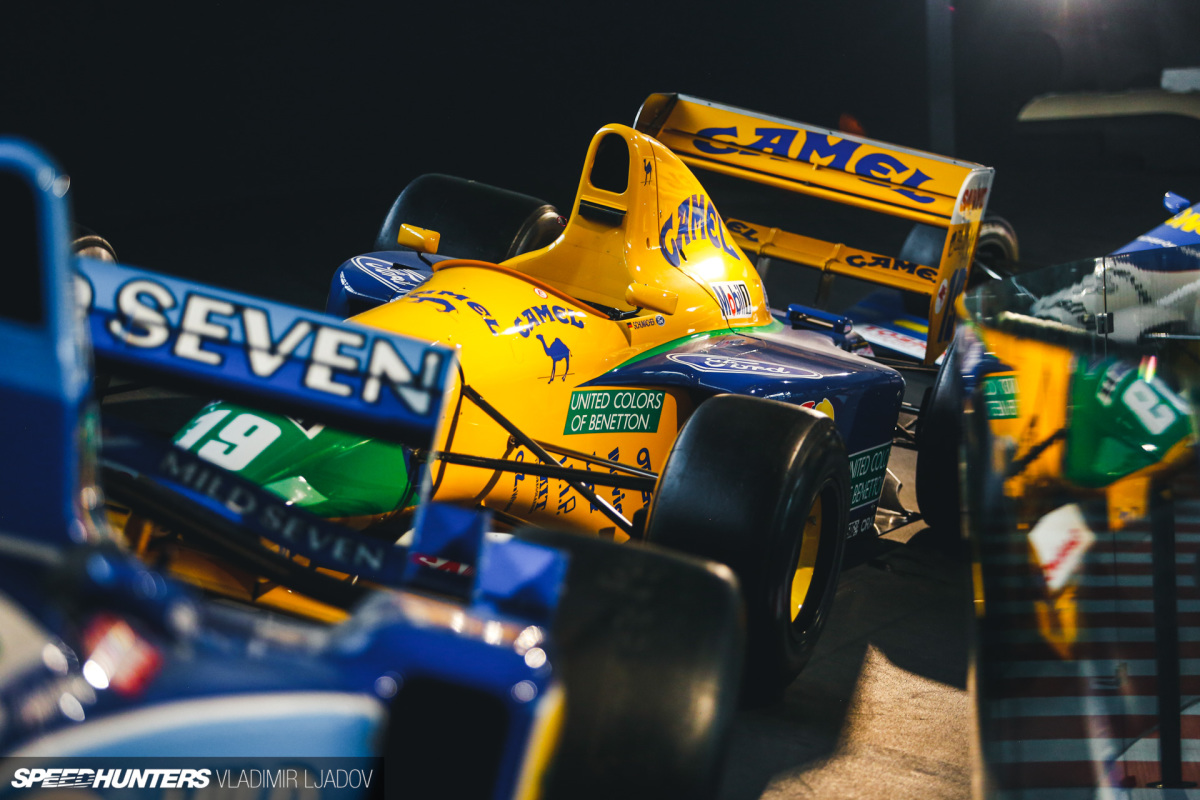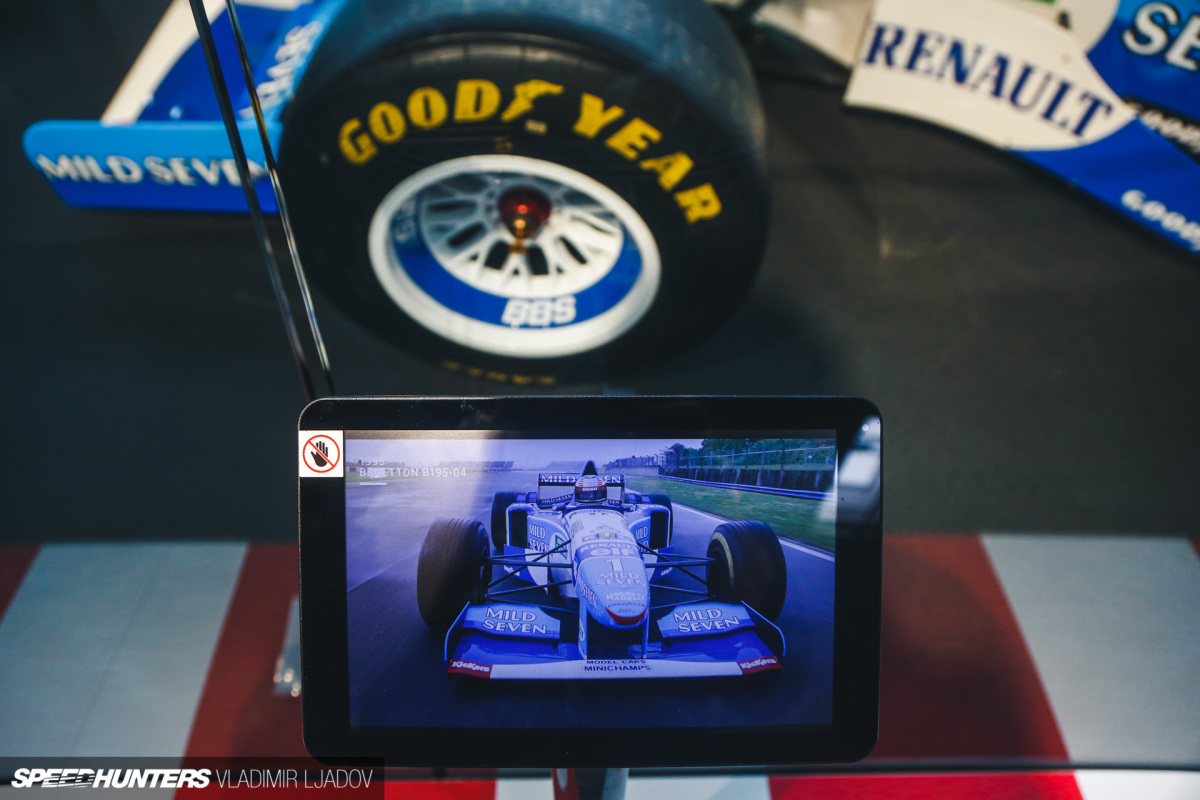 Nearby, I found a couple of Benettons – the Camel-liveried B191B from 1992 and the second title-winning Mild Seven B195 from 1995.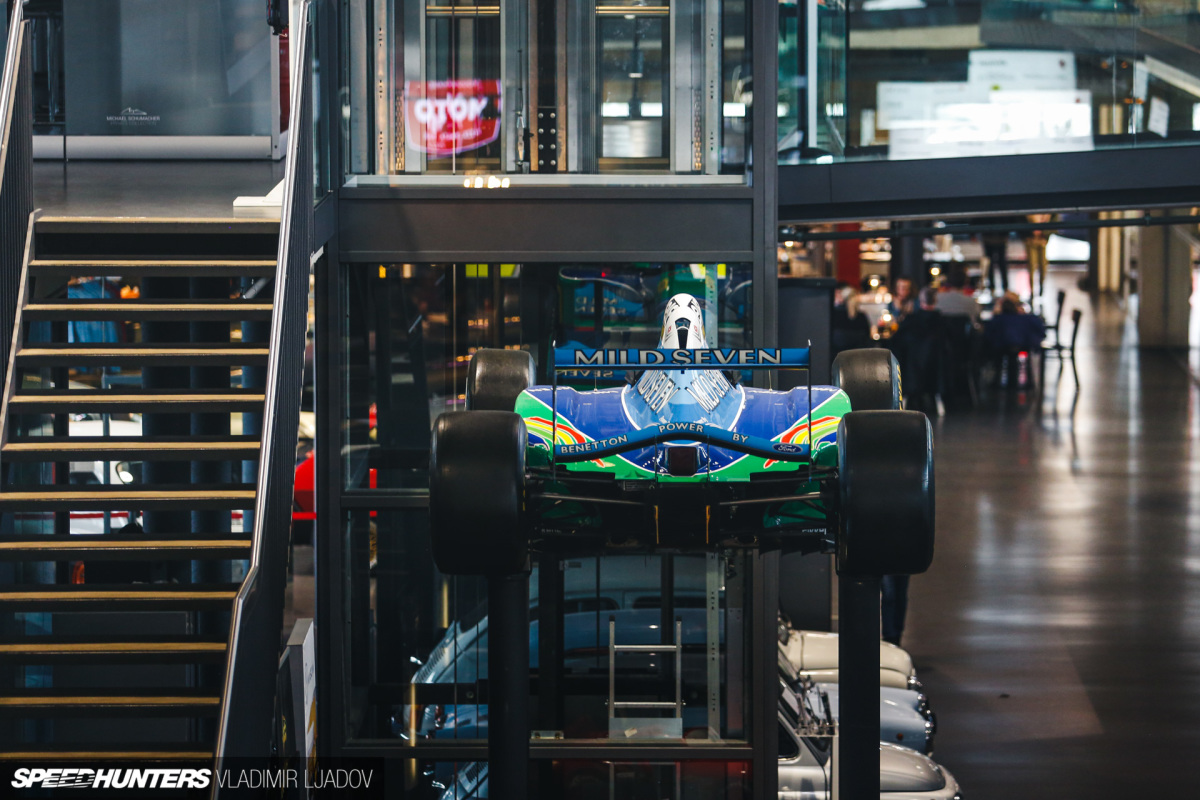 The most iconic Benetton is elevated on pillars next to the museum's central staircase – the victorious B194 car from 1994. Schumacher dominated the '94 F1 season by winning eight rounds, including the tragic San Marino GP, where his win was sadly overshadowed by the deaths of Ayrton Senna and Roland Ratzenberger.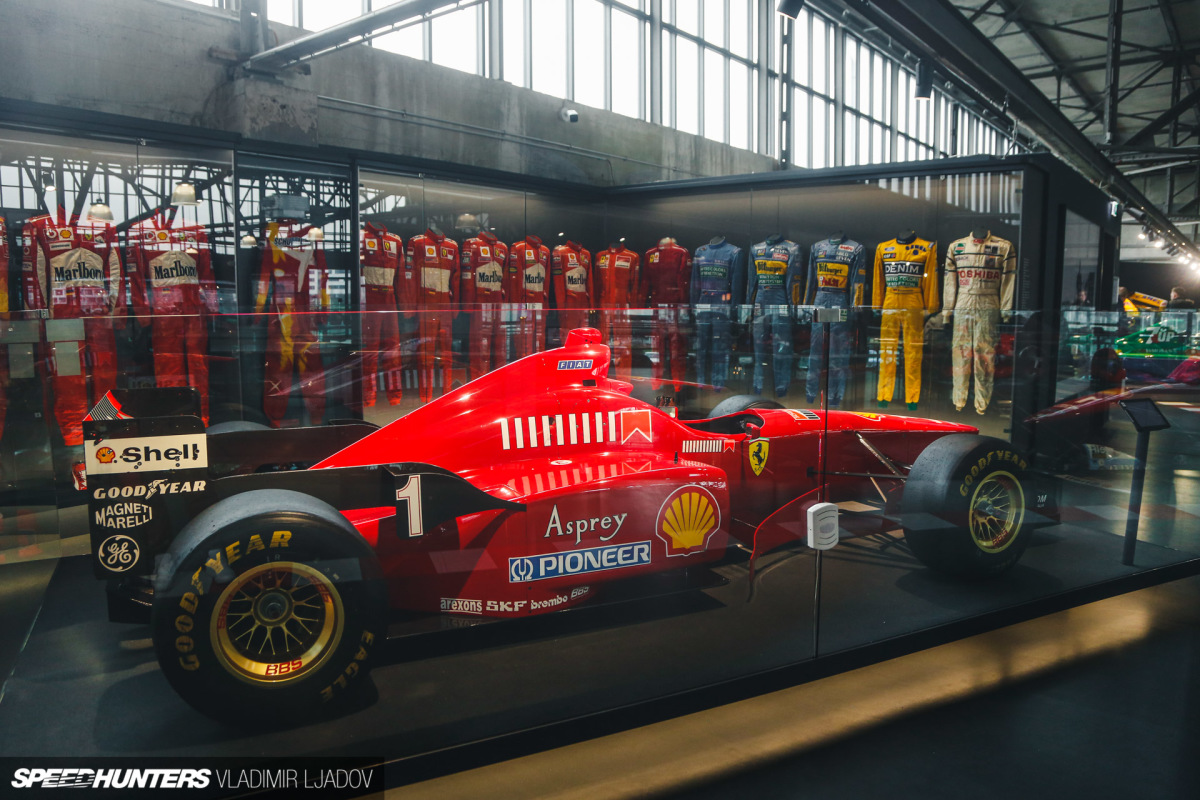 Schumacher's career at Scuderia Ferrari started in 1996 at the wheel of an F310, a car that the German driver described as rather mediocre. He finished third in his first season with Ferrari, while Damon Hill became the first son of a world champion to also win a Formula One title (Damon's father Graham won titles in 1962 and 1968).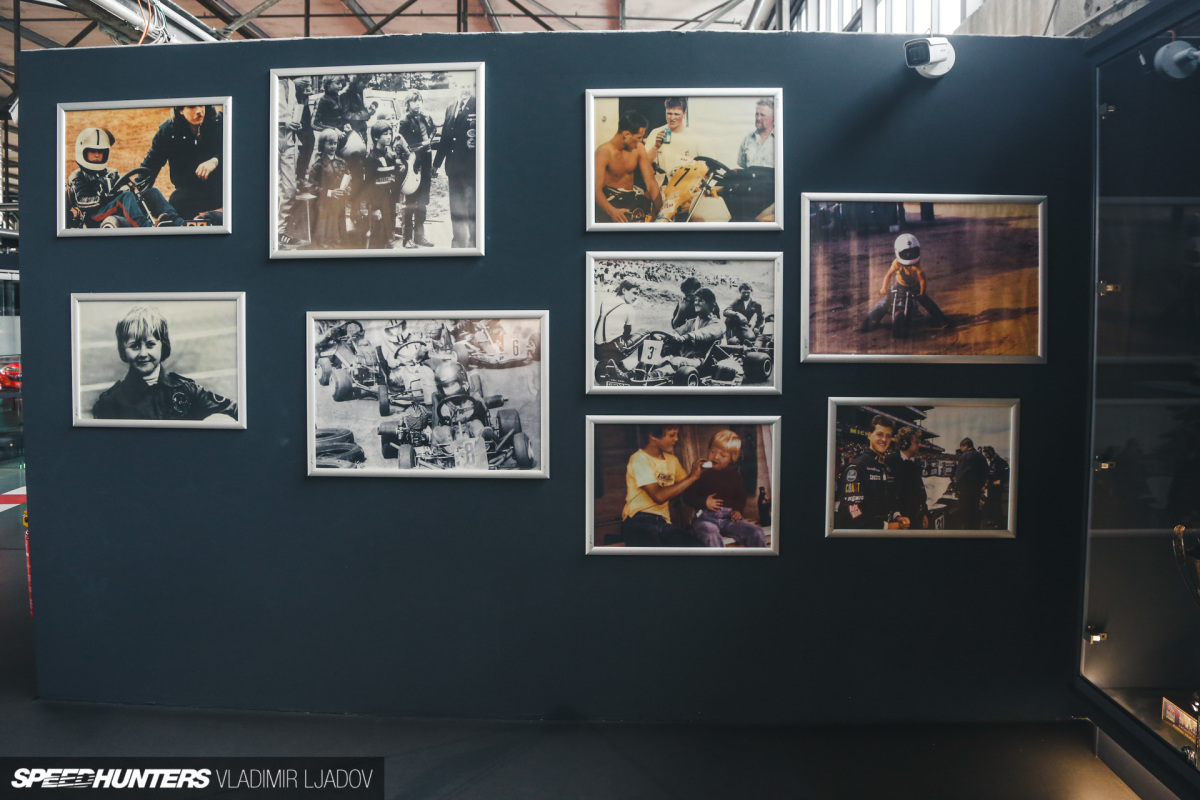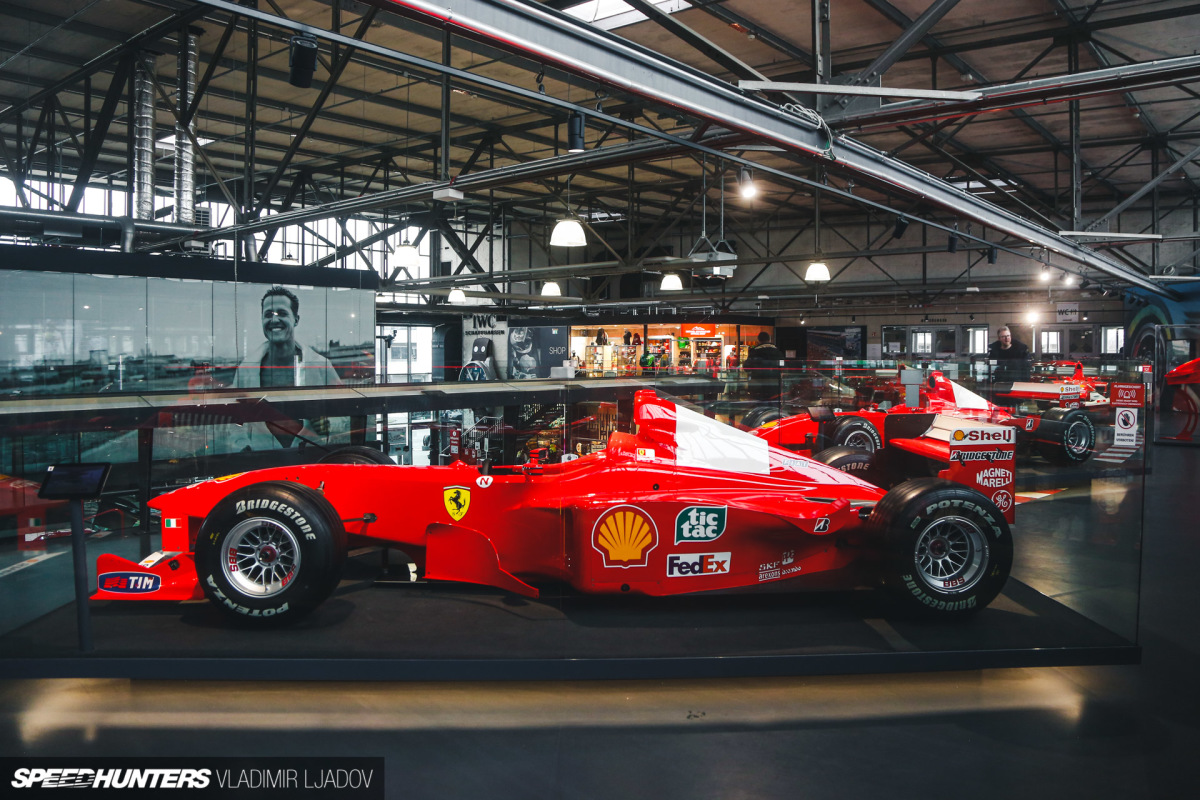 From this point, the exhibition became a sea of Rosso Corsa red.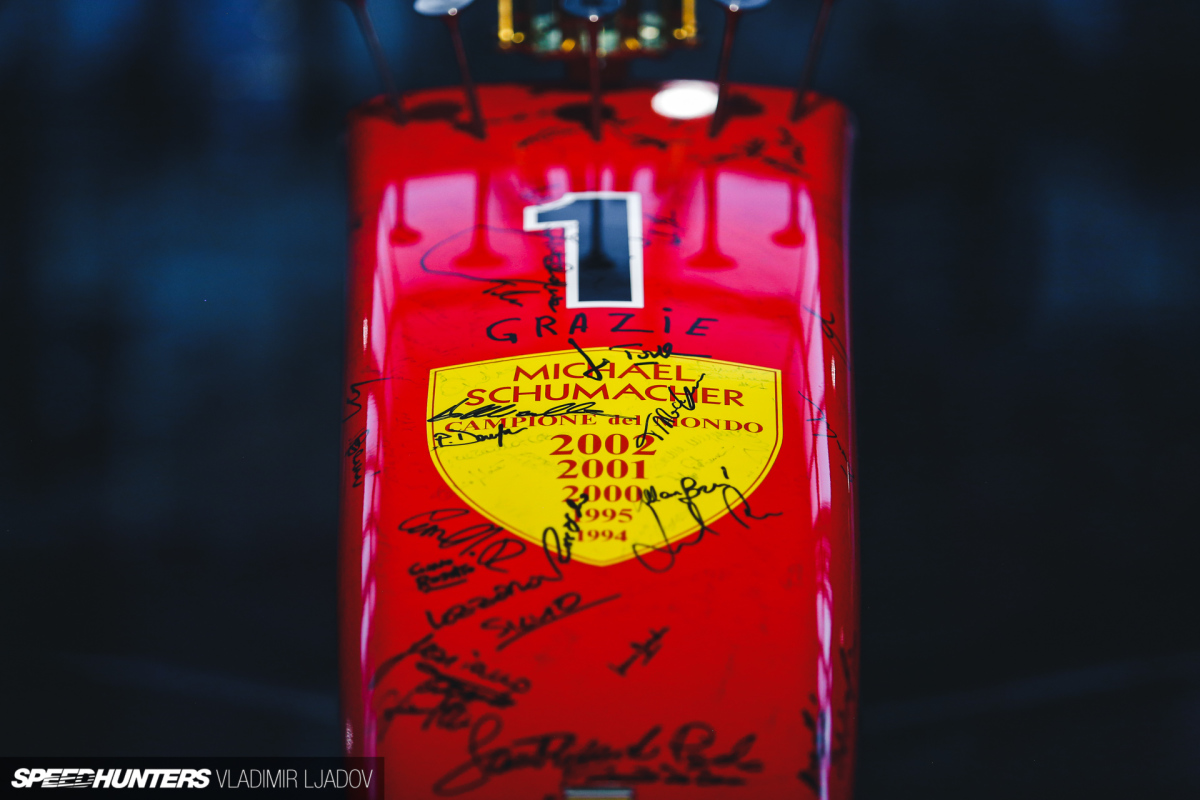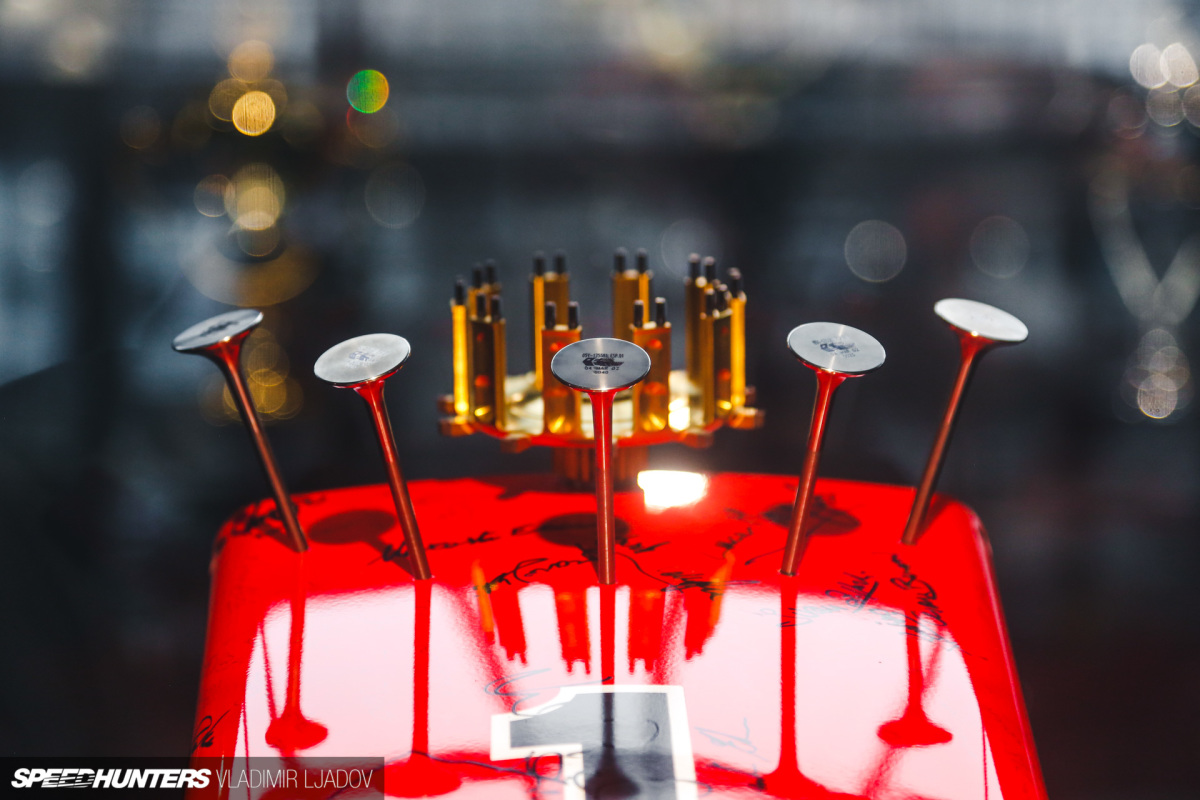 After a year to forget in 1997 (Schumacher was disqualified for his actions in the season-ending European GP after he collided with Jacques Villeneuve) and averagely successful 1998 and 1999 seasons, it all started clicking for Ferrari and the German driver.
From 2000 to 2004, Team Marlboro Red became the dominant force in the Formula One championship, rewarding Schumacher with five back-to-back titles.
In 2005, Fernando Alonso and Renault finally put pay to the winning streak. Alonso and Renault took the Formula One title again in 2006, and at the end of that season Schumacher retired.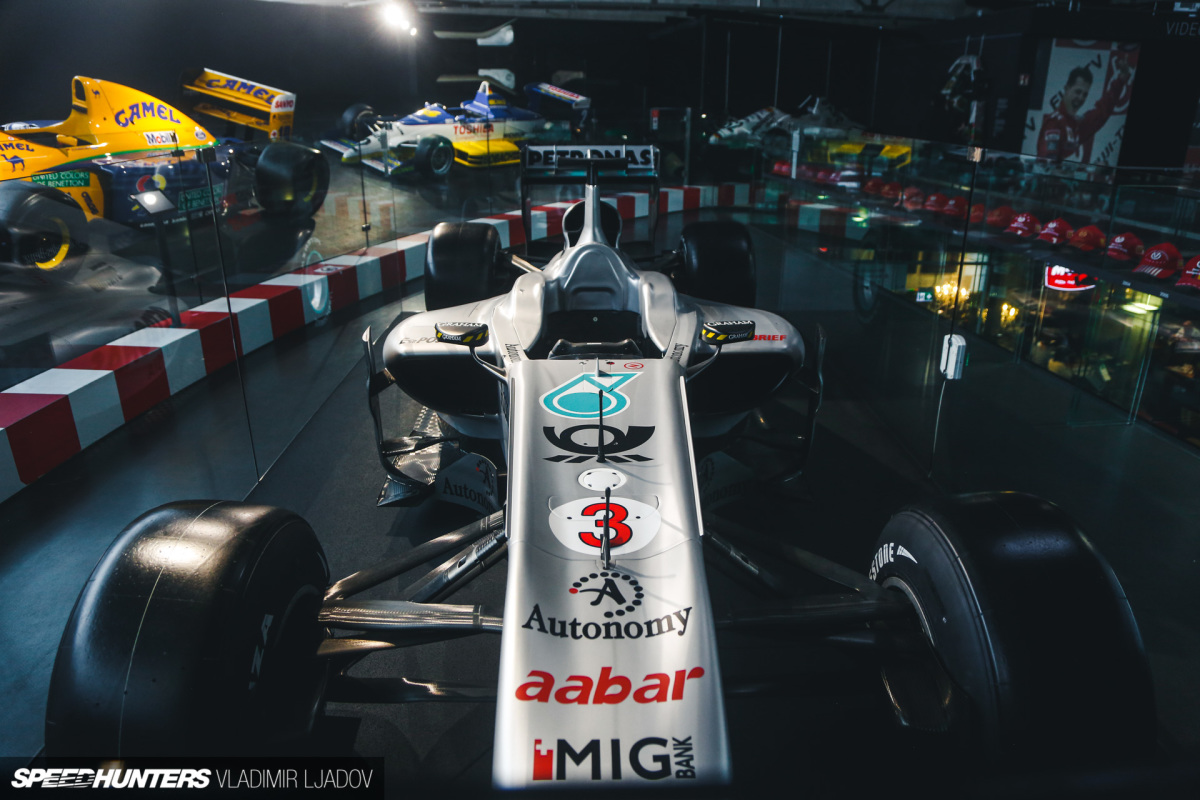 Of course, a few years later Schumacher made the greatest comeback in the history of Formula One, announcing his return, but this time with the Mercedes GP Petronas F1 Team for the 2010 season. He contested the following two championships with Mercedes, before retiring once more at the end of 2012.
The following year, a skiing accident drastically changed Schumacher's life.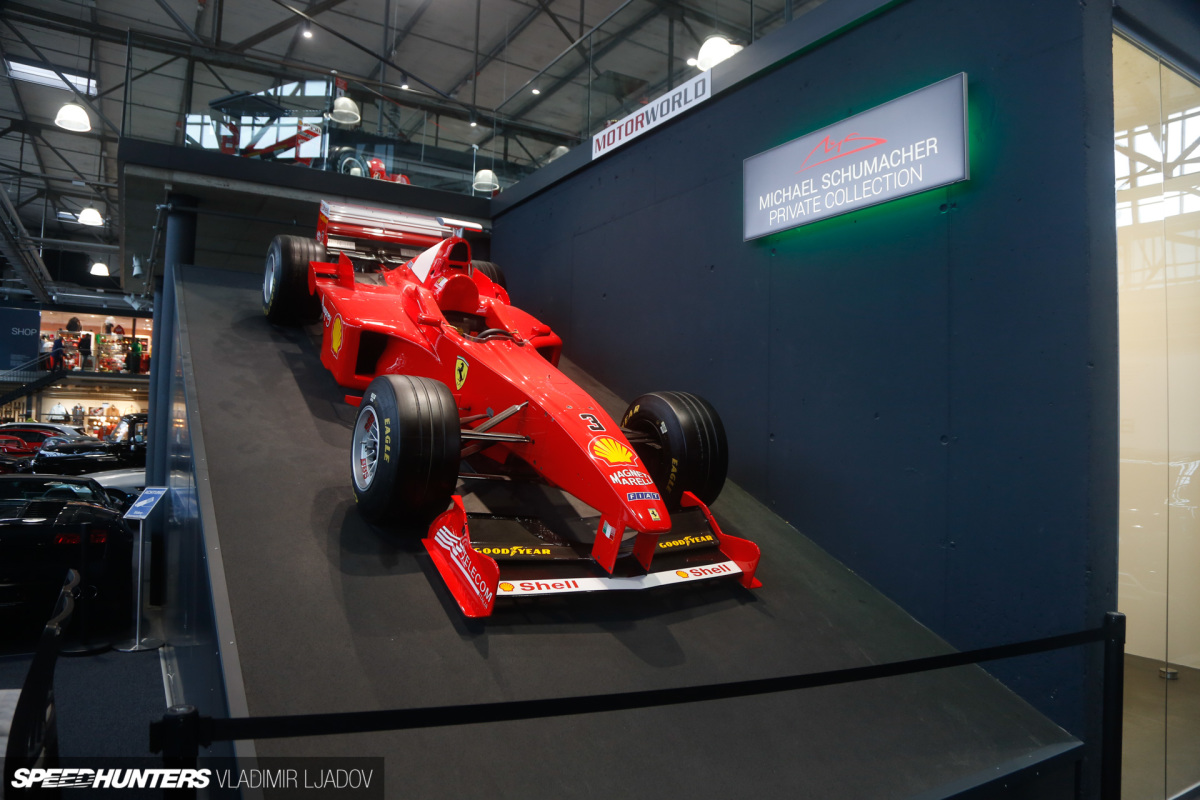 As my time at Motorworld came to an end, I started feeling nostalgic about the many hours I spent watching Formula One as a kid. Back then, Schumacher was in his prime, winning championship after championship. Here I was, surrounded by the actual cars he achieved such greatness in.
On a pragmatic note, I'm surprised that this museum can accessed by anyone for free. It's a heartwarming experience for any seasoned Formula One fan, and I'm hoping that the thousands of visitors who make the pilgrimage to Motorworld Cologne-Rhineland for The Michael Schumacher Private Collection exhibition will result in a lot of positive energy being sent the legend's way.
Vladimir Ljadov
Instagram: wheelsbywovka
because@wheelsbywovka.com
www.wheelsbywovka.com