If you walk into a Mazda dealership and decide to purchase a 2023 Mazda3, the base model will cost you $23,615 including destination. For that price, you get a stylish sedan with a 191-hp engine that's EPA rated at 37 mpg on the highway, LED automatic headlights, rain-sensing windshield wipers, keyless entry, support for both Apple CarPlay and Android Auto, a rearview camera and adaptive cruise control. That's not even the entire list of standard features, either. And yet, that entire car still costs less than Aston Martin's latest watch collaboration with Girard-Perregaux.
In case you missed it:
Yes, if you want the Girard-Perregaux Laureato Green Ceramic Aston Martin Edition, it's going to cost you $25,000 for the 38mm version or $25,800 for the 42mm version. And you really better love green because the dial, the case, and the bracelet are all green. Oh, and you better act fast because Girard-Perregaux only plans to build 188 and 388 pieces, respectively.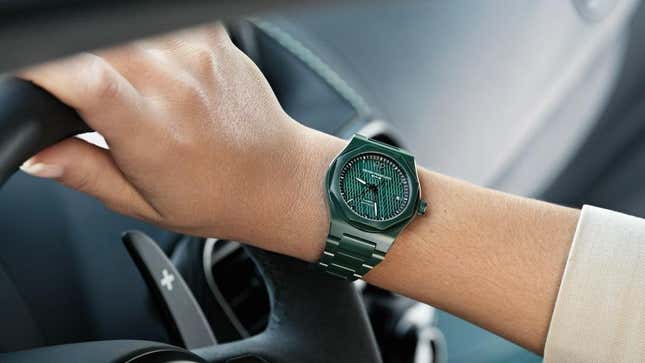 Alternatively, you could just buy a regular green-dial Laureato without the Aston Martin co-branding and save more than $10,000. Or get most of the Laureato's style with a Tissot PRX Powermatic 80 for the much more reasonable price of $675. Not that anyone who would be interested in a car watch has any interest in being reasonable. Cars and watches are great on their own, but automotive co-branded watches are pretty much all obnoxious and gross.
G/O Media may get a commission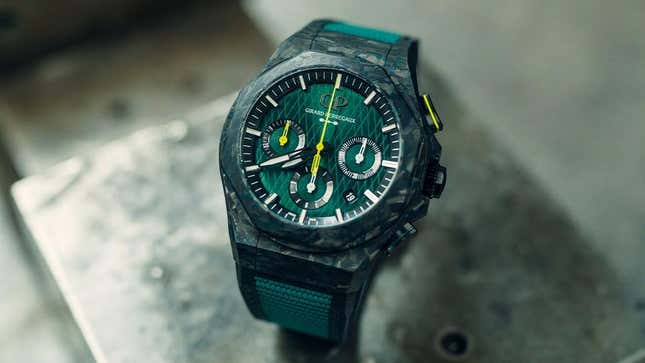 Just look at this previous Aston Martin collaboration with Girard-Perregaux that cost $27,800. Eww. It may have been limited to only 306 pieces, but it's just objectively ugly. Imagine being seen in public with that thing on your wrist. By comparison, the new green ceramic Aston Martin watch is a classically styled thing of beauty.
And neither is as monstrous as this Corvette Racing watch that I refuse to embed an image of because it's too ugly for anyone to see without a warning. Click the link if you dare, but if you do, please know it's far worse than whatever you're imagining in your head right now. Also know that it's even worse than whatever you're imagining now that you've read the part about it being worse than you imagined.
So on the one hand, Aston Martin has done better than it could have with its new watch collaboration. The dial detailing is nice, and the green ceramic is at least interesting. But on the other hand, it's still insanely expensive, and you can get the same watch with the same movement in stainless steel that's an entire 2023 Honda CBR650R cheaper than the green Aston Martin one. Maybe you just have to be buy-a-new-Aston-Martin rich to get it. At least the movement is pretty?