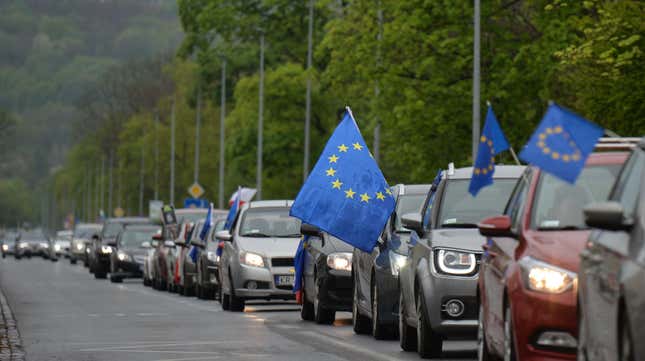 In February, the European Union banned the sale of new cars with internal combustion engines starting in 2035. The ban across the organization's 27 member countries has been in the works for years. However, support for the ban hasn't been universal. Several countries have voiced concerns about the relatively short lead time and financial ability of their citizens to buy electric vehicles. In recent months, Germany has been leading the opposition to the ban and posed a significant force against the divisive law.
In case you missed it:
The European Commission, the EU's executive, has now yielded to Germany's primary demand on the matter. According to Reuters, a new draft proposal would create a new vehicle category for cars exclusively run on carbon-neutral fuel. This carbon-neutral category would be exempt from the internal combustion ban. Though, the amendment would also mandate technology to prevent these engines from starting on traditional gasoline or diesel.
Germany's late opposition surprised many EU members, but it an openly stated goal of the country's Free Democratic Party. Christian Lindner, the German finance minister and FDP leader, said last July, "I consider the decision to effectively ban the internal combustion engine to be wrong." The FDP is a part of Germany's ruling coalition and holds the government positions possible to minimize the internal combustion ban. The centrist liberal party has a history of opposing laws that would restrict the freedoms of drivers. The FDP has previously prevented a national speed limit from being imposed on the Autobahn and is now taking on the EU-wide ICE ban.
The European Commission will present the proposal in the coming weeks, and Germany garnered the support of several other countries, including Italy, the Czech Republic, Poland, Romania, Hungary and Slovakia. Italy has opposed the ban from the start. Less-developed EU members are concerned that the deadline for transition is too soon. However, the European Union feels the 2035 date is vital to reaching carbon neutrality by 2050, considering a car's average lifespan is 15 years.