Do you ever wander around town and find yourself thinking, "this would be a great place to play with bikes"? I'm not talking about some city-center skatepark or a nice flat bike lane. I mean somewhere with stairs to jump off, obstacles to maneuver around and maybe somewhere to grab a coffee when you need a rest. Clearly Red Bull has been thinking the same way, as it recently sent freestyle rider Aaron Colton off to Minneapolis to explore.
In case you missed it:
Now, the drinks company/marketing firm/race team/adventure sport aficionado has unveiled a new film that documents Colton's escapades around Minneapolis. Specifically, it sees him explore the Skyway system of covered walkways, which is a vast network of covered paths that connects buildings across 80 city blocks over 9.5 miles of Downtown Minneapolis.
He does all this exploring on the back of a heavily-modified electric Alta motorcycle and, I must say, it looks like a whole heap of fun.
The video, which you can watch below, sees Colton tackle stairs up and down the system of tunnels, as well as an escalator that he tries to use as a treadmill. He passes through tunnels that take him right into the IDS Center, which is the city's tallest building, and down into a food court where he shows off his talents to a room of onlookers.
Freestyle Ride Through World's BIGGEST Indoor Walkway
Red Bull said a film like this wouldn't have been possible without advances in electric motorcycles. According to a press release from the company:
A traditional fuel-powered bike ripping through the indoor Skyways system would have caused disruption and distraction, but the electric bike enabled a silent powerhouse for Colton's riding in locations never been done before, including onstage at Orchestra Hall [and] inside the Target Center where he pulled off the trick shot.
And Red Bull is right; there's something about this whisper-quiet bike zipping around shopping malls and enclosed streets that adds to the stunning ambiance of this film. Instead of the rumble of an engine, we hear tire squeals and the gentle hum of a motor. It's nice.
Anyway, after disrupting a few diners, Colton heads back up the escalator to rip things up once again. He blasts through the Skyway at full tilt, with the carpet absorbing almost every sound he makes as he whips past.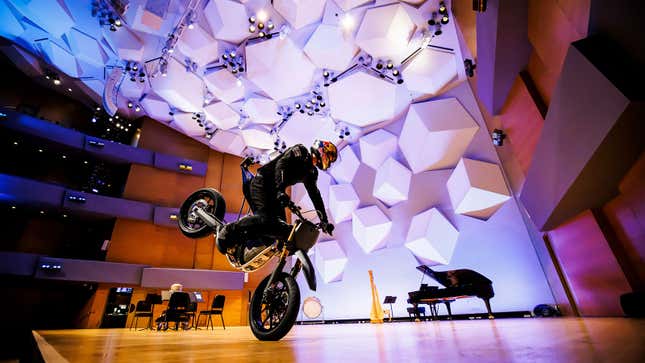 It makes going to the mall look like a whole heap of fun. With the death of city-center shopping imminent, we should probably just re-purpose all of these relics as bike parks. It'd be a much better use of our space, right?
But, there'll be one rule in my city-center biking paradise: electric rides only.