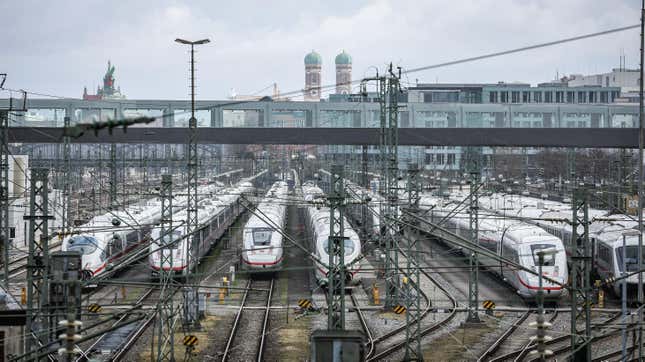 Two major unions in Germany have called for over 350,000 workers across the county's transportation sector to walk out today. Deutsche Welle reports that the 24-hour strike is part of an ongoing pay dispute with several public sector employers. Nearly every major international airport in Germany, the state-owned railway company and local public transportation across large swaths of the country were out of operation today.
In case you missed it:
Ver.di, a services union, and EVG, a railway union, are seeking a 10.5 percent pay increase as the German economy faces extreme levels of inflation. According to DW, the country's food prices rose by 21 percent between November 2021 and November 2022. The union had rejected offers that included two staggered five percent raises and one-off payments. The 24-hour strike was scheduled ahead of a third round of negotiations with employers this week.
Without ground workers or security staff, the strike severely affected every major international airport in Germany, except Berlin Brandenburg Airport. Frankfurt Airport, the country's busiest airport in terms of passenger numbers, has canceled all incoming and outgoing flights. It is estimated that 400,000 passengers were impacted.
Deutsche Bahn, Germany's state-owned railway company, canceled all of Monday's long-distance train services. The regional rail services that were able to operate did so on a skeleton schedule. Providers didn't have the staff even to run services on an emergency holiday schedule. The local public transportation services, relied on by commuters, were also canceled by the strike in seven of Germany's 16 states.
Achim Strauss, a Deutsche Bahn spokesperson, told DW, "Millions of passengers who rely on buses and trains are suffering from this excessive, overblown strike. Not everyone can work remotely. Thousands of companies that normally send or receive their goods by rail will also suffer. The environment and the climate will also suffer in the end. Today's winners are the oil companies."
Strauss is implying that Germans without any other option to get to work would have to drive. However, union representatives have told Deutsche Welle that some members are relying on government benefits to pay their rent. The unions are prepared to strike again over Easter if they aren't given a viable option by employers.