A police officer in Pennsylvania faces charges after crashing into a cyclist last month while looking down at his computer in his cruiser.
The Hummer H2 Is a Nightmare Vehicle
Westtown-East Goshen Regional Police Officer Jason Listmeier responded to a 911 call about an erratic driver on the morning of February 19 in his marked vehicle. While driving 50 in a 45 without lights or sirens, Listmeier lost control of his cruiser and struck the guardrail before crashing into 75-year-old Michael Ghione, ABC 6 reports. Ghione died at the scene from multiple blunt-force trauma injuries.
In case you missed it:
G/O Media may get a commission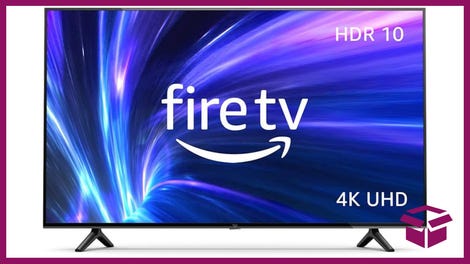 42% Off
Amazon Fire TV 50″ 4K Smart TV
Incredible visuals
This smart TV has access to a wide array of streaming services, all of which are easier to navigate, has 4K visuals for a stunning picture, and comes with an Alexa Voice Remote too.
Now, Listmeier is facing charges for the crash, including "…careless driving-unintentional death, driving on roadways laned for traffic and overtaking a vehicle on the left," according to NBC Philadelphia:
On Thursday, officials announced Officer Listmeier was arrested and charged with careless driving-unintentional death, driving on roadways laned for traffic and overtaking a vehicle on the left.

"This is a tragic incident that deeply affects many people," Chester County District Attorney Deb Ryan said. "While in the course of his duties, the officer responded to the report of an erratic driver but engaged in careless driving, causing him to strike a guardrail and then strike and kill Mr. Ghione. Although we expect law enforcement to respond urgently to assist others, they still must adhere to our traffic laws to ensure the safety of everyone on the road."
It's rare for a driver, let alone a police officer, to face charges for a bicycle crash, as Outside Magazine reports. We've seen time and time again police officers put the onus for safety on pedestrians and bike riders while letting drivers off the hook. Just last year, an officer in Georgia, police blamed a teenager for her own death after she was struck by a driver on multiple illegal substances. The officer didn't charge the driver, with the teen's death due to an assumption the bike rider was breaking non-existent laws. It's not just a problem in the U.S. either. Drivers in Vancouver, British Columbia, are complaining that the concrete barriers erected to protect bicyclists are causing them to crash into those very concrete barriers. But it's the barriers that are the problem, not their poor driving.
Meanwhile, pedestrian and biker deaths are up—way up. Official numbers are not out yet, but the nonprofit National Safety Council released a preliminary death toll for road fatalities and estimated that America will likely break 46,000 deaths in 2022.
Officer charged following fatal crash involving bicyclist