It isn't often that an automaker will completely break the mold with a new car. Sure, that's been happening a bit more with the proliferation of electric vehicles, but a lot of times those all feel fairly similar. For the most part, they're rounded-off boxes with a stubby nose and a rear liftgate. Hyundai went a different route with the Ioniq 6, and it's all the better for it.
The GM EV1 Was a Great First Effort With No Follow-Up
The 2023 Ioniq 6 is a car made for people who value calm and serene driving rather than all-out performance. It's for people who would rather sit on a comfy couch than at a racing sim. The automaker knows who this car is for, and built it just for them: folks who value good design, comfort and functionality. The Ioniq 6 hits that mark extraordinarily well.
Full Disclosure: Hyundai flew me out to Phoenix, Arizona, put me up in a hotel and fed me for a few days, all so I could drive the new Ioniq 6.
The Looks and Aero of the 2023 Hyundai Ioniq 6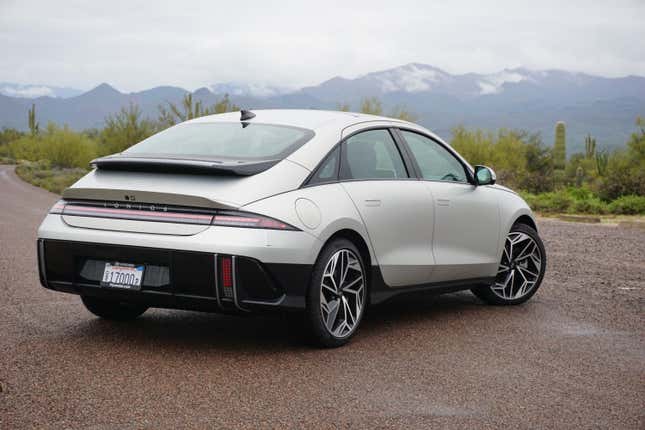 G/O Media may get a commission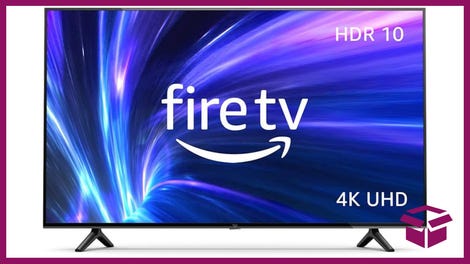 42% Off
Amazon Fire TV 50″ 4K Smart TV
Incredible visuals
This smart TV has access to a wide array of streaming services, all of which are easier to navigate, has 4K visuals for a stunning picture, and comes with an Alexa Voice Remote too.
Right off the bat, I'll say this: The Ioniq 6's looks aren't for everybody, but they sure as hell are for me. I wholeheartedly believe this is one the best looking vehicles on sale right now in any segment. The car looks like a mix between a futuristic egg and a cyberpunk 993 Porsche 911. It is fantastic.
Hak Soo Ha, Hyundai's Vice President of Design, pointed to the fact that the Ioniq 5, 6 and upcoming Ioniq 7 all look "radically different" from one another. That's on purpose. Most other brands decide to go for a corporate face or shared design language, but not Hyundai. I think the brand is better for it. All of the cars have a very distinct style to them — other than the light-up pixels in the headlights, taillights, and interior. All Ioniq vehicles have those.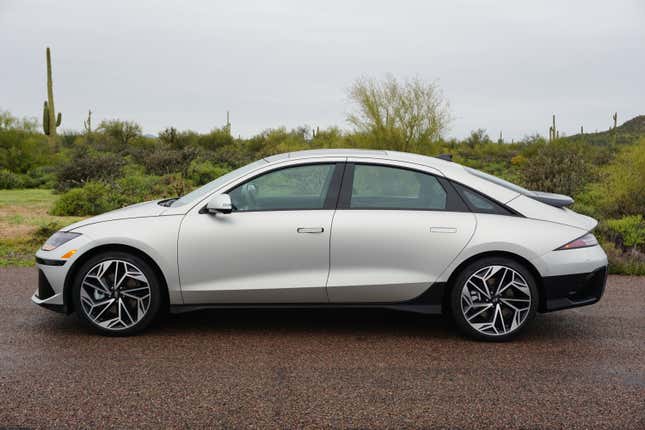 The wheels are shoved to the corners of the vehicle, and it makes for some rather small overhangs and a mighty long 116.1-inch wheelbase. That's three-ish inches longer than a Tesla Model 3's wheelbase, and the Ioniq 6 is 8.4 inches longer than the Tesla overall at 191.1 inches, even though it doesn't feel like that big of a car from the outside.
The automaker says it pushed the firewall forward, lowered the hood and gave the Ioniq 6 a cab-forward, almost stretched look. The automaker wants you to think of the car as an "electrified streamliner," and Ha even said that the Stout Scarab – a 1930s-era concept car – served as inspiration.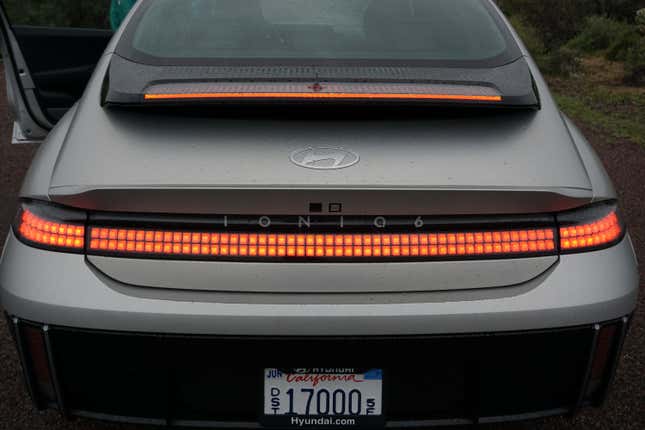 More inspiration also came from a couple of unlikely places: airplanes and footballs. The Ioniq 6 is meant to cut through the air as cleanly as possible, and those two things do a good job of that. Hyundai's efforts worked: The Ioniq 6 has a drag coefficient of just 0.22 — the lowest in the company's history, and 0.01 better than the Tesla Model 3.
The quest for aerodynamics also led to one interesting effect: the back of the Ioniq 6 looks a hell of a lot like a 993-generation Porsche 911. Ha actually brought this up himself, pointing out that nobody asks who copied whom when it comes to airplane makers like Boeing or Airbus. Everyone works with the same basic shapes. Hyundai designers and engineers came up with an efficient silhouette that just happens to look a bit like a vintage 911.
2023 Hyundai Ioniq 6 on the Inside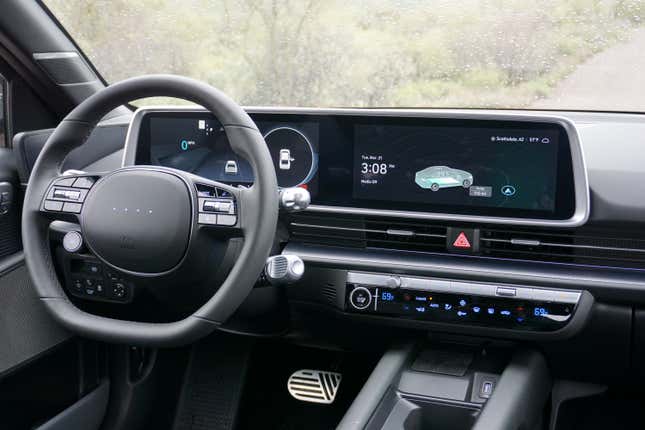 The interior of the Ioniq 6 looks absolutely stunning. The design is very clean – almost Scandinavian in a way. A dual 12.3-inch screen setup, which is standard across the whole lineup, dominates the space.
Beneath the center screen and air vents you'll find something very welcome in a modern EV: Real, honest-to-goodness buttons. Hyundai recently said it would stick with physical controls in its cars for years to come, bucking a trend throughout much of the auto industry. The automaker says it found that, while the initial reaction to a buttonless touchscreen setup is usually pretty strong, that quickly goes away.
Unfortunately, the automaker must not have read its own memo. There are some physical controls on the dashboard, for the radio and infotainment. Unfortunately, the entire HVAC system is operated via capacitive-touch buttons that bring up menus on the touchscreen. They aren't the easiest to use, and they smudge easily.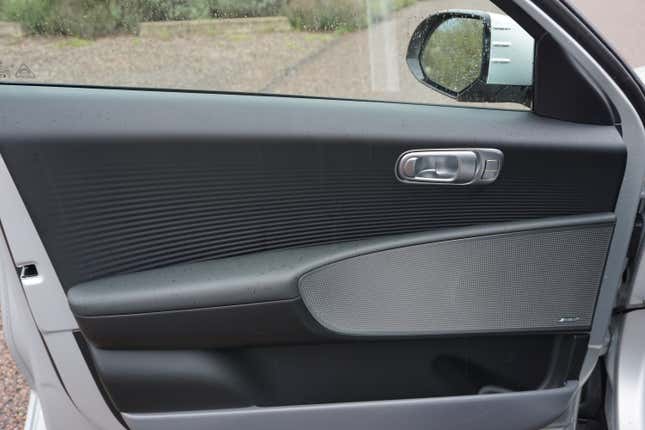 The second thing you're going to notice is the door panels and how neat they look. They're made of ribbed plastic for our pleasure. Add in the trick ambient lighting (64 colors to choose from on the top and bottom), and you're cooking with gas.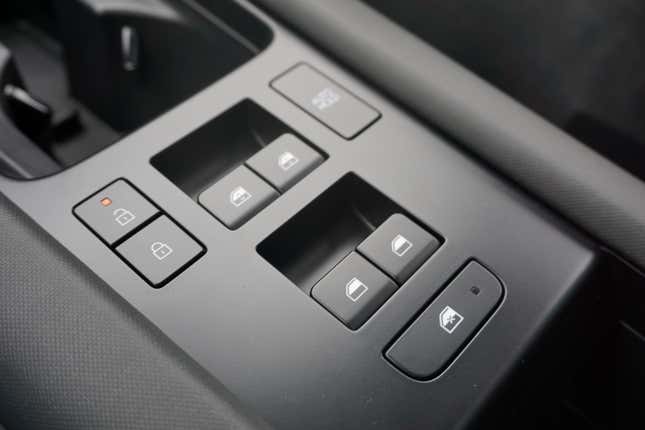 Throughout the interior there are a whole lot of plastics, but instead of trying to hide them away, Hyundai decided to highlight them. In fact, a Hyundai designer said the automaker was trying to "celebrate" plastics inside the car. It mostly works.
For the most part, they're fine. But while the ribbed pattern on the door may look cool, it feels terrible. I'm talking early-2000s econo-car bad. It feels cheap and hollow and does a disservice to the rest of the wonderful interior. It's not enough to be a deal-breaker by any means, but it doesn't feel all that great, especially when the car I tested stickered at nearly $59,000.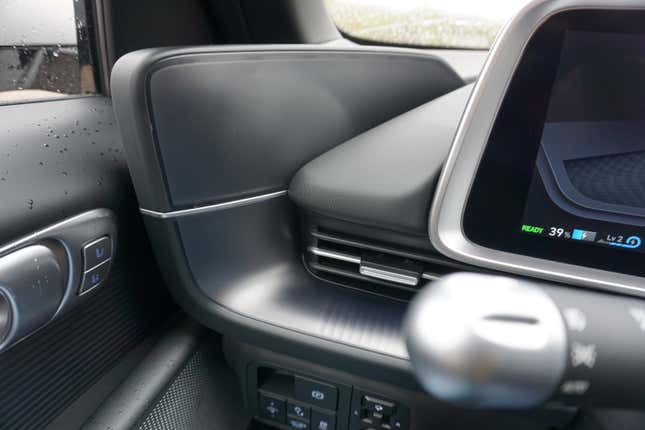 One other piece of plastic that doesn't look or feel too good sits at the lower edge of either front window. In other markets, the Ioniq 6 is available with video cameras instead of old-fashioned side-view mirrors, feeding to a display on either end of the dashboard. This technology is not allowed in the U.S., and without the screen there, it feels like something is missing.
On the steering wheel are four little pixels in lieu of a Hyundai badge. The Ioniq 5 – the 6's platform sibling – has them too, but in this application they actually light up, changing color for voice commands, drive modes and during the startup sequence. It's a little detail, but it's cute nonetheless. The four dots actually represent the letter "H" in Morse code. The automaker says they were put there so drivers could feel a "connection" with their car.
Since this is an EV from the ground up, Hyundai was able to stretch out the dimensions in a big way. Up front, there's 42.3 inches of legroom, and out back there's 39.2. Shoulder room is equally spacious at 55.2 inches up front and 51.1 inches in the back.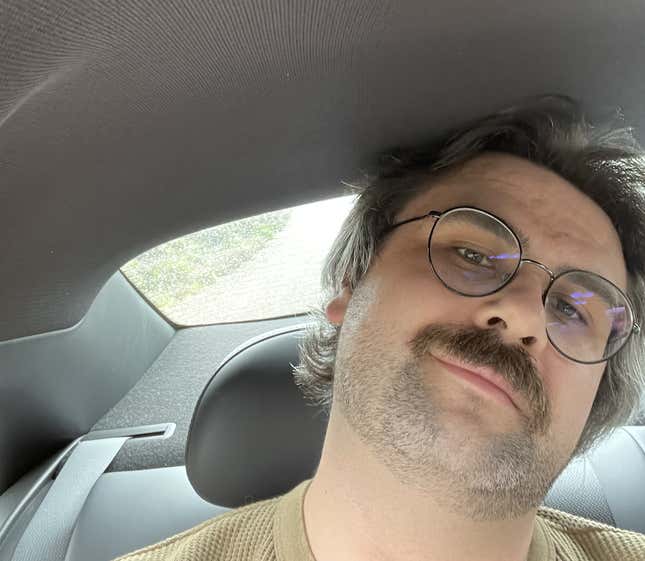 I have but one issue when it comes to the Ioniq 6's interior space: A lack of space for my big head. The vehicle I drove was equipped with a sunroof. It's a nice thing to have, but it definitely stole some room. Up front, with a sunroof, there's just 36.8 inches of headroom. At 6'1", I had about an inch of room left with my seat all the way on the floor. Out back, Hyundai says there is 38.3 inches of headroom, but I couldn't fit unless I slouched or bent my neck. Not really ideal.
Driving the 2023 Hyundai Ioniq 6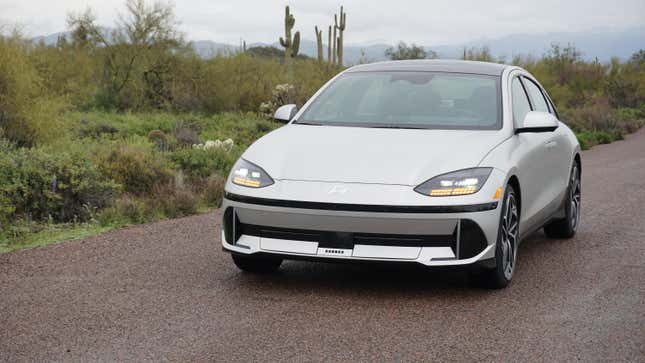 It's sort of an interesting thing that has happened in the car world. As more and more vehicles become crossovers and SUVs, I find myself assuming that a regular passenger sedan will have a bit of a sporty edge. When you look at the Ioniq 6's design, you might think it has some sporty credentials, but that isn't really the case.
The Ioniq 6 has very little in the way of a sporty feeling. This thing is all about comfort, and that's what it does best. I spent nearly 200 miles in the car as both a driver and a passenger, and at no point did my absolutely ruined back start acting up. That is an achievement in itself. The Ioniq 6 uses MacPherson strut suspension up front and a multi-link rear setup, and while the ride can be a bit busy at slower speeds around town, once you're on the highway it smooths out. It's a real mile muncher, the Ioniq 6.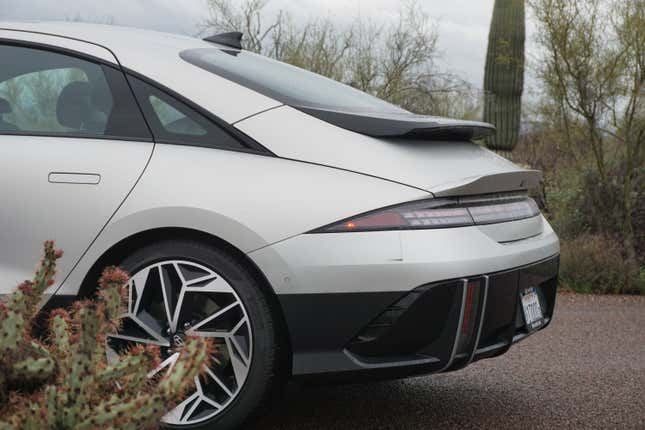 The driving position is, frankly, a little strange. There's nothing wrong with it, per se, but you get the feeling that you're sitting on top of the Ioniq 6, rather than inside it. A lot of that has to do with the very thick battery pack below the cabin floor. With the front seats as low as they can go, you still feel like you're sitting pretty high for a sedan.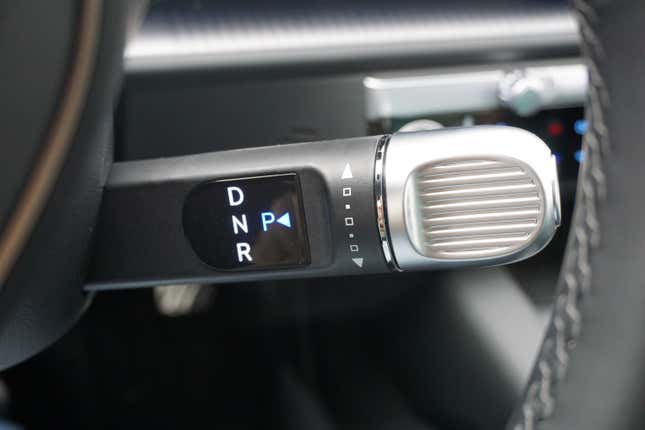 That being said, the car doesn't fall apart in the twisties. The Ioniq 6 turns in quickly with just a nudge of the steering wheel.. On top of that, it's probably the heaviest steering I've ever felt in an electric car. However, that heavy steering doesn't translate to much feel. While going around corners, the driver and passenger are definitely going to notice some significant body roll. That was honestly a bit surprising, given the fact that so much of this vehicle's weight is down low. But again, attacking mountain roads isn't what this car is for.
The Ioniq 6 makes the most sense when you're eating up miles on the highway, and it does that task in a very pleasant manner. Efforts are helped by Hyundai's excellent safety and driver assistance suite, which includes everything from Highway Drive Assist with Smart Cruise Control – basically radar cruise with some very good lane keeping – as well as blind spot warnings. The whole system works wonderfully to make the task of driving as serene and chill as possible.
The Ioniq 6 also comes with four levels of regenerative breaking that you can select via paddle shifters on the steering wheel. Crank it all the way up, and you can one pedal drive Hyundai's little EV.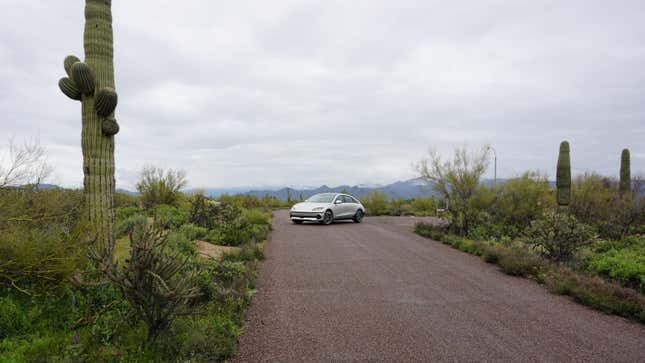 The automaker says the Ioniq 6 can get from 0-60 in under five seconds, and it feels every bit as fast as that. Then again almost all EVs tend to do that. Even at 75 mph, there is plenty of oomph left for passing.
2023 Hyundai Ioniq 6 Pricing and Battery Range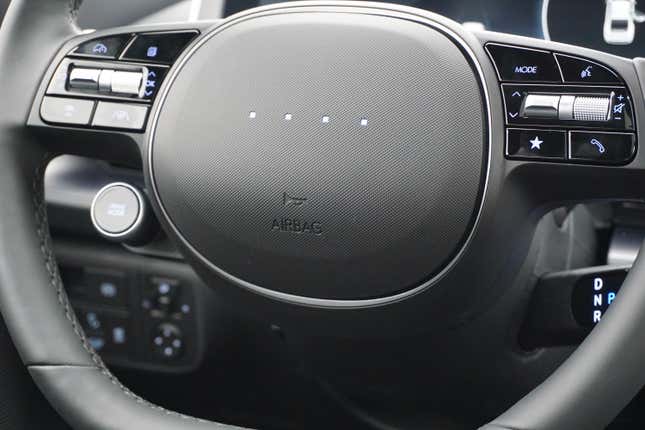 Hyundai is employing the "have it your way" method when it comes to the Ioniq 6's trim levels. We've got rear-wheel drive, all-wheel drive, little batteries, big batteries, and three different trim levels: SE, SEL, and Limited. All in all, there are seven possible variants of the Ioniq 6, but only six will be available at launch. The base SE RWD Standard Range model is said to be coming in the summer.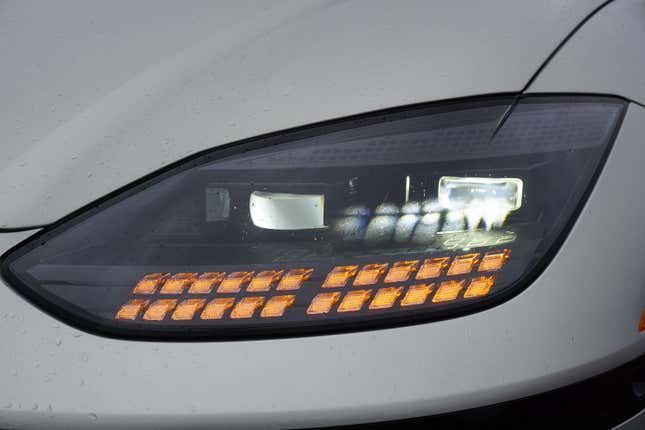 Here's how it breaks down: The absolute base model SE RWD Standard Range offers 149 horsepower, 258 lb-ft of torque, and 240 miles of range for $41,600. Add the Long Range package for 225 hp, 258 lb-ft, and 361 miles of range for $45,500. An all-wheel-drive SE gives you 320 hp, 446 lb-ft and 316 miles of range for $49,000. The SEL is available in 225-hp rear-drive spec with 305 miles of range for $47,700, or 320-hp all-wheel drive with 270 miles of range for $51,200. The rear-drive Limited has the 225-hp motor and 305 miles of range for $52,600, while the top-spec Limited AWD makes 320 hp and gives you 270 miles of range for $51,600.
Unfortunately, no Ioniq 6 model will qualify for the Inflation Reduction Act vehicle tax credit, since the car isn't built in the U.S., and every version comes with a $1,115 destination charge.
The vehicle I tested was a top-of-the-line Limited AWD Ioniq 6. It stickered at a quite pricey $58,425. The only options it had on top of the Limited AWD trim were a $1,000 Gravity Gold matte paint job (which looked great) and $200 carpeted floor mats.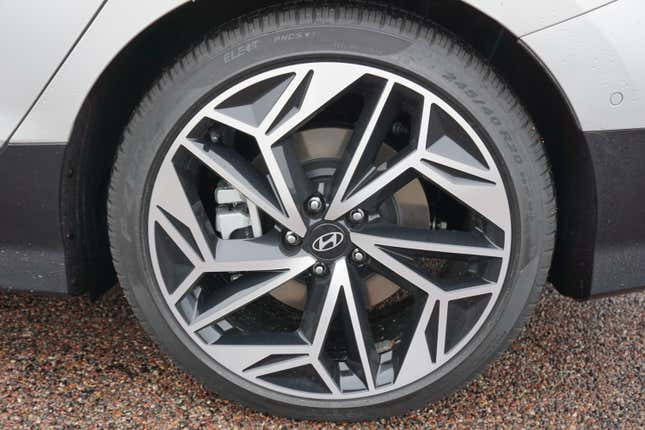 I'll be honest, that sticker price is probably a bit too much for this car. The sweet spot is probably in the high $40,000 to low $50,000 range. At that price, you can be a little more forgiving about the cheap-feeling door cards and the lack of luxury features like automatic up and down rear windows.
At launch, every Ioniq 6 will come with a 77.4-kWh lithium-ion battery. Hyundai says that by using a Level 2 charger, you can charge up to 80 percent in a little under seven hours. If you up the ante to a 50-kW charger, that time drops drastically to just 18 minutes. If you're really in a rush and you happen to find a 350-kW fast charger, you can recharge the Ioniq 6 to 80 percent in just 18 minutes, says Hyundai.
Summing Up the 2023 Hyundai Ioniq 6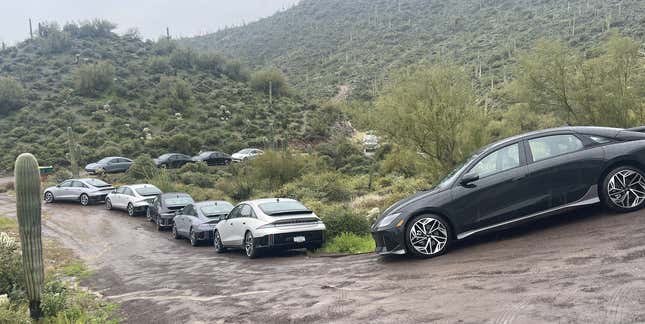 Production has already started on the Ioniq 6, and in fact, so have sales. The automaker says some deliveries are even taking place as you read this story, so don't be too surprised if you start seeing Ioniq 6s popping up where you live. It's a welcome addition to the automotive landscape.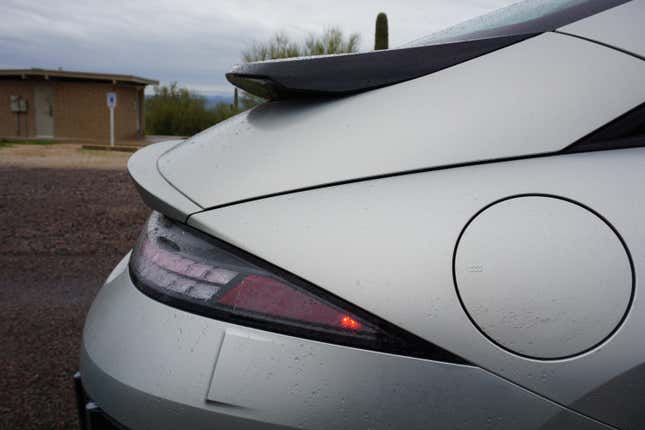 It seems that just about every passenger car these days is built with some sort of sporting intent. Hyundai's latest offering bucks that trend, and I personally love that. In a world where even the Prius is becoming a sporty car, it's nice to have something that's just meant to be a comfortable cruiser.
With the Ioniq 6, Hyundai is targeting the type of person who doesn't want their car to be a headache – someone who just wants a nice place to unwind at the end of a busy day. From where I'm sitting, few cars are better suited for that task.
2023 Hyundai IONIQ 6 Limited AWD Specs
Transmission/Drive
Automatic