The current Mercedes-Benz GLS is only about three years old, but time moves fast, especially for Merc's big flagship SUV. The new GLS for 2024 is in many ways the same vehicle it was before, except with a larger grille, swanky new interior trim options and — gasp — a steering wheel with touch controls only.
The 2023 Ford F-150 Raptor R Is Here
At a time when Volkswagen is finally yielding to public opinion and deleting the troublesome capacitive-touch keys from the Golf's steering wheel, and Hyundai has come out emphatically against such controls in its vehicles, it's strange that Mercedes would double down even in its range-topping SUV. The feeling of soft-click buttons and weighted knobs between your fingers is like 30 percent of the appeal of Merc's S-Class offerings, is it not? Glossy black plastic just seems so plebeian.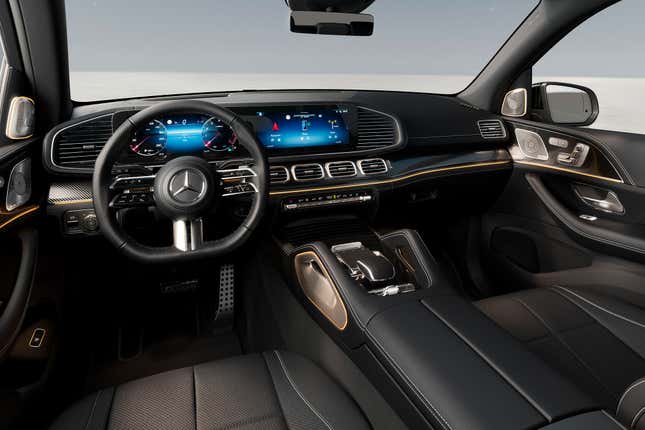 I can't speak to the ease of the wheel's touch-sensitive operation, though I can say it at least looks nice in pictures. The GLS receives new leather and wood trim options with this facelift, including MANUFAKTUR Piano Lacquer Flowing Lines (seen below) which you used to only be able to get on Maybach's version of the GLS. And no, I wasn't cleaning my keyboard with caps lock on just then — "MANUFAKTUR" is really how Mercedes spells it out.
G/O Media may get a commission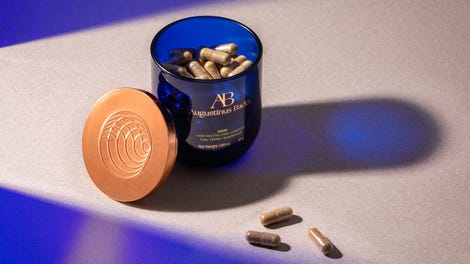 HEALTHIER HAIR
Augustinus Bader Hair Revitalizing Complex
Improve your hair today
The Hair Revitalizing Complex was tested via double blind trial to compare those taking it to those on a placebo. Those on the supplement were found to have increased their hair count by 56%, hair shine by 100%, and a 98% reduction in hair damage when compared to those taking the placebo. If these are the results you're looking for, you can get a one-month supply (30 days) for just $130.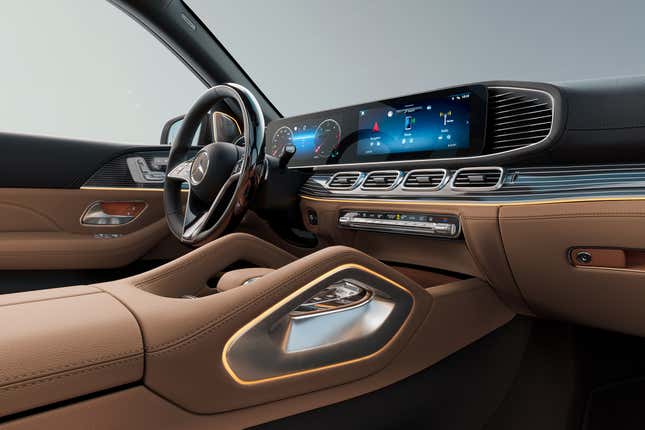 Speaking of which, it's not just the standard GLS that's getting the love for 2024. The refresh extends to the AMG and Maybach versions as well, which have also received new, bigger grilles for an added degree of differentiation. The slats go vertical for both editions, though the Maybach adds many more of them.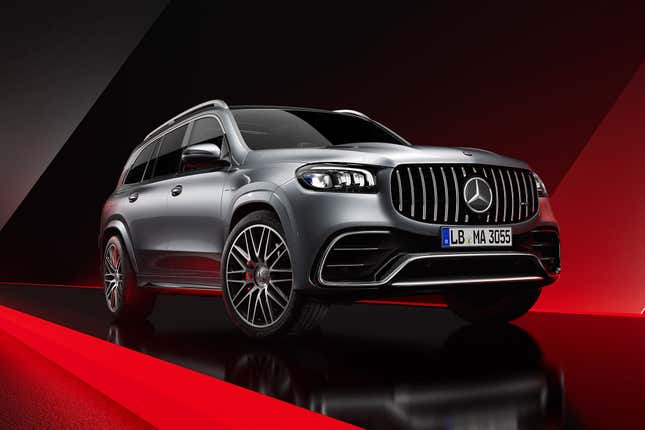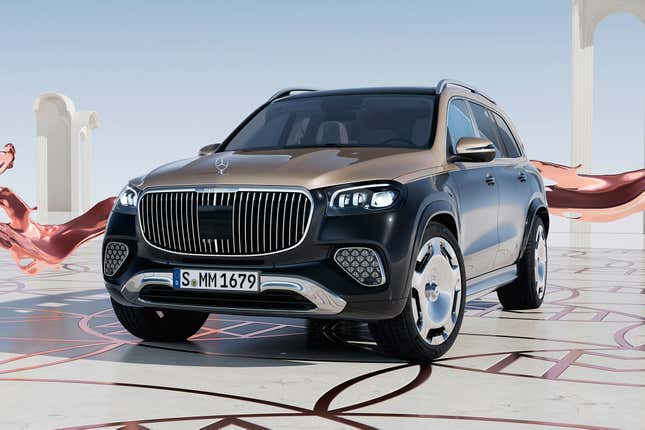 Materials and trim aside, the new AMG GLS should carry its some 6,000 pounds of mass a little better, thanks to updated suspension logic. Here's how Merc put it in the press release:
The AMG ACTIVE RIDE CONTROL active roll stabilization system works with two electro-mechanical actuators at the front and rear axle. The system reduces body roll when cornering, and allows more precise tuning of load change behavior and precision when cornering. It also increases driving comfort when driving in a straight line as one-sided road imperfections are balanced out.

As part of the facelift, the roll stabilization and air suspension also benefit from a software update and a new setup. These measures increase the spread between dynamic handling and comfort. Fine-tuning of the software for the configuration of ESP, electronically controlled rear-axle locking differential, AMG Performance 4MATIC+ all-wheel drive and the suspension control system delivers a dynamic and superior driving experience.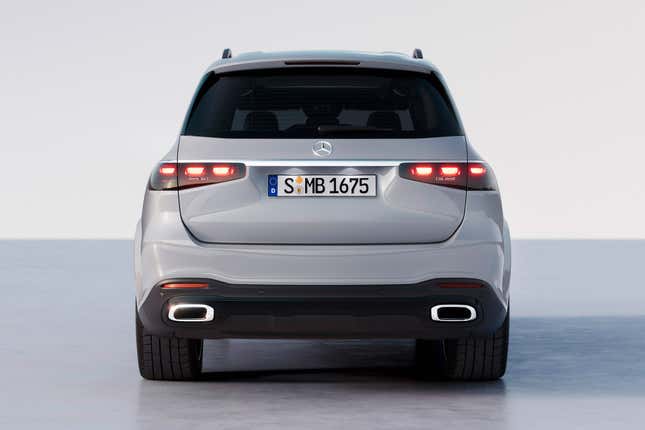 The GLS 63's 4.0-liter twin-turbo V8 party piece remains front and center, producing 603 horsepower and 627 lb-ft of torque with hybrid assist. Meanwhile, power has actually been increased on the ordinary-by-comparison GLS 450 and 580. The GLS 450's 3.0-liter inline-four now offers 375 hp — a 13-hp bump from the pre-facelift model's 362. Likewise, the 4.0-liter V8 thumping in the GLS 580 brings 510 hp, compared to the 483 hp it used to make.
Pricing on all versions of the Tuscaloosa-built GLS is likely to come closer to launch, which Mercedes has promised for later this year. For reference, the current GLS 450 starts at $81,800.