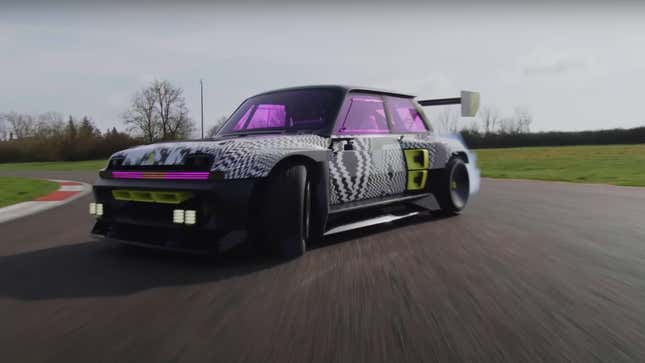 When Renault built the R5 Turbo 3E as a nod to the original R5 Turbo, it went all out. It used two electric motors to send 375 hp and 516 lb-ft of torque to the rear wheels only, added a huge hydraulic handbrake and and gave it a 50-degree steering angle. It was also built on an FIA-compliant steel tube chassis and given carbon fiber body panels. You'd think it would make a fantastic rally car, but sadly, that's not the case.
Reggie Watts and His Hand-Me-Down Renault
As host Ollie Marriage explains in the video below, Renault's CEO Luca de Meo tried to get the FIA to let Renault race the R5 Turbo 3E, but that request was quickly shut down. So if you saw the design and the specs and got your hopes up that Renault was going to go rallying with an electric hot hatch, we're sorry to be the bearers of bad news.
That said, Renault still built the R5 Turbo 3E to be driven and driven hard. It's not the kind of concept that's meant to do nothing but sit on a stage and look pretty. And Top Gear recently had a chance to get behind the wheel. Even though it was clearly designed to go sideways, Marriage wasn't allowed to do any drifting on track. The good news is, WTCC champion Yvan Muller can, and you bet your ass he drove the hell out of it.
We're still disappointed the FIA is a bunch of buzzkills, but at the same time, the R5 Turbo 3E does give us hope that after the production version of the Renault 5 Electric concept goes on sale, it might be followed by something properly hot. After all, Renault can't let Fiat have all the fun with the 500e Abarth. Or at least it shouldn't.
FIRST DRIVE: Renault R5 Turbo 3E – 375hp Electric Hot Hatch | Top Gear