With its massive budget and low pay for soldiers, providing service members with properly operating gear is the least the U.S. Army can do to repay those who have elected to serve. It often falls short of this goal, however, and now it appears that, ironically, a safety feature in army-issued parachutes are killing service members in freak accidents.
Watch Andy Lose His Mind Over the Dodge Challenger Demon 170
In case you missed it:
Army Staff Sgt. Brycen Erdody brought a lawsuit against the manufacturers of the standard issue T-11 reserve parachute, Airborne Systems of North America, on Monday. The T-11 reserve parachute is a backup chute that sits on a service member's chest should their main canopy fail.
Erdody had his arm nearly ripped off when a sudden strong wind unexpectedly released his T-11 reserve parachute back in 2019. Erdody has had five surgeries to correct extensive damage to his body from the incident, but will likely lose the arm.
At least two other service members died after their T-11 reserves deployed. There's no telling for sure how many service members have lost their lives to the defect, but an Army Infantry School bulletin put the number in the dozens. The two deaths confirmed by the Washington Post are harrowing:
Navy SEAL Chief Petty Officer Bradley Cavner was killed over El Centro, Calif., when his T-11 reserve was activated by a wind gust and his head struck the aircraft's door frame as he was swept out. A lawsuit filed by Cavner's parents ended in a confidential settlement in 2017, according to court records.

Air Force Special Operator Staff Sgt. Cole Condiff also died when his T-11 reserve opened from a wind gust, pulling him from an aircraft flying over the Gulf of Mexico. His body was never recovered.

An Air Force investigation blamed Condiff and his teammates for not noticing that a protective fabric insert — added to the ripcord flap after Cavner's death to prevent another accident — was extended one inch too far, so it couldn't stop the wind from deploying the parachute as intended.

A military parachute instructor with 20 years of experience who is not a plaintiff in Erdody's lawsuit said the fabric inserts were a "Band-Aid."
G/O Media may get a commission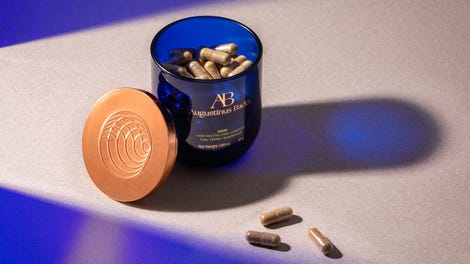 HEALTHIER HAIR
Augustinus Bader Hair Revitalizing Complex
Improve your hair today
The Hair Revitalizing Complex was tested via double blind trial to compare those taking it to those on a placebo. Those on the supplement were found to have increased their hair count by 56%, hair shine by 100%, and a 98% reduction in hair damage when compared to those taking the placebo. If these are the results you're looking for, you can get a one-month supply (30 days) for just $130.
Since Erdody is unable to sue the Defense Department due to the Feres doctrine, he is suing Airborne Systems of North America for causing his extensive injuries with the faulty parachute. The lawsuit alleges that a relatively recent update to the T-11's 50-year-old design wasn't properly tested, and that the company both designed a faulty chute and failed to warn soldiers of the danger.
A spokesperson for the Army told the Post it is investigating safety issues and solutions to the wind blast issue. Until major changes are made, the T-11 reserve chute remains in service to this day
"They're still jumping the same system I used when I got sucked outside of the airplane," Erdody told the Post. "There's been nothing, no fixes."