Currently, Bentley offers hybrid versions of the Bentayga crossover and Flying Spur sedan but no fully electric cars. That's soon going to change, though, and when it does, Bentley hopes to win customers over by offering some serious horsepower. Something tells us it won't be hard, either.
The 2023 Honda Pilot Has a Tough New Look
In case you missed it:
Bentley CEO Adrian Hallmark recently sat down with Autocar to discuss the company's EV future, and from the sound of it, most customers are already on board with the British automaker's electric future.
"Our surveys tell us that around 70 percent of customers expect us to build them an all-electric Bentley within five years," Hallmark told Autocar. Apparently, a lot of Bentley's customers live in cities and don't want to deal with the challenges of owning a gas-powered car as restrictions get more common.
But that doesn't mean Bentley plans to do anything wildly different when it goes electric. They will, however, be significantly more powerful. "The latest-generation Bentley Continental GT is an excellent example of how things will go. The Conti's design, proportions, interior and dynamics all set new standards – and the next-generation cars will do it again," Hallmark told Autocar. "They will happen to be electric, but all the traditional qualities will go up another notch. What's more, our new powertrains will have between 50 percent and 100 percent more power than we currently offer, so the performance will be there."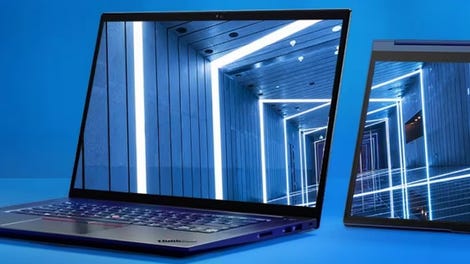 Up to 69% off
Custom Lenovo Laptops or PCs
Pick your processor, RAM, GPU, and more
Whether you are in the market for a new laptop or desktop or if you a specifically looking to build something to game on, you can do so here and you'll save up to 52% off.
With a 6.0-liter W12 that makes 626 hp, no one's going to call the Bentley Continental GT slow, but we'd also be more than happy to drive one that makes twice as much power. Especially since it sounds like electric Bentleys will come with more than enough range, too. "I can't name our partner manufacturer or the type but our cars will have a 350 to 450-mile range, together with a rapid-charging time from 10% to 80% in less than 20 minutes," Hallmark told Autocar.
Hallmark also said Bentley plans to introduce a new fifth model (or fourth if you count the Continental GT and Continental GTC as the same car) to the lineup. He didn't say what it would be exactly but did hint that it might be another crossover. So there may be a Baby Bentayga for us to write about soon. But, you know, he didn't say it definitely won't be a wagon, so you never know. It could happen. (It won't happen.)