In a world before Forza Horizon pretty much set the standard for what always-online open-world driving games could be, there was Test Drive Unlimited on the Xbox 360. TDU recreated the entirety of Hawaii's Oahu island at one-to-one scale — a stunning achievement, even 17 years on. Now TDU is bracing for a comeback, set on a very different floating rock: Hong Kong. And we got to see a glimpse of it this week in developer Kylotonn's latest newsletter to fans.
2023 Toyota Crown: Driving Impressions
Like the first installment's rendition of Oahu, Solar Crown's Hong Kong Island is also built to scale. Of course, HKI is much smaller than the Big Island, so don't expect any hour-long drives from end to end. That said, it also seems to offer considerably more variety than TDU's Oahu did, from cliffside vistas to neon-lined skyscrapers.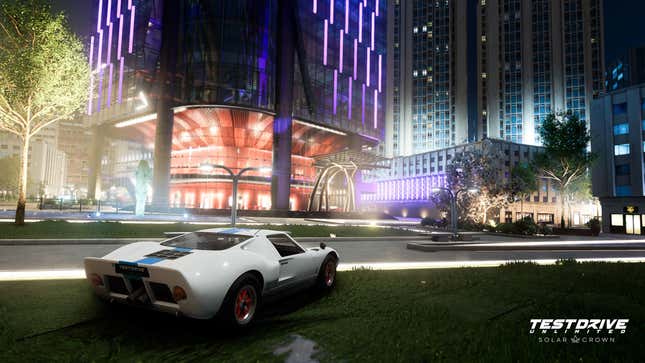 Not every path on the island has been recreated true-to-life, because 1) that's just not feasible and 2) even if it was, it wouldn't guarantee fun gameplay. Creative Director Alain Jarniou offered a little insight in the newsletter on how the team has attempted to replicate the spirit of Hong Kong Island, albeit with 370 miles' worth of roads better suited for racing. Via Reddit:
Recreating Hong Kong Island with all its variety and small details was a considerable challenge. In an open-world game like TDU, we need to provide a seamless and interesting driving experience as well as encourage exploration, which is an important part of the experience. To increase immersion and transport players to a new country, we also wanted to make HKI very realistic, which is why we recreated it at 1:1 scale. It was a challenge technically as well as in terms of gameplay. Thanks to the experience gained developing many rally games (WRC series) and motorcycling games (TT series), we have considerable expertise in creating realistic environments on a large scale. But TDU is a different kind of experience and more challenging. Hong Kong Island is an amazing playground that offers incredible diversity, and each environment received special attention to make them more fun for players. To emphasize the fast and smooth driving, for example, the very dense urban network of HKI needed some small adjustments because of certain little streets that were very (too?) narrow. Conversely, some light redesign was done to the major thoroughfares to make them more fun and adapted to very fast cars, while respecting the identity of Hong Kong Island. To increase exploration options, we used our expertise from WRC games to transform certain walking and hiking paths into small mountain roads that a car can use.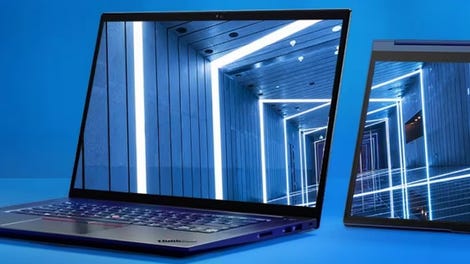 Up to 69% off
Custom Lenovo Laptops or PCs
Pick your processor, RAM, GPU, and more
Whether you are in the market for a new laptop or desktop or if you a specifically looking to build something to game on, you can do so here and you'll save up to 52% off.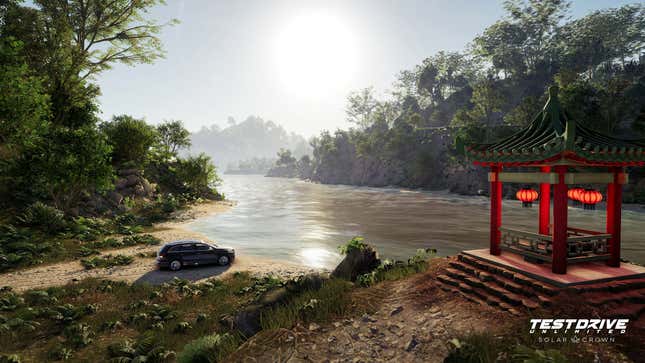 Solar Crown's map is comprised of 14 districts of vastly ranging biomes, with a good number of local landmarks peppered in, as Lead Artist Stéphane Cambier explains:
You can cruise through downtown Wan Chai, the financial district with huge buildings like the Hopewell Centre and Convention Centre, then pass through the Central District under the Bank of China Tower and the twin towers of the Lippo Centre, an iconic skyscraper on HKI. The East docks area is the perfect playground for the Streets. Their HQ, an underground industrial nightclub, can be found here. But if you prefer a calmer and more residential atmosphere, the Repulse Bay district with its luxury dealerships is there on the south side of the island. The Peak, the island's highest point, is perfect for an off-road experience and to admire the city as the sun goes down. Are you an inveterate explorer at heart? Set off to find small fishing villages at the foot of Tai Tam Tuk Reservoir, which can only be reached by small paths; then take the Dragon's Back to reach Shek O for unforgettable gaming moments that can only be found in TDUSC.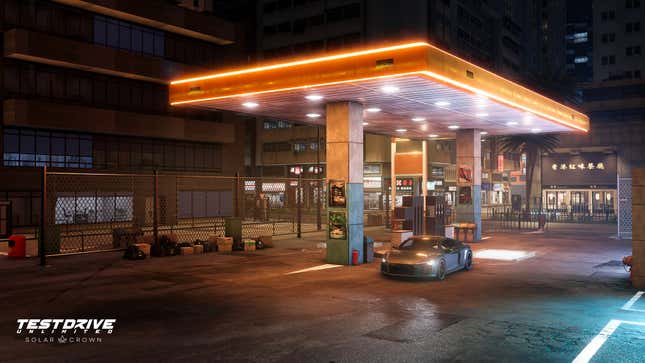 Solar Crown's been somewhat missing in action until recent weeks, when publisher Nacon began sharing in-engine screenshots. All video footage of the game has been CGI, so we still don't really have a sense of how the first open-world Test Drive experience in over a decade will look during gameplay, nor do we even know when it's launching. The development studio responsible, Kylotonn, is known for its officially-licensed World Rally Championship and Isle of Man TT games. The WRC series was a model of consistency, but building an open-world racer is an entirely different challenge from making a stage- or circuit-based one.
Personally, I'm tempering my expectations. The studio doesn't have a proven track record with a game of this magnitude. Plus, Solar Crown's narrative of pitting rival gangs of trust-fund babies against each other (they're called "Streets" and "Sharps," canonically) has the potential to get real irritating, real fast. But so long as the physics are competent and the world's interesting enough, it could just be the diversion from Forza Horizon and Need for Speed that the genre's been needing.