Americans are growing interested in switching from ICE-equipped models to EVs, whether new or used. The latest report from used car retailer CarMax says that search volume for EVs has doubled in the last year, spurred on by higher gas prices throughout the country. More car shoppers are now seeing these searches through to the purchase of a used EV, trading in their ICE-equipped cars in the process. And according to CarMax, Toyotas are the "most traded in brand for EVs," which is telling for the Japanese automaker that has been more reluctant than most to transition to fully-electric cars.
In case you missed it:
The CarMax study looked at trends in segment, or vehicle types, and in specific brands that stand out anytime buyers make the big switch from ICE to EV. The retailer found that SUVs are the most common trade-in for EVs, sitting at 40 percent of vehicles that buyers leave at the lot; sedans and coupes made up 29 percent of trade-ins for EVs; and luxury vehicles came in third with 17 percent.
The percentages in segment are not that surprising given the popularity of SUVs compared to sedans and coupes: if there are more SUVs on the road, then it makes sense that more SUVs are traded in.
But it's notable that the top five EV models are not SUVs. In order of their popularity, the best-selling EVs at CarMax are the Tesla Model 3, Tesla Model Y, Nissan Leaf, Ford Mustang Mach-E and Chevrolet Bolt EV.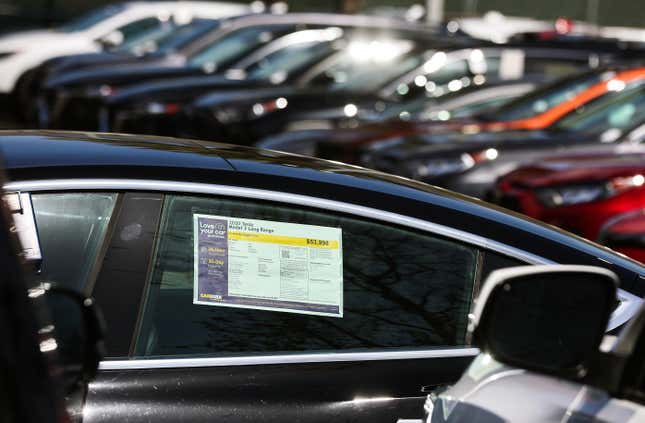 Presumably, that means shoppers are trading in their SUVs for EV sedans and crossovers. CarMax doesn't disclose the exact percentage of SUV owners who switch to the Tesla Model 3, but if the Model 3 is the best-selling EV, then it's likely that some former SUV drivers jump ship to the Tesla, which could bode well for the future of the "doomed" sedan.
The CarMax report says the most common trade-in for the Tesla Model 3 was the Honda Civic, while the second most common was the Toyota Tacoma. CarMax shoppers buying a Nissan Leaf most commonly traded in the Toyota Prius — but there's no mention of how many Prius Primes were traded in.
Either way, this contributed to Toyota being the most traded in brand for EVs, sitting at 12 percent of ICE-to-EV trades. Ford and BMW were both tied for second place with eight percent, and Honda placed third with seven percent.
This marks the second year in a row that Toyota is the most traded in brand for EVs at CarMax, which may or may not be related to Toyota's reticence regarding fully-electric cars. Toyota remains committed to hybrids, and plug-in hybrids, such as the Prius, while at least some former owners are doing the unthinkable: switching from Toyota to Nissan, all for the sake of a newer EV.