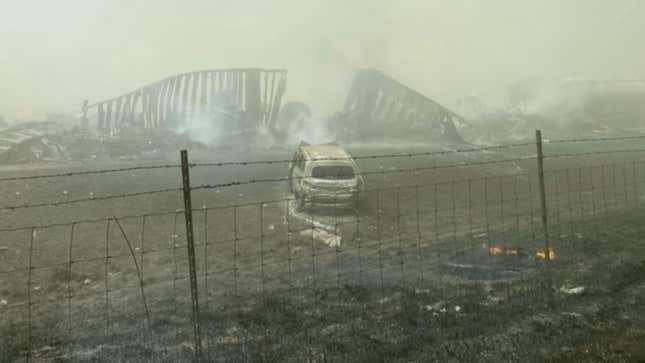 Windy, dusty conditions along I-55 in Illinois led to a multiple car pile up that sent at least 30 people to the hospital on Monday.
The crash occurred late Monday morning just south of Springfield, Illinois, the Associated Press reports. The dust storm was kicked up by strong winds blowing across farmer's fields getting ready for spring planting. All the bare dirt and strong winds greatly reduced visibility for drivers. Police estimate between 40 to 60 passenger cars were involved, and multiple semi tractor trailers, two of which burned down in the pile up. Police also said there were multiple fatalities in the crash, and a concrete number would be provided later.
The National Weather Service issued a "blowing dust warning" for parts of central Illinois until 7 p.m. after the crash, NBC Chicago reports. The warning was not issued for the area where the crash took place however:
"Severely limited visibilities are expected," the warning states. "Travel will be dangerous and possibly life-threatening."

The National Weather Service urged people under the warning to stay indoors until the storm passes.

"Be ready for a sudden drop in visibility to near zero," the NWS stated. "If you encounter blowing dust on the roadway or see it approaching, pull off the road as far as possible and put your vehicle in park. Turn the lights all the way off and keep your foot off the brake pedal."

The blowing dust caused a multiple-car pileup on I-55 between Divernon and Farmersville, outside of Springfield, where visibility was reported to be at "less than a quarter of a mile."
Interstate 55 remains closed in both directions from 52 to mile marker 80. Video from social media shows the wreckage of the crash:
The NWS is predicting the strong winds will continue throughout the week, with a strong winds warning for central Illinois until 2 a.m. tonight. Winds return Wednesday and could reach 40 miles per hour.
This is a breaking story and we will updated it when we know more.