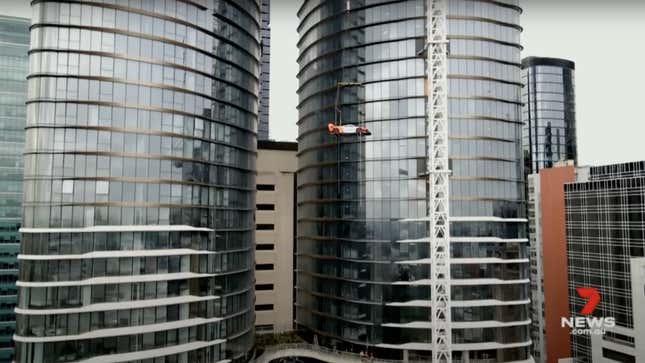 It's a bird! It's a plane! It's Fancy Kristen's new houseplant stand! No! It's a McLaren Senna GTR, one of only 75 ever built, and now it will live forever high up in a $26.3 million Australian apartment.
Jalopinions | What Would You Buy With a Million Dollar Lottery Win?
In case you missed it:
This incredible 814-hp performance vehicle with a twin-turbo 4.0-liter V8 meant only for the track and costing a cool $1 million brand new, will likely never taste asphalt under its tires again. Instead, it will be the centerpiece of a very rich guy's living room. Not sure if Ayrton Senna would have loved that, but eh, rich people do weird things. The Senna was hoisted to the 57th floor of a new ultra-luxury development in Melbourne, Australia, by a very careful team of eight. When it reached its destination someone drove the Senna into place in the empty unfinished apartment, 9News reports.
Major operation to lift a rare high-performance supercar into Adrian Portelli's penthouse | 7NEWS
The particular rich guy who arranged all this is Adrian Portelli, property investor and founder of something called the LMCT+ rewards club. His new apartment in the towers broke the record for most expensive property in Australia. His McLaren just happened to be the most expensive used car for sale in the country as well. Portelli can afford a lot of expensive shit, and enjoys that fact so much he went full Pimp My Ride and put his expensive shit inside of his expensive shit.
And much like the vehicles on Pimp My Ride, this car will likely never again operate as it should. Portelli admitted that the GTR will likely never drive again, due to the logistical nightmare of getting the car up and down 57 flights of luxury apartments CarScoops reports. The McLaren Senna GTR is track-only, which of course greatly limits the amount of drive-time it can get already. But still, it's like seeing the tigers at the zoo; something beautiful and wild trapped behind glass forever.