Nick lives in Seattle and has a 2014 Subaru Impreza hatchback. It's a good commuter car, but he can't help but wish it had a bit more punch under the hood. He is considering spending some decent coin on modding it but thinks he might be better off getting a more powerful hatch right from the factory. What car should he buy?
What Car Should You Buy: Simplify and Then Buy a Minivan
(Welcome back to What Car Should You Buy? Where we give real people real advice about buying cars. Do you want us to help you find a car? Submit your story on our form.)
Here is the scenario:
I currently have a beloved and babied fully paid off 2014 Subaru Impreza that I bought new. I now want a little more muscle under the hood than the 148 horses my current car has, but I'm torn between working with a performance garage to maybe do a turbo, tune and exhaust on my existing car to make a baby WRX or just trading it in and upgrading to an actual WRX or STI. My main worry though is that I REALLY prefer hatchbacks to sedans, and since the current gen doesn't have a hatch option for the performance cars so I'm stuck buying used and I worry about buying something that's been hooned to death and will require a lot of work. I'm attached enough to my existing car that spending 10-15k on making it a little wild seems reasonable, but I also understand that selling it and buying a 30k car is probably the easy route. Is there something that ticks my boxes, or should I seriously consider doing work on the car I already have and love?

I think my three priorities are AWD, a hatchback and a turbocharger. I don't need to use it to commute but it will be expected to haul gear into the mountains pretty frequently. My current car excels at the job, so taking that as a baseline and adding some power is ideal.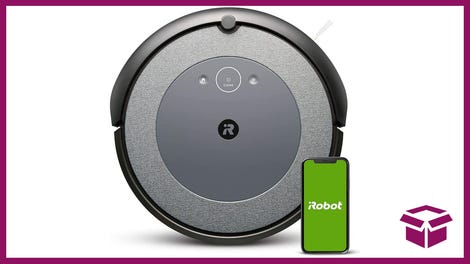 30% Off
iRobot Roomba i3 Robot Vacuum
A little helper
This robot vacuum can deal with hard floors and carpets, can focus on dirtier areas of your home based on its own analytics, has a runtime of up to 75 minutes, and can even do extra cleaning when pollen or shedding season are here to help those with allergies breathe a little easier.
Quick Facts:
Budget: up to $30,000
Location: Seattle, WA
Daily Driver: Yes
Wants: AWD, Turbo, Hatch
Doesn't want: Something too slow
Expert 1: Tom McParland – You Can Have It All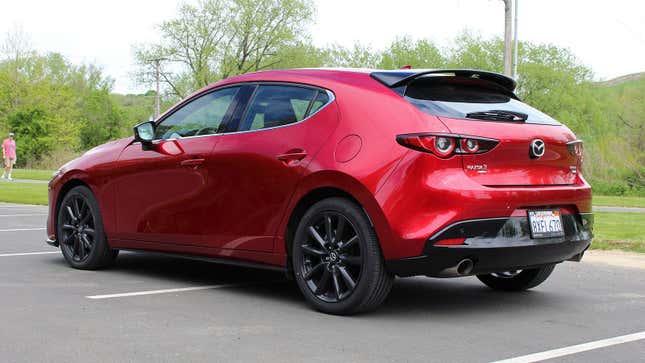 Nick, I remember being in your situation. I had a 2010 Mazda3 hatchback that objectively was an excellent car, but I traded a turbo Subaru for it, and dropping down from 250 horsepower to 185 was noticeable. I always wanted that Mazda to have an extra 40 ponies or so and it would have been perfect. I eventually traded the Mazda in for a GTI and found that "just right" sweet spot. Your case is trickier because you require both AWD and a hatchback with something that has a bit more performance.
A used STi is certainly an avenue, but you're right, finding one that hasn't been driven hard is a challenge. Lucky for you Mazda made the car that hits your top three priorities. The Mazda3 hatchback is available with both a turbo and AWD, though with a starting price of about $33,000, you need to search the used market, and these are a bit rare. I did find one that is just under budget if you wanted something a tad easier to source the CX-30 Turbo is virtually identical to the Mazda3 hatch if you can live with a little bit of extra ride height and some body cladding. In either case, you get a car with some really premium features and a motor that cranks out 250 hp and 310 lb-ft of torque.
Of course, we all wished that Mazda had offered a three-pedal version of their higher-powered hatch, but if you are okay with an automatic, this is the way to go.
Expert 2: Collin Woodard – An Alternative to the Correct Answer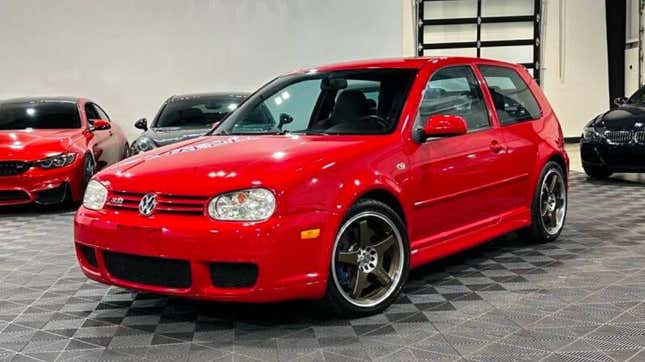 Well, Tom hit the nail on the head with this one. The Mazda3 is the correct answer, and if you decide to buy something new instead of modifying your Subaru, that's basically the only car that fits the bill. Buy it. Be happy. Enjoy the zoom-zoom-zoom life.
But let's say you want to buy a car that isn't the Mazda. One obvious car that comes to mind is the Volkswagen Golf R. Except the problem with that idea is that I couldn't find any in your area for under $30,000. If you're willing to be flexible with your budget, you can probably find one within a couple hours' drive from you. Or you could expand your search radius beyond the Seattle area and have it shipped to you.
If you'd prefer to say local-ish, though, I did find a car that fits the bill. It's $28,000, so it's within your budget. It's a hatchback with all-wheel drive, so that's great. And even better, it's a manual. Yes, we're talking about this 2004 Volkswagen Golf R32. The wheels are certainly a choice, but it looks like it's in great condition for its age. The only thing it doesn't have from your list is a turbo, but I'm willing to bet that the VR6 is powerful enough that you'll be OK with that. You know, in a world where you don't just buy the Mazda or turbocharge your Subaru and decide to consider something much older but more unique.
Expert 3: Andy Kalmowitz – Something You'd Never Expect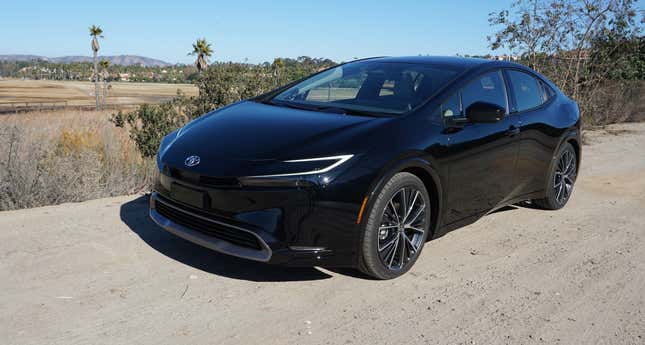 Well Nicky, you've got some pretty solid parameters for us to work. You want AWD, a turbo and a hatchback all for around 30 large. Well, I think I've found you something that ticks nearly all of your boxes: the 2023 Toyota Prius AWD. Buddy, I know it's scary. It's a Prius after all, and you're looking for more power. Trust me when I tell you, this car is seriously quick. It'll do 0 to 60 mph in seven seconds flat, all while getting 49-god-damn-miles-per-gallon combined. You cannot and will not beat that.
What's even better is you can get a brand new Prius within a couple grand of your budget. You're going to have a hatch space with tons of room for your shit, a wonderfully comfy interior and looks that'll turn the heads of just about everyone you pass. It's a wonderful car, my dear Nick. It may not have a turbocharger, but you can just play pretend and tell yourself the hybrid motor is a turbo. With 196 horsepower on tap, it may as well have one.
It's time for you to be weird in a very interesting way and buy a Toyota Prius. The stigma is gone, baby. No one is going to laugh at you or judge you for buying the best looking regular vehicle on sale today. Prii are cool now, and you can trust me. I'm the coolest guy there is.
Expert 3: Steve DaSilva – Do The Dumb Thing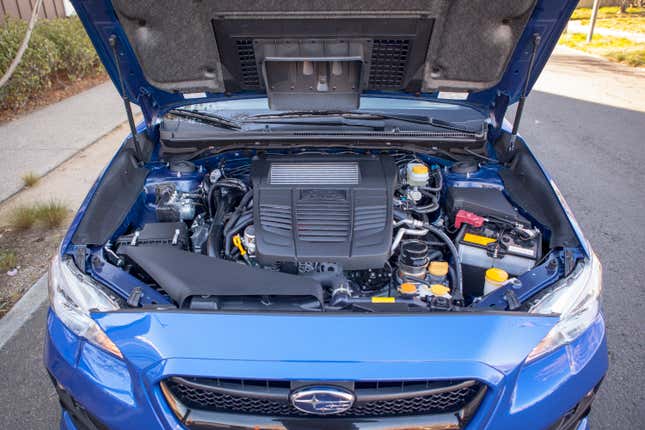 Nick, you've got something rare: A car you truly love, one you're loathe to give up. You're also after a hot hatch, something fewer and fewer companies are sending to the United States. I'm here, as the voice of unreason, to tell you to do that dumb thing that's been sitting in the back of your mind. Mod the Subaru.
You mentioned the possibility of spending up to $15,000 on mods, which is no small amount of money. Remember, though, that the cost of your mods is just the start. Unless you're particularly handy, you'll be shelling out for labor as well. Still, for that much, you should be able to get something like an AVO turbo kit up and running.
Of course, if you're handy and have the garage space, you could truly go for it. Full STi drivetrain swaps have been done on this platform before, and thanks to Subaru's Lego-like parts bin, they're not impossible for seasoned shadetree mechanics. Swapping in an EJ257 drivetrain might be beyond reach, but the WRX's two-liter might bolt right up.
Of course, this starts you down a very specific path with this car. It will never be as reliable as stock, never as simple to service. You'll think about every odd noise, every bump and scrape, in a new way. You'll chase down issues, solve them, only for something new to pop up unexpectedly. It's the joy, and the struggle, of modified cars — they're never, ever, finished.
If that sounds like what you want, if you're dedicated to this machine and want to make it the best it can be, modify it. You'll have a fairly unique build, all things considered, and you'll have the perfect car for your mountain-climbing enthusiast needs. Or, if this is all too daunting, just buy this low-mileage WRX hatchback in Tacoma.