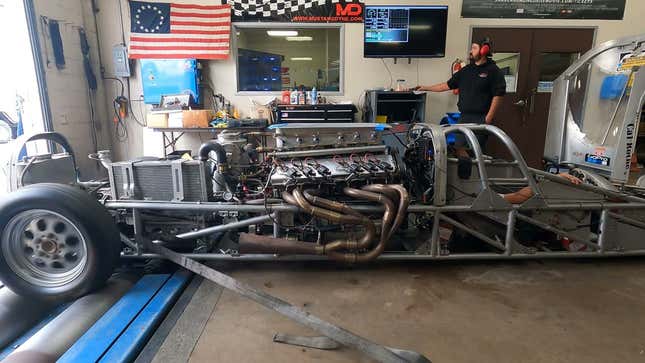 The V12 is one of the greatest engine configurations ever conceived, but sadly, the number of automakers that offer a V12 option continues to dwindle. That doesn't just affect customers, either. It also affects boutique supercar manufacturers that rely on automakers for their V12s. After all, building your own V12 is hard. If Pagani isn't going to do it, you can't really expect a company with less money and fewer connections to give it a shot. But two custom racing engine builders in San Diego, California have done exactly that.
Racing Tech 5 | Nascar Garage 56
The Drive reports that Pete Aardema and Kevin Braun built the V12 in question to pursue land speed records. And the way they went about doing so is pretty interesting. They reportedly bought old NASCAR and IndyCar engines to tear down and study so they could come up with their own designs. Then they used 3-D printing to make templates for all the necessary parts.
After creating the actual parts, they made pistons and a custom crankshaft for it. Once assembled, they had a 6.0-liter V12 that could rev to 12,000 rpm. Aardema and Braun have reportedly admitted that their homebuilt V12 engine isn't on the level that you'll find in an actual NASCAR or IndyCar race, but still. It's a homebuilt V12. That alone is seriously impressive.
The pair recently tested the engine on the dyno, and while they still have yet to publish the exact horsepower and torque numbers, what you do get is the chance to listen to their custom engine rev. And according to the video title, it made 920 hp at 10,000 rpm.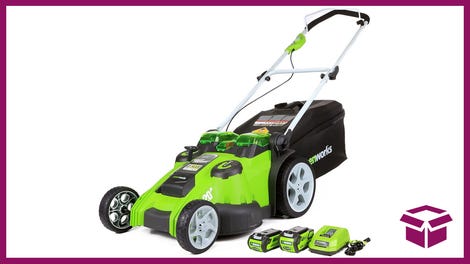 25% Off
Greenworks Push Lawn Mower
Cut it up
This mower comes with the batteries and charger required to allow it to be used without cables, has a sizeable 20″ blade diameter, is surprisingly lightweight, and is really easy to use on even tougher lawns.
At lower revs, it almost sounds more like a V8 than a V12, but once they start to really rev it out, the sound changes, giving you the wail you expect from a V12. It's a little weird but also awesome at the same time. And no matter how well it performs at Bonneville Speed Week later this month, at least they'll have the satisfaction of knowing they built their own V12.
V12 Race Engine Dyno Test – Makes 920 HP at 10,000 RPM- Insane Engine Sound!