I've never really understood why some Porsche fans look down at the Cayenne. Sure, in the beginning, it was a big departure for the sports car maker, but the Cayenne has always been a super capable and technically brilliant ride. Fast forward 20 years, and it's better than it's ever been.
Racing Tech 5 | Nascar Garage 56
Porsche wanted me to drive the 2024 Cayenne so badly that it asked me to drive to the west side of LA during rush hour. Porsche also bought me lunch. I had a grilled cheese.
Power Moves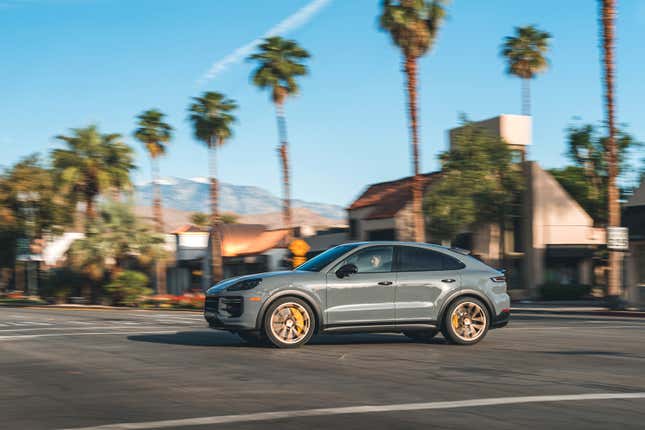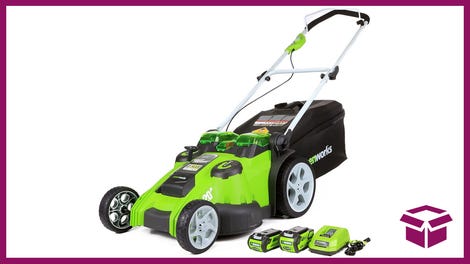 25% Off
Greenworks Push Lawn Mower
Cut it up
This mower comes with the batteries and charger required to allow it to be used without cables, has a sizeable 20″ blade diameter, is surprisingly lightweight, and is really easy to use on even tougher lawns.
On paper, the 2024 Porsche Cayenne is just a refresh, but in practice, it brings a lot of new changes, arguably the biggest of which is the return of a V8 engine in the Cayenne S. Yeah, it's the same 4.0-liter twin-turbocharged V8 that the brand has been using for a while now, but with an output of 468 hp and 442 lb-ft of torque, it feels a lot more premium than the outgoing 2.9-liter twin-turbo V6, despite only offering an additional 34 hp and 37 lb-ft.
The other trim levels benefit from some drivetrain tweaks, too. For example, the E-Hybrid gets a bigger battery, resulting in more electric range, and sees a power bump to 463 hp, an increase of 8 hp. The range-topping Turbo GT now offers 650 hp instead of 639 hp, making the Lamborghini Urus even more irrelevant in any practical sense. Even the base Cayenne gets more power this year, with its 3.0-liter turbocharged V6 making 348 hp and 368 lb-ft.
The Cayenne's optional air suspension also gets an overhaul, which now uses twin chambers and twin valves to improve ride quality. Behind the wheel of a Turbo GT, it's easy to forget the Cayenne is in its Sport Plus chassis setting because the ride is so smooth. The standard suspension is your typical steel-spring affair, but Porsche's Active Suspension Management system is now standard equipment.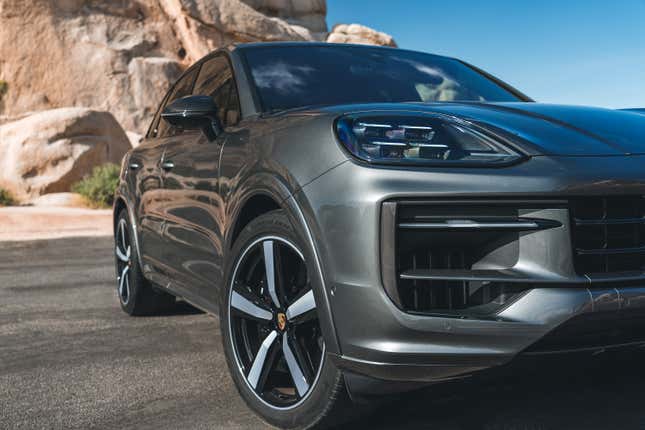 No matter the model, the Cayenne's overall driving experience is superb. The road manners are excellent and the electrically assisted steering is well-weighted and extremely accurate. (Porsche's decision to bring the 911's steering wheel over to the Cayenne is also a great one.) Braking is great, with the carbon ceramics on the Turbo GT and the steel units on the Cayenne S offering solid stopping power.
In both the Cayenne S and Turbo GT, the 4.0-liter twin-turbo V8 is a total sweetheart and sounds great through the sport exhaust system. The Turbo GT is certainly spicier, as you'd expect with its additional 182 hp, but I honestly can't think of a reason to buy it over the S other than bragging rights. The S feels plenty quick thanks to readily available torque and a smart eight-speed automatic gearbox. It truly appears to be the sweet spot in the range.
It's What's Inside That Counts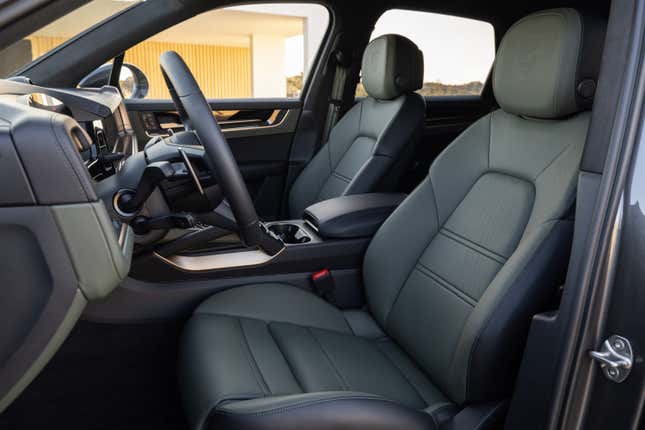 The interior of the 2024 Cayenne also sees huge changes, but it isn't perfect. The overall layout is pleasant, with up to three screens spanning the dash if you opt for the super cool passenger display, but the decision by Porsche not to hood or otherwise cover the instrument screen makes it look and feel a little unfinished. That said, I never had an issue with seeing the screen in direct sunlight. Unfortunately, no matter where I position the steering wheel, it always seems to obscure part of the gauge display – just like in a 911.
Another notable change includes moving the shifter to the dash, like in the Taycan. It's a physical toggle-type switch, and moving the shifter frees up the center console, which is a plus. Porsche also opted to keep the most important climate functions as manual switches. There are still haptic feedback digital buttons, but they're easy to use, even if you're not looking at them, and if they keep you from having to dig through menus, then I'm fine with that. Porsche also gave the Cayenne an engine start button for the first time, which is neat, as is the fact that it's still mounted to the left of the steering wheel.
As far as ergonomics go, they're great. I have no issue finding a comfortable position in either the driver or passenger seats, and headroom in both the front and back is excellent. The cargo room is great, too, with the SUV offering 27.2 cubic feet of space with all the seats up. The sleeker Cayenne Coupe sacrifices some of that luggage area thanks to its sloping rear hatch, but not enough to be a deal-breaker. (Porsche doesn't yet have an official Coupe cargo spec.)
Tech Talk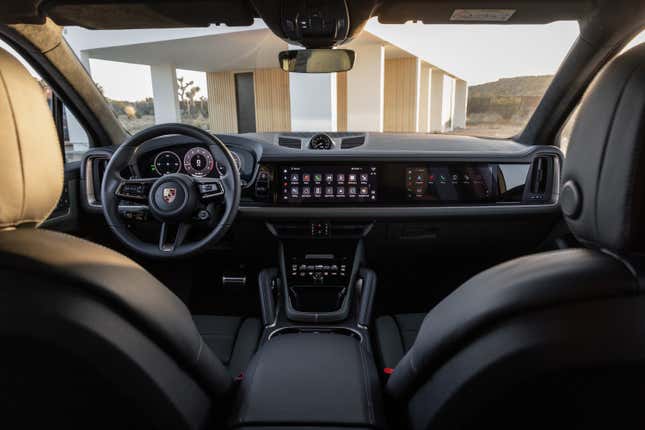 Electronics are another one of the Cayenne's strong points. Porsche's infotainment system remains easy to use, responsive and offers wireless Apple CarPlay and Android Auto. The optional Burmester premium audio system is generally quite good, but it does sting a little to know that the Burmester-branded systems in Mercedes-Benz products sound just that much sweeter. The passenger display I mentioned earlier mirrors the center infotainment screen, but with an active cellular connection, whoever's riding shotgun can stream videos, and thanks to a specially polarized coating on the screen, the driver can't see anything.
The 2024 Cayenne can be had with a lot of active safety tech, but as is typical for the brand, Porsche makes you pay separately for most of the good stuff. For example, adaptive cruise control is a $1,420 option. If you want Porsche's super-smart InnoDrive system, which takes adaptive cruise to the next level by adding active lane keeping, that'll be $2,750. Other handy features like a 360-degree camera and parking assist are also extra, but worth ticking on a build sheet.
There Is No Substitute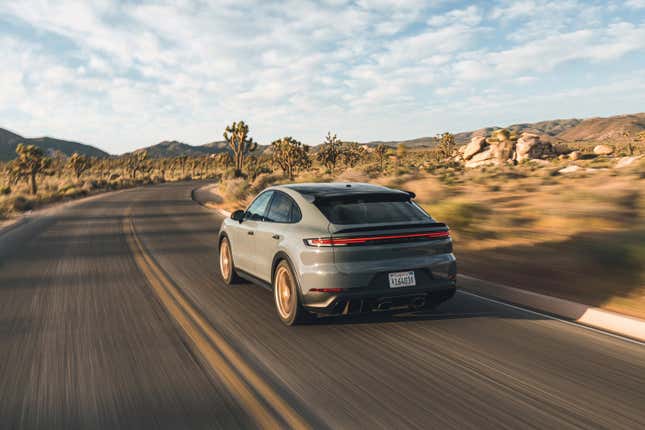 A 2024 Cayenne starts at $80,850 including destination, which is a $7,200 jump from the 2023 model, but at least you get some extra standard equipment, like the aforementioned PASM, LED headlights, 20-inch wheels, lane-change assist, lane-keep assist, keyless entry and an air-conditioned 15-watt wireless charging pad. Coupe models start at $85,950, but style costs extra, I suppose.
As before, the Cayenne competes with the Audi Q7, BMW X5 and Mercedes-Benz GLE. The Cayenne and Q7 actually share a platform, but the Audi is available with three rows of seats and it's got a starting price that's right around $20,000 cheaper. The BMW is the most comparable in price and performance, but the Cayenne is arguably the better driver and has a nicer interior. A base GLE is cheaper than the Cayenne by slightly more than $20,000 and has a very comparable interior, but the Cayenne has the more potent drivetrain. The Land Rover Range Rover Sport technically competes with the Cayenne, as well, but it's less powerful in base form, more expensive with a starting price of $84,470 and has a considerably worse infotainment system.
No matter if you opt for a base Cayenne, S, E-Hybrid or Turbo GT, Porsche's updated SUV really feels like the best luxury performance SUV on sale today. Beyond being a stellar all-rounder, it's also an excellent Porsche. All you nay-sayers really ought to shut up and drive one.