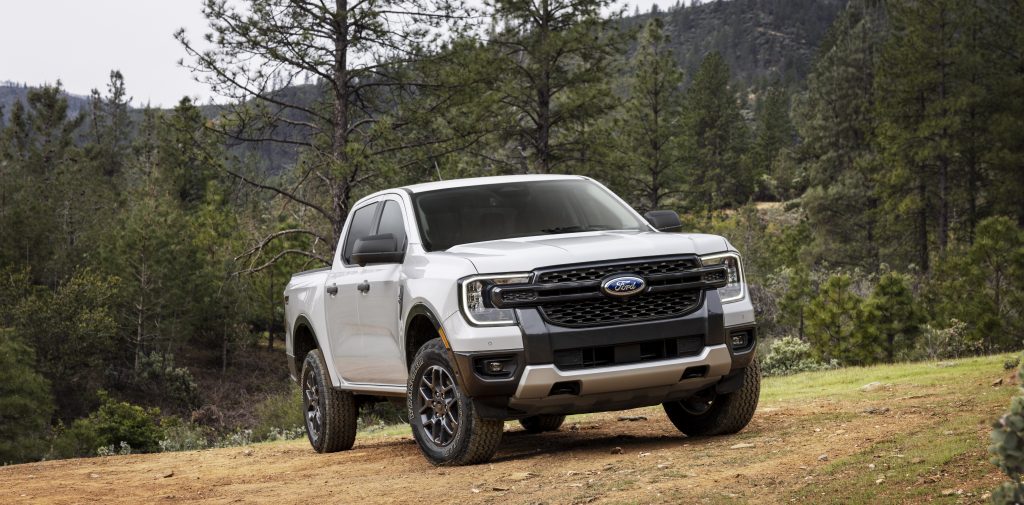 This week, Ford unveiled the North American version of its next-generation midsize pickup. The 2024 Ranger is based on a design that debuted in Australia and other global markets in 2022. It features updated styling, new engine options, and a first-ever Raptor off-road model.
More pickup truck news and reviews
2024 Ranger and Ranger Raptor
The new Ranger is essentially the same size as its immediate predecessor, though the width between the rear wheel wells allows for larger items to more securely in the bed. The exterior styling has been tweaked to more closely mimic that of the brand's smaller Maverick truck. A new rear side step allows owners to stand with both feet at the edge of the bed, allowing for more comfortable access.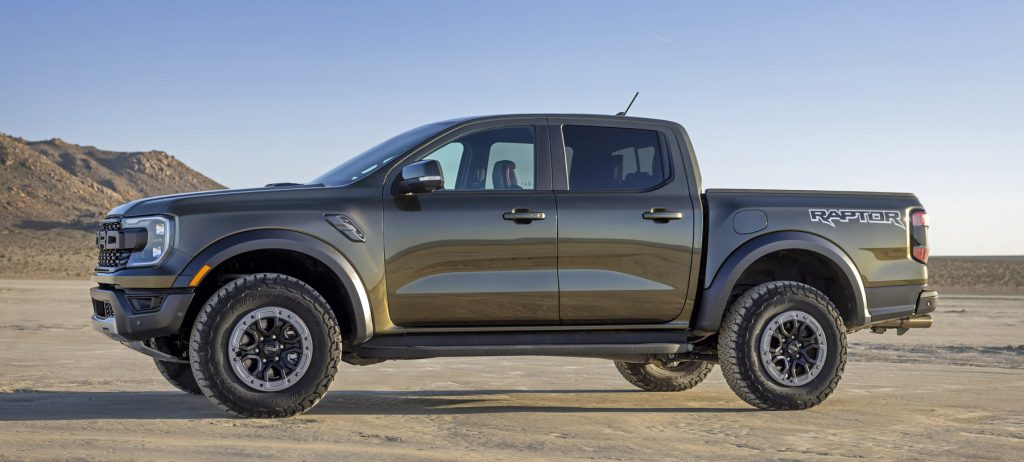 Inside, the rear seatbacks fold completely flat. Ford claims cabin materials and overall fit-and-finish have been upgraded to provide a more premium feel. Buyers will have the option of choosing an 8- or 12.4-inch fully digital instrument panel along with infotainment screens of either 10.1 or 12 inches. All grades will include Ford's SYNC4A system along with an embedded 4G LTE modem to facilitate over-the-air software updates. A full suite of driver assists is available, including hands-free parallel parking and sensors to help hook up and maneuver a trailer. Speaking of trailering, the new Ranger sports a maximum tow capacity of 7,500 pounds plus a maximum payload of 1,805 pounds.
Under the hood, a 2.3-liter turbocharged four-cylinder engine returns with 270 horsepower and 310 lb-ft of torque. New for 2024 will be an optional 2.7-liter turbocharged V6 borrowed from the larger Ford F-150. This engine will produce 315 horsepower and 410 lb-ft of torque. Both engines will pair with the brand's excellent 10-speed automatic transmission. Rear- and full-time 4-wheel drive configurations will be offered.
Count on the 2024 Ford Ranger Raptor to be the most anticipated of the lot. This model is taking direct aim at the soon-to-be-announced 2024 Chevrolet Colorado ZR2 Bison. Ford's version boasts some impressive specs, including a long-travel suspension with FOX-brand shock absorbers along with reinforced front frame rails, front shock towers, rear shock brackets, and suspension mounting points. Naturally there are heavy-duty underbody skid plates and chunky 33-inch off-road tires.
Where the Raptor will have a leg up on its Chevrolet competitor is under the hood. Ford is equipping this model with a unique 3.0-liter turbocharged V6 that produces 405 horsepower and 430 lb-ft of torque.
While Ford did not reveal the entire grade structure for the 2024 Ranger, they did announce pricing would start at $34,160, including $1,595 destination fee. The Raptor will have a base price of $56,960. Dealer and customer orders will commence with the start of production later in May. The Raptor and models with the 2.3-liter engine are expected to arrive in late summer 2023 with 2.7-liter versions coming online in late fall.
CG Says:
The 2024 Ford Ranger looks impressive. The V6 engine option is a pleasant surprise that should give it a leg up on its primary rival from Chevrolet. The Raptor is a serious bit of kit that will almost certainly prove popular even among people who may never set a wheel off-road. About the only thing we don't like, at least based on the paper launch, is the Raptor's price as any extra-cost options will likely send the sticker price above $60,000, not to mention there will likely be more than a handful of dealers who will add their own additional markups. Still, we're eager to see what these rigs can do.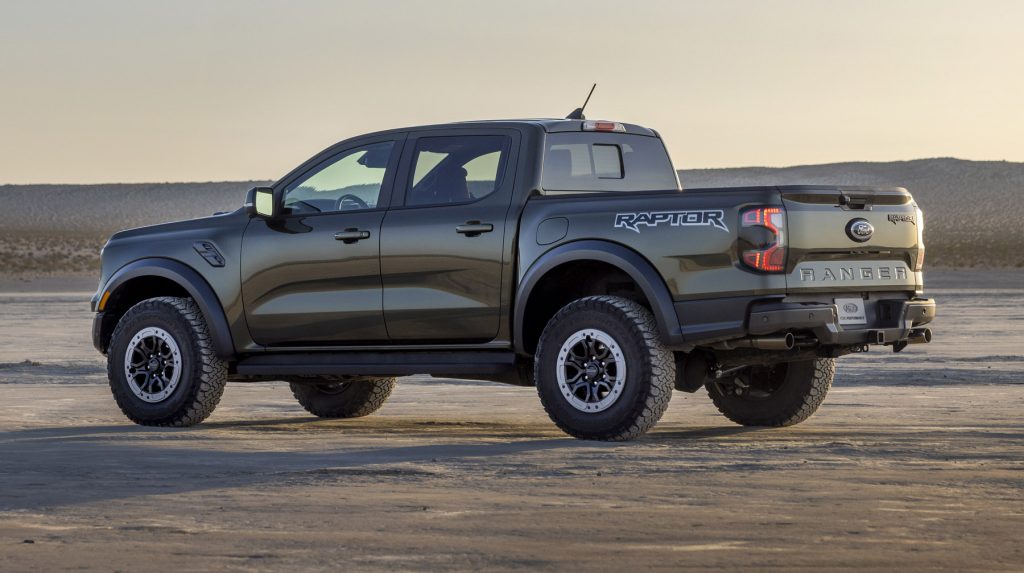 Listen to the Consumer Guide Car Stuff Podcast
Ranger and Ranger Raptor Gallery
(Click below for enlarged images)
Ranger and Ranger Raptor
Ranger and Ranger Raptor